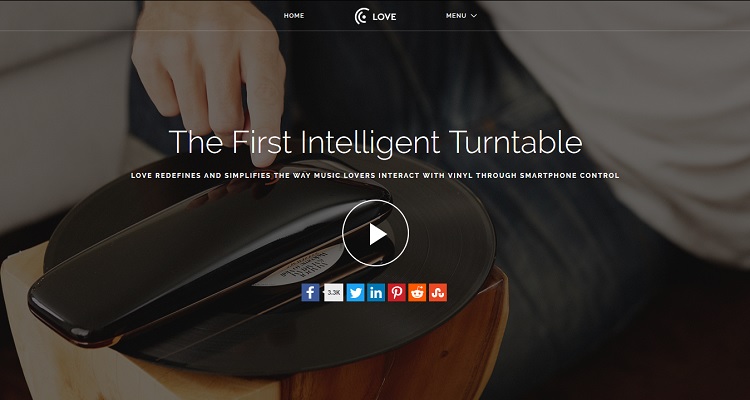 Forget about a block-controlled vinyl turntable. Why not try your smartphone?
Several weeks ago, we covered the RokBlok. The record player consists of a small wooden caravan that goes around your vinyl record, reproducing high-quality music.
But if a wooden block with wheels doesn't do it for you, why not try a self-contained stylus?
Introducing the LOVE vinyl record player.  Billing itself as "the intimacy of vinyl with modern day convenience," LOVE reads your record using a stylus.  Then, it connects to any Bluetooth audio device as well as Wi-Fi multi-room systems.  For those without a Bluetooth-enabled speaker system, LOVE comes with a 3.5mm or RCA Bluetooth adapter.
Coming Soon published a video on Facebook.
To play back your favorite vinyl, you can push a button on the LOVE device. LOVE also comes with a complementary app so you can control your music using your smartphone. The LOVE app, according to the product description, lets you play, skip tracks and repeat tracks. In addition, you can select different RPM speeds, turn the volume up and down and even display the album cover. The product description provides a quick breakdown of how the product works.
"How LOVE Works
Once LOVE is synced with your audio device, put any size vinyl on one of the two complimentary 7″ record bases. LOVE then scans the vinyl to determine its size and number of tracks. If you'd like to start your listening experience with track 3 simply Press LOVE's top shell three times or select the track through the app. From there, sit back, relax, and enjoy your record."
Created by Yves Behar, the LOVE device instantly reminds users of a rather large slug.  Despite the look and feel, the LOVE device has very little to do with actually playing back your favorite vinyl records.  Instead, LOVE appears as nothing more than a glorified device designed to add a fictional "modern and convenient" feel.
However, based on how aficionados have supported RokBlok (which broke it's $50,000 KickStarter goal months ago), it's difficult to see how LOVE will fail in the market.  Current users can pre-order LOVE now with a 50% LAUNCH discount.