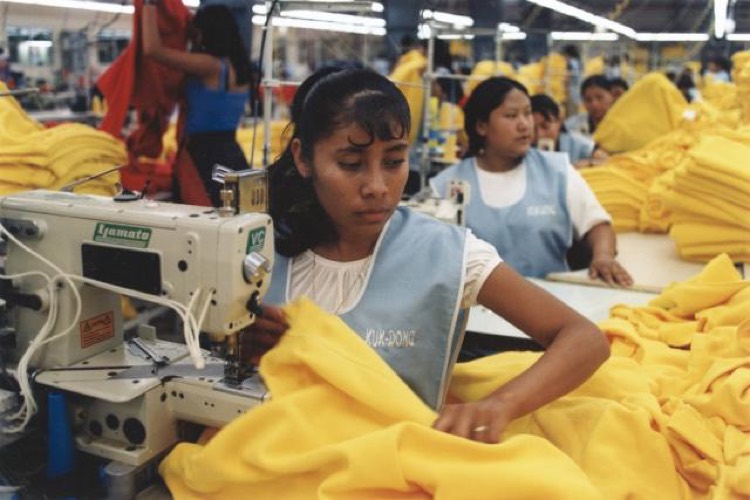 Beyonce's Ivy Park apparel line is still abusing factory workers in Sri Lanka, according to more claims disclosed over the weekend.  The clothing line, which preaches female empowerment, is paying women approximately
54 cents an hour

.

Beyonce's clothing line, Ivy Park, is all about female empowerment.  But it looks like Ivy Park is abusing female workers half a world away.  Additionally, it also appears that the brand is unwilling to make adjustments to its labor abuse practices, despite mounting accusations.

The allegations of horrific sweatshop working conditions first surfaced last year.  Yet according to a leak this weekend to DMN, production contracts with the sweatshop factories in question still appear intact.  Terms of the contracts themselves, which forbid any worker unionization, have largely been left unchanged.

Back in May of 2016, factory workers at the MAS factory conglomerate in Sri Lanka were found assembling Ivy Park merchandise.  The workers, who are prohibited from being unionized, are paid approximately 54 cents (US) an hour according to a report by the UK-based Sun.  "Poverty-stricken seamstresses making some of the clothes in the MAS Holdings ­factory in Sri Lanka earn just £4.30 a day," the report noted.

Workers are quartered in small dormitories, with common showers and unsafe conditions.  As a safety precaution, women are locked inside the facility at night.
£4.30 translates to roughly $5.37 a day.  In a grueling, 10-hour period, that translates to about 54 cents per hour.
Most of the workers at the sweatshop facilities are women, according to the company.  That makes Beyonce's female-focused mission statements seem pretty hallow.  "My goal with Ivy Park is to push the boundaries of ­athletic wear and to support and inspire women who understand that beauty is more than your physical appearance," Beyonce said last year.  "True beauty is in the health of our minds, hearts and bodies."
DMN has attempted to contact Ivy Park across multiple channels, but has not yet received a response.
Immediately after the report in May, the clothing line did respond.  But they declined to offer any changes to its MAS contracts.  "Ivy Park has a rigorous ethical trading program," the company offered.
"We are proud of our sustained efforts in terms of factory inspections and audits. Our teams worldwide work very closely with our suppliers and their factories to ensure compliance. We expect our suppliers to meet our code of conduct and we support them in achieving these requirements."
But according to at least one source, that statement was merely PR spin.  "It was just trying to make [the scandal] go away for a news cycle," the source explained.  Indeed, the statement itself says nothing about changing practices, only pushing responsibility on to MAS.
The price of an Ivy Park article ranges from around $30 up to $300.  That would require more than a month's wages at the Sri Lankan factory, though we hope they're pilfering a few stray items.