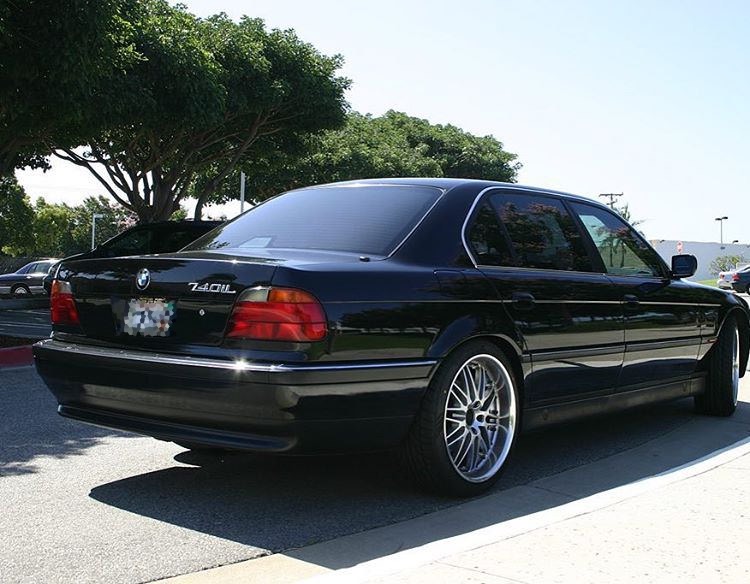 The murder of Tupac Shakur remains a completely unsolved mystery.  But now another clue — the BMW in which the rapper was gunned down — has surfaced at a high-priced auction house.
On September 13th, 1996, Tupac Shakur was gunned down in a high-profile drive-by shooting.  Amazing, Las Vegas Police never convicted anyone of the crime, or even rounded up serious suspects.  But they did impound the vehicle being driven by Death Row label head Suge Knight.  The black, gun-riddled 1996 BMW 740iL was entered into police custody, and faded from public consciousness.
Until now.  According to a details leaking early Sunday morning, the infamous 'death mobile' never went away.  According to snapshots leaked to TMZ, the vehicle has been restored and placed in a private auction.
Strangely, the BMW was released by Vegas police after the crime investigation was closed.  Since that point, it apparently changed hands multiple times and currently has 90,000+ miles on it.  It's also been restored, though bullet holes and markings are still visible on interior panels.
There's also another strange detail: this 'private auction house' isn't planning an auction.  Instead, it's placing the vehicle for sale for $1.5 million.  At present, the name of the auction house hasn't been disclosed.
According to Kelly Blue Book, a comparably-equipped 740iL from 1996 goes for roughly $2,500.  Layer in a gunned-down Tupac Shakur, and the macabre multiplier pushes that to $1.5 million.
But why now?
A strange question is why the vehicle has suddenly resurfaced.  One theory is that the owner is trying capitalize on a surge of Tupac nostalgia, which is expected to increase this year.  Stirring the surge is the upcoming All Eyez on Me biopic, which stars Demetrius Shipp, Jr., and will hit theaters in June.
And as for 'the real killers,' that remains the biggest mystery of all.  "Now Tupac was gunned down on the Las Vegas Strip after a Mike Tyson fight," Chris Rock once remained.
"Now, how many witnesses do you need to see some shit before you arrest somebody? Shit, more people saw Tupac getting killed than the last episode of 'Seinfield'!"