How much does YouTube pay for 1,000,000 views?
If you want to make money on YouTube, don't get millions of views.  Get billions of views.  Because the only way to make YouTube make sense it with extreme volume.
That was confirmed by the latest YouTube royalty statement shared with Digital Music News.  Specifically, this is an artist who is capturing royalties through ContentID, which is YouTube's system for recognizing music used in videos.  Once the music is identified, the rights owner (ie, this artist) has the ability to block it, or collect a portion of the ad revenue.
+ Microsoft Groove Is Paying Artists $4.67 *Per Stream* Right Now…
This artist, who wished to remain confidential, has opted to collect a portion of ad revenues through the system.
Almost none of the revenues for this artist come from direct views in his channel.  "I leave my own trailers without monetizing," the artist emailed us.  "My views come mostly from content ID, other people putting my music into their own playlists and 'mixtapes'."
As of the last reporting period, this artist received a cumulative total of 1,048,305 plays.  Here's how much money he made.
Ugh, $65?
Just doing the simple math, here's how this all breaks down:
Total monetized views: 1,048,305
Cumulative revenues: $64.60
Total revenues per view: $0.0000616
We asked if this was possibly an error.  Nope, the artist told us. "Last year was nearly half a million views at $27," he said.
And for that reason, he's decided to focus his energies elsewhere.  "I haven't been very active with new videos, doesn't seem to be worth the effort," he told us.  "But I'll make some new ones anyway and then look at how to distribute them."
+ Average Annual Salary for a Spotify Employee: $168,747
Here's that whopping $27 earnings statement from 2016.  Specifically for 497,734 views.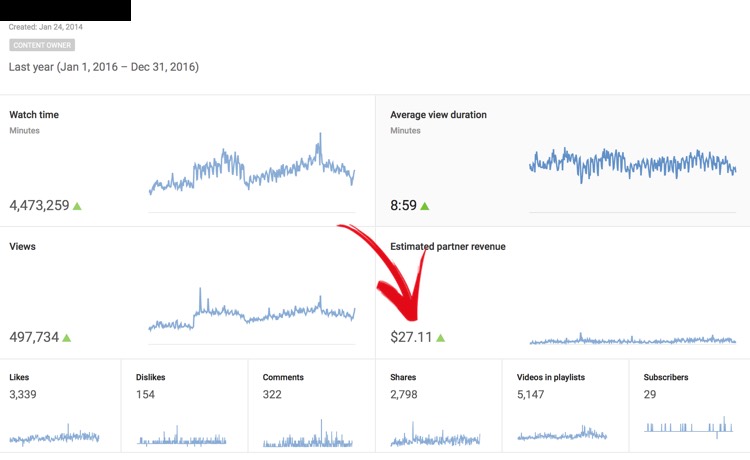 Actually, we've heard that YouTube Red earnings are a lot better.  But how much does YouTube pay for Red views?  Unfortunately, the number of people paying for YouTube's premium offering seems low.  So, that means higher per-view royalties, but nothing that really adds up.
We'll share more earnings statements as they come in.
---
Got something to share?  We'll be sure to publish it, confidentially or otherwise, for the DMN community.  Just send it to [email protected].  Thanks!