Millions have watched tutorials on how to get Spotify Premium for free.  Google and YouTube are fueling the fire.  So how much money is being lost here?
Please note: the following is a developing story.  We'll continue to update with information from Spotify and other sources.
Last week, we wrote about a potentially disturbing development.  After years of seemingly non-stop growth, Google search traffic showed a troubling trend.  According to search engine optimization (SEO) leader SEMrush, searches for 'how to cancel Spotify premium' had tripled since late last year.
+ February 23rd:  'How to Cancel Spotify Premium' Is Now a Trending Search Term
Even more surprising, people were searching DMN (and undoubtedly other sources) for a how-to.  Maybe it was the bundling with the New York Times, or people tightening their belts after Christmas.  Maybe it's competition from Apple Music, whose subscribers are well past 20 million, according to the company's latest reports.
Or, maybe it's a blip, with paying subscribers continuing to soar.
But while we're finding that out, there's another trend we spotted.  Searches for 'how to get Spotify Premium for free' are also going strong (though not increasing).   So we poked around, and found a stunningly high number of guides and YouTube videos dedicated to this exact topic.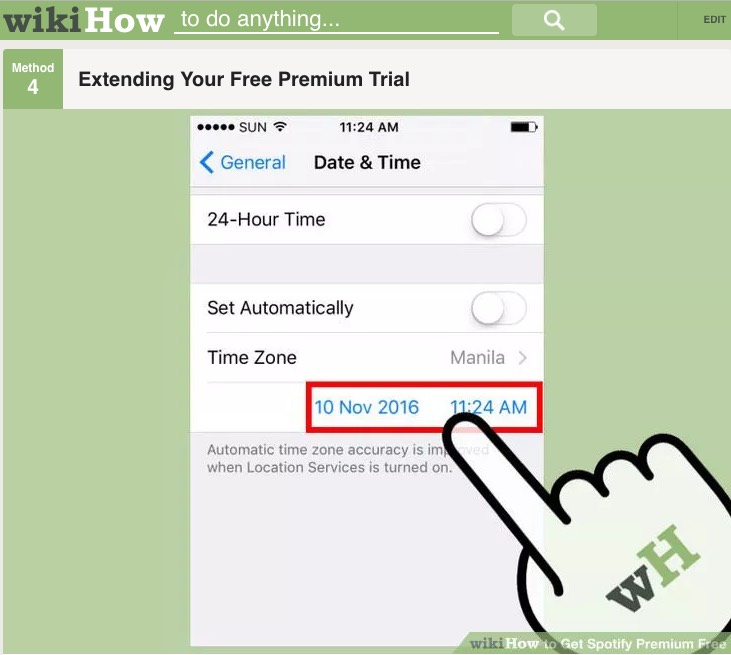 Even worse, we discovered a simple hack for accessing Spotify's Premium service, using a simple back-dating technique.
In a sentence, the hack works by changing the clock on one's phone to an earlier year, thereby increasingly the free access window by 365 days (or, 1,365 days, or more).
Wikihow.com, a site with over 200 million monthly views according to SimilarWeb, offers a detailed guide on how to get Spotify for free.  That guide includes the simple back-dating trick.  According to the site, the article has also been viewed 146,000 times.
Hop over to YouTube, and tutorials are teeming.  In fact, one video detailing this exact method has been viewed more than 772,000 times (and counting).  But that video, by user KidzHD, is one of a seemingly-endless list of similar videos, all touting tricks on how to get Spotify Premium for free.
None of them have been blocked, though collectively, the topic is garnering millions of aggregated views.  The KidzHD video claims that the simple hack still functions in 2017, though it now appears that Spotify has plugged the workaround (we're waiting for a response).
Outside of YouTube, there are also dozens and dozens of similar guides.  Many aren't complicated jailbreaks and coding workarounds, just simple tricks to avoid paying $9.99 after 30 days.
All counted, it's quite possible that hundreds of thousands of users are 'tricking' their way to a free Spotify account.  And cheating both Spotify, rights owners, and artists in the process.
Overall, Spotify reports having more than 40 million paying subscribers.
As we mentioned, we're awaiting comment back from Spotify on recent security patches.  If the latest update blocks the hack, does it still work on older versions?
Meanwhile, Google is doing almost nothing to prevent users from accessing this information.  After auto-completing the 'free' part on a search for 'Spotify Premium,' this is what the results set looks like.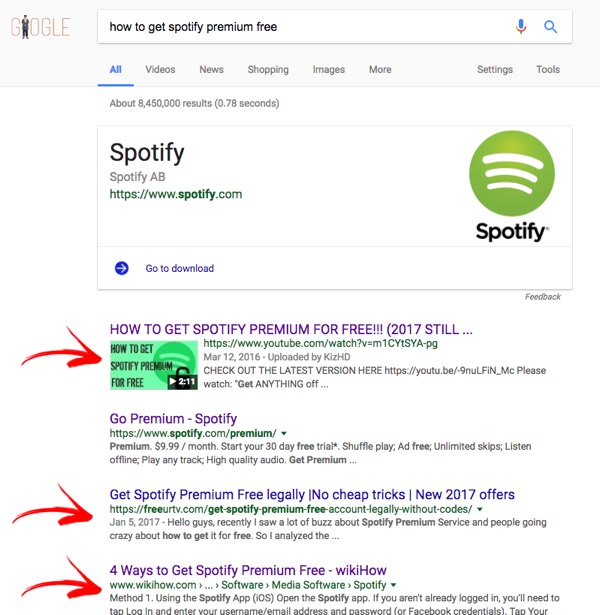 Any questions?