Did BTS' "Not Today" really break a 24-hour YouTube video record?  Not according to new data emerging from YouTube.
There's no denying that "Not Today" was a massive video.  Not just for BTS, but for Kpop in general.  But despite racking up nearly 11 million views in just 24 hours, BTS didn't break any viewing records.
Now, YouTube is officially disproving that claim with its own data.
Previously, Billboard reported that 'Not Today' was the fastest-rising video in Kpop history.  Now, that information will likely be retracted.  According to YouTube, the record for the fastest-growing Kpop video in history actually belongs to PSY.  In fact, PSY's 'Gentleman' topped 11 million views within a few hours, and 100 million views within 4 days.
+ BTS Battles Plagiarism Charges from Angry Kpop Fans
More specifically, 'Gentleman' amassed 38 million views after a 24-hour period.  That's nearly four times the total achieved by 'Not Today' after the same period (which was technically 10.98 million).
Here's what YouTube's statisticians have said on the matter.
"PSY already holds the record for the most viewed video of all time for 'Gangnam Style,'" YouTube's data team relayed back in 2013.  "But [PSY] also set the record for the most views ever in a single day with the over 38 million for 'Gentleman,' achieved on April 14th [2013]."
YouTube also published a comparison of PSY's mega-songs: 'Gentleman' vs. 'Gangnam Style'.  Of course, 'Gangnam Style' has more views overall, with nearly 3 billion cumulative in 2017.  But 'Gentleman,' the follow-up single, smashed the 24-hour record.
Here's a quick graph that demonstrates the difference.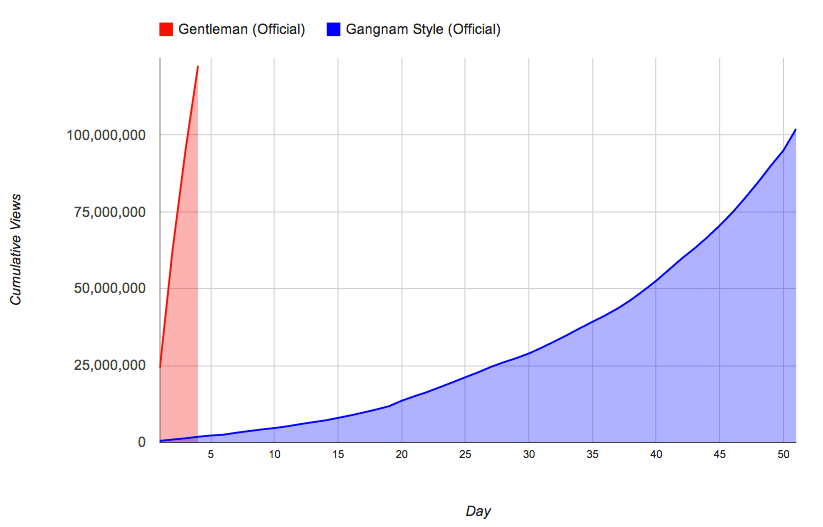 Of course, "Not Today" wouldn't even show up on this comparison.  And that's with 10.98 million first-day views!
+ The Chainsmokers + Coldplay Just Smashed an All-Time YouTube Viewing Record
But more remarkably, PSY didn't just break Kpop records with 'Gentleman'.  He broke all-time, global YouTube records across all genres and music videos.  Whether BTS — or any other Kpop group — will ever beat that mark remains an open question.
But one thing is now confirmed: BTS didn't break anything last week.  After nearly one week, 'Not Today' is approaching 38 million, something PSY accomplished in one day.