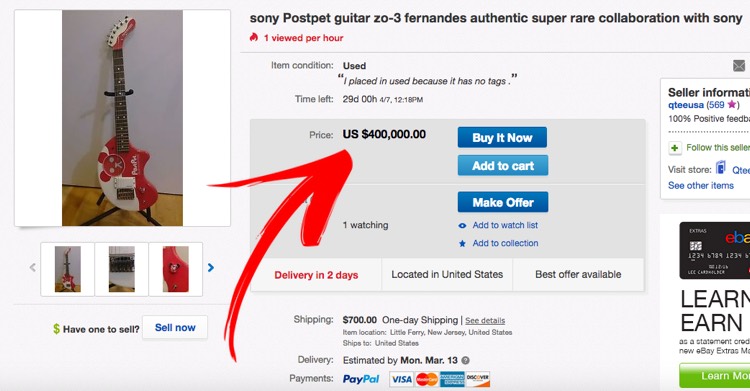 Actually, that's $400,700 with overnight shipping.  How much is too much for a guitar?
We've seen some seriously expensive musical instruments on eBay.  But usually, the nosebleed prices belong to violas from the 16th century.  And it helps if it was rescued from a sunken Spanish ship somewhere.
This guitar, on the other hand, is a distinctively modern ax.  The 'Sony Postpet' was manufactured sometime during the 1980s, and apparently extremely rare.  And, ridiculously expensive.
Guitar players may recognize the name of the collaborating manufacturer, Fernandes.  That's actually a Japanese company as well, with a pretty broad range of guitars available.  That includes custom-made editions and collaborations, like this one.  Even custom-made classics for some superstar players.
But, $400,000?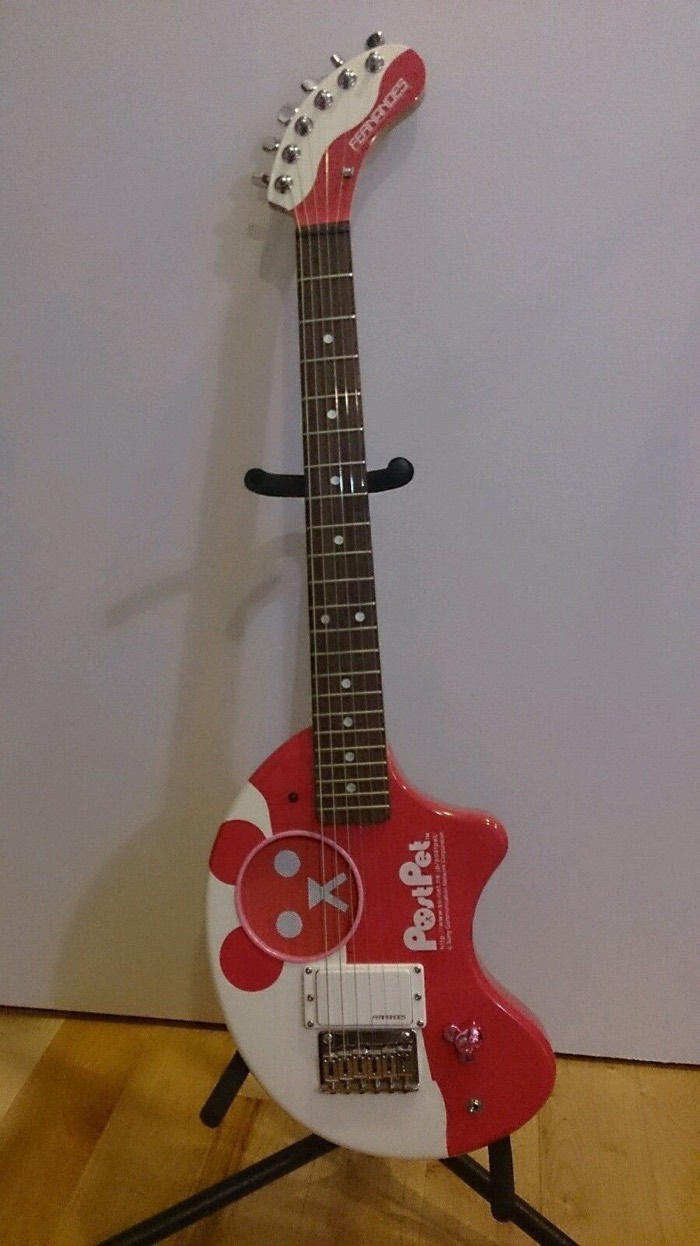 So far, zero bids and only one person watching this auction.  That said, a number of famous guitars have sold for far more than $400,000.  That includes Jimi Hendrix's 1968 Fender Stratocaster, which fetched $2 million from Microsoft co-founder Paul Allen.  Hendrix played the strat at Woodstock, regaling the crowd with his famous rendition of the 'Star Spangled Banner'.
+ KISS Making Millions Off of $3.99 'Air Guitar' Strings
Others have also hit nosebleed territory.  Here are just a few of the highest-priced guitars in history.
Gibson SG (played by George Harrison and John Lennon): $570,000
Fender Strat (played by Stevie Ray Vaughan): $623,500
Blackie Strat (played by Eric Clapton): $959,000
'Reach Out to Asia' Strat: $2.7 million*
*this was a charitable effort to raise money for 2004 Southeast Asian tsunami victims.  It was signed by Eric Clapton, Keith Richards, Mick Jagger, Ronnie Wood, Brian May, David Gilmour, Jimmy Page, Jeff Beck, Mark Knopfler, Pete Townshend, Tony Iommi, Angus Young, Malcolm Young, Sting, Ritchie Blackmore, the members of Def Leppard, Bryan Adams, Liam Gallagher, and Paul McCartney.
The $400,000 eBay listing is here.