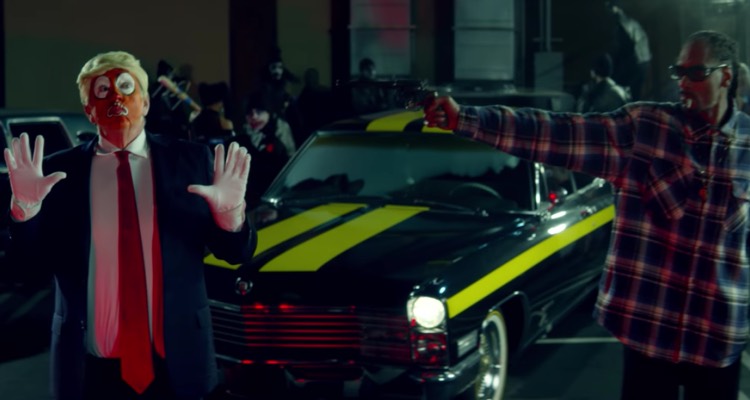 It's a brutal video featuring a mock assassination of President Trump.  Now, Snoop Dogg may be subject to Secret Service interrogations and criminal enforcement for issuing direct threats against a President.
YG scored a hit with 'F—k Donald Trump'.  But now, Snoop Dogg has taken things to an entirely new level.  In a just-released video, the rapper flat-out assassinates Donald Trump at close range.
Updated March 15th, 7:30 am PT: Donald Trump has personally called for Snoop Dogg's arrest and incarceration.  Details here.
In the 'Lavender' video, Snoop assassinates a Trump lookalike at close range.  The resulting 'assassination' involves a very real-sounding gunshot, but actually culminates with a giant 'BANG' flag.  That last decision could protect Snoop Dogg from more serious criminal ramifications.
Already, the video is going viral and drawing attention in Washington.
Just hours after its Monday release, the video crossed 1 million views.  Within hours, Republican leader Marco Rubio was excoriated Snoop Dogg in public, specifically for making threats against the Commander-in-Chief.  Others in Washington are likely to jump into the fray and demand criminal action against the rapper.
The actual assassination happens just after the 3-minute mark.  Take a look.
United States Code Title 18, Section 871
Other rappers have made threats against the President.  That includes Rick Ross, who rapped about killing Trump but didn't face any criminal enforcement.  Similarly, Big Sean free-styled about slashing President Trump's throat with a box cutter, but faced little scrutiny (that we know of).
But Snoop Dogg is, by far, the most high-profile rapper to make a direct threat.  And this is probably the most blatant and direct threat by a big-name rapper to date.  All of which raises the stakes on a full-blown reaction among concerned Republicans and Trump backers.
Of particular interest is Section 871 of United States Code Title 18, Section 871.  That statute classifies direct threats against a President as a Class E felony. The law specifically calls for enforcement against any individual that issues "any threat to take the life of, to kidnap, or to inflict bodily harm upon the President of the United States".
Earlier Secret Service Interrogations.
Rick Ross and Big Sean aside, enforcement against rappers is happening.  'Lavender' closely follows news of a Secret Service investigation against Renizance, a relatively unknown rapper (especially compared to Snoop).
That Renizance song, called 'Trump Dies,' contains a far-fetched and elaborate murder plot.  But, it was still enough to draw intense interrogations from federal agents, with the threat of criminal action.
More as this develops.