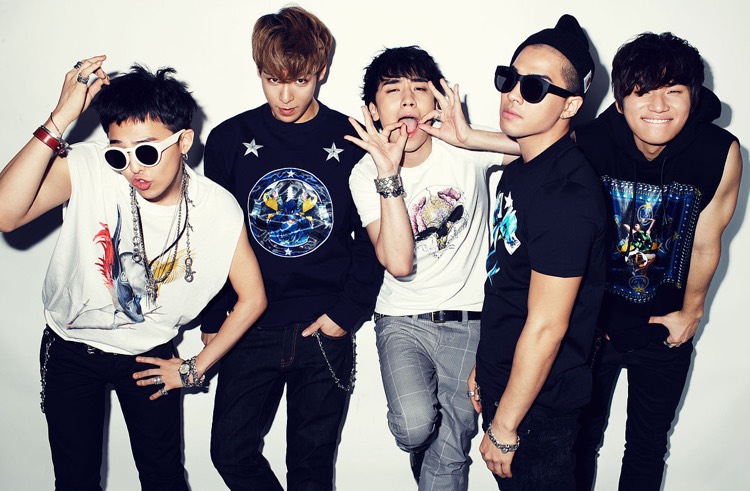 Who's the biggest Kpop group in the land?  Big Bang has just surpassed 7 million YouTube followers, a record for a Kpop group.  The figure is more than double that of rival BTS.
Kpop is now one of the most explosive genres on YouTube, thanks to an increasingly global fanbase.  Just this morning, Korean superstars Big Bang crossed 7 million channel subscribers, the first for a Kpop group.
As of this writing, Big Bang's channel officially stands at 7,008,470 subscribers.
+ BTS Battles Plagiarism Charges from Angry Kpop Fans
In terms of Kpop artists, only one artist stands ahead: PSY.  Thanks largely to mega-hits like 'Gangnam Style' and 'Gentleman,' PSY has amassed 9 million YouTube followers, a strong but surpassable record.  PSY also holds records for most number of total views, not to mention the fastest-rising video (for any genre).
In the Kpop genre, label channel SM Entertainment sits atop the roost with 10 million subscribers.  The SM Entertainment channel is a collection of member artist videos, including EXO, making it a difficult comparison.  That said, SM's 10 million-mark is not only the top for South Korea, but Asia in general.
BTS' 'Bangtan TV' channel, by comparison, has roughly 3,016,000 followers.
Meanwhile, a number of Kpop videos continue to push past 100 million views.  But the billion-view club mostly belongs to more mainstream American and British artists like Taylor Swift, Wiz Khalifa, and Adele.  Those are the heavy-hitters, though Kpop's ascent could finally put someone besides PSY into the YouTube billionaire club.
+ BTS Outsmarts China With a Sold-Out Worldwide Tour (See Dates)
The importance of YouTube for Kpop artists has never been greater.  Despite notoriously-low royalty payments for YouTube views, Kpop labels have smartly maneuvered around the problem.   That includes highly-lucrative revenue streams from items like CDs, merchandise, and even hand creams.
Perhaps most significantly, YouTube helps Kpop artists like Big Bang and BTS circumvent hostility from China.  Just recently, Chinese officials started banning Kpop and hallyu artists, though global appetite could fill the void.