Is YouTube simply lying to artists, labels, and publishers hoping to make money on their platform?
YouTube says it wants to help artists make money.  But how is that possible if they're also helping… YouTube ad-blockers?
Already, YouTube is notorious for offering the worst payouts to streaming artists.  Now, it appears that the Google-owned company is making it even more difficult to monetize channels than we imagined.
That's right: YouTube is actually allowing advertisements from companies that offer YouTube adblockers.  So, if you didn't know what a YouTube adblocker was, now there's a YouTube ad to help inform you.
Huh?
In case you can't quite believe your eyes, here are just a few more screenshots of this ad for a YouTube adblocker.  They were all viewed and screen-grabbed last week.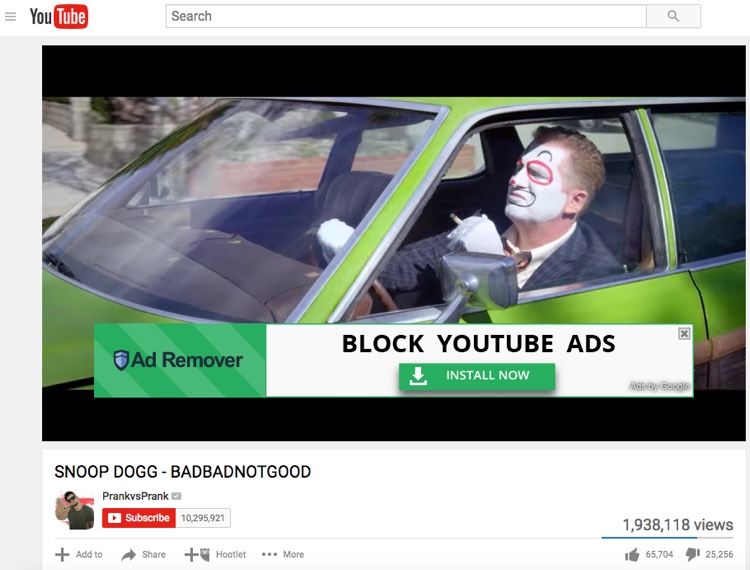 How big is YouTube adblocking, anyway?
That's a tough question, and probably something only YouTube knows.  But it's safe to say that as many as 50% of your channel's subscribers maybe blocking ads entirely.  Just two years ago, YouTube superstar PewDiePie said that a whopping 40% of his users were blocking ads.
PewDiePie polled his users on Twitter, and found correlation with his Google stats.  "It's a number that has grown a lot over the years, from roughly 15-20 percent when I started," PewDiePie wrote at the time.  "And it's not unlikely that it will keep growing.
"What this means is that YouTubers lose about 40 percent of their ad income."
+ Is Google Flirting With A Federal Investigation After Terror Advertising?
'Devastating impact'
PewDiePie noted that bigger channels are more insulated against YouTube adblockers.  For starters, 40-50% of 100 million views still leaves 50 million monetized views.  But bigger YouTube celebrities also have plenty of other revenue-generating outlets, making YouTube more of a promotional outlet than revenue outlet.
But smaller channels?  Ad-blocking is suddenly a totally different animal.  "But for smaller channels, this number can be devastating," PewDiePie concluded.