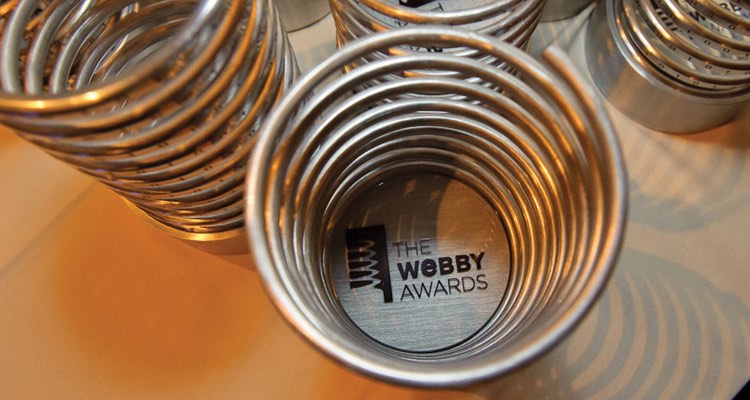 I always thought the Webby Awards were the greatest honor a website could receive.  Until they asked us to apply.
It's been called 'the Oscars of the Web'.  The New York Times calls the Webby Awards 'the internet's highest honor'.  But here's another possible description for the Webby Awards: 'Pay-to-Play Scam'.
It turns out that not only do you have to pay to be considered for a Webby Award.  You might have to pay a lot, depending on your size and how many categories you want to be eligible for.
How much?
Back in January, we got a letter the International Academy of Digital Arts and Sciences (IADAS), encouraging us to apply.   Actually, they made us feel like we were specially selected for this honor.  "This year, a member of our judging body… specifically recommended Digital Music News," the letter noted.
Right there in the letter, we were quoted a $395 rate for a single entry.  Multiple entries required multiple fees, meaning that we would need to pony up several thousand dollars to seriously be considered.
On a subsequent email, Webby Awards managing director Claire Graves quoted us another price: $595 for a 'campaign category'.   Multiply that times thousands and thousands of smaller and mid-range sites like ours, and you start understand how this works.
Why this isn't fair.
A few thousand dollars is nothing for publications like Medium, VICE, and the Guardian, all of whom are recent winners.  It's even less for media conglomerates like Heart and Conde Nast, who may calculate their odds of winning and 'invest' accordingly.  It's rounding error for them.
But for everyone else, even $500 is a cost that needs to be carefully considered.  And for some of the greatest innovators out there, it's out of the question.
We inquired further: Graves told us that a special group of categories carried a lower rate.  "Additionally, in order to support a vibrant Web community, the categories marked with the "#" symbol (NetArt, Weird, Viral, etc.) can be entered at $160," Graves emailed.  But doesn't that just mean that the up-and-comers are being shut out from the more serious categories?
The Webby Machine.
We passed on the esteemed offer (if you couldn't tell).  But this morning, we got an email from a well-endowed company pumping their prize.  "Wanted to let you know that iHeartRadio's Artist Stories presented by State Farm was honored for the Best Film & Video — Unscripted (Branded) category in the 21st Annual Webby Awards," iHeartRadio's Kevin Wong wrote in an email that spoke volumes.
Digging into our emails, we also got this fishy spam from Billboard.  The email was titled, 'Sponsored: Your Work Could Win You a Webby,' and directed us to an entry page.  In other words: we weren't really 'specially selected' at all, as much as my ego wanted to believe that.
Everyone's entry money is good here.
We asked them why this wasn't a scam.
Claire told us that their costs are in line with other competitions.  "Unfortunately, entry fees have always been charged as they are necessary to cover the overall administrative costs of running a competition this size (judging process, awards ceremony, etc.)," she said.  But doesn't that mean that publications like Digital Music News — which have a smaller chance of winning — are basically paying for this event?
So we asked again: how is not a complete scam?
And we got no response.
Congratulations to all the 'winners'!
Here's a copy of the letter we received back in January.