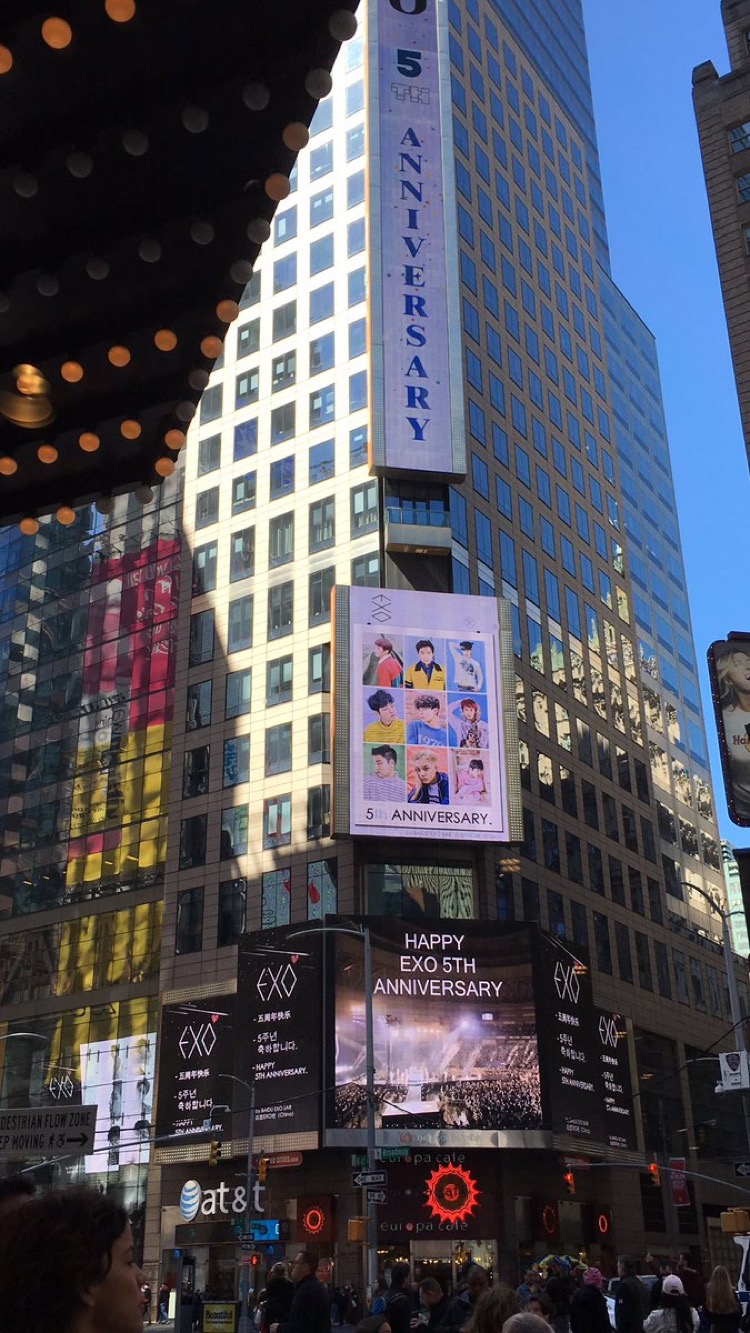 How dedicated is your fanbase?  As part of a five-year anniversary, fans of Kpop group EXO dropped millions of dollars on Times Square billboards.
Kpop superstars EXO may have the most fanatical fans on the planet.  And, maybe the most wealthy.  As part of a five-year birthday celebration, a faction of EXO fans dropped an estimated millions to erect a massive Times Square ad on Saturday.
The enormous spend included 11 ads and displays in total, including images of each member.  'Happy EXO 5th Anniversary!' declared the main ad.
The ads include the massive Reuters Billboard, a high-profile video display that's impossible to miss.  Messages have been rotating throughout the day (April 8th), with congrats in Korean, English, and Chinese.
Chinese?
That's right.  The massive spend was coordinated by the EXO fanbase tied to Chinese search and portal giant Baidu.  All of which sends a powerful message given tense relations between Korea and China.  Just recently, Chinese officials banned Korean artists from appearing, touring, or selling in China based on rising tensions in the region.
The Baidu advertising buy not only cuts across those tensions, it transferred the diplomacy into the United States!  All of which shows that EXO fans care little about political tensions and mounting missile stockpiles.  Now that's the power of some positive Kpop!
EXO officially started on April 9th, 2012.  Accordingly, fans are displaying a video of the group's first performance as part of its Times Square blast.
Happy Birthday (again!)
Actually, this is hardly the first mega-spend for the EXO fanbase.  Earlier, Times Square ads have been erected for individual member birthday.  That includes special displays for members Chanyeol, Lay, and Sehun.
More than 250,000 people pass through Times Square on an average day.  That's more than 100 million a year, with 1 Times Square netting more than $36 million in advertising revenues alone.  In fact, hundreds of millions of dollars in ads are pumped through endless signs and billboard every year.
More Photos.