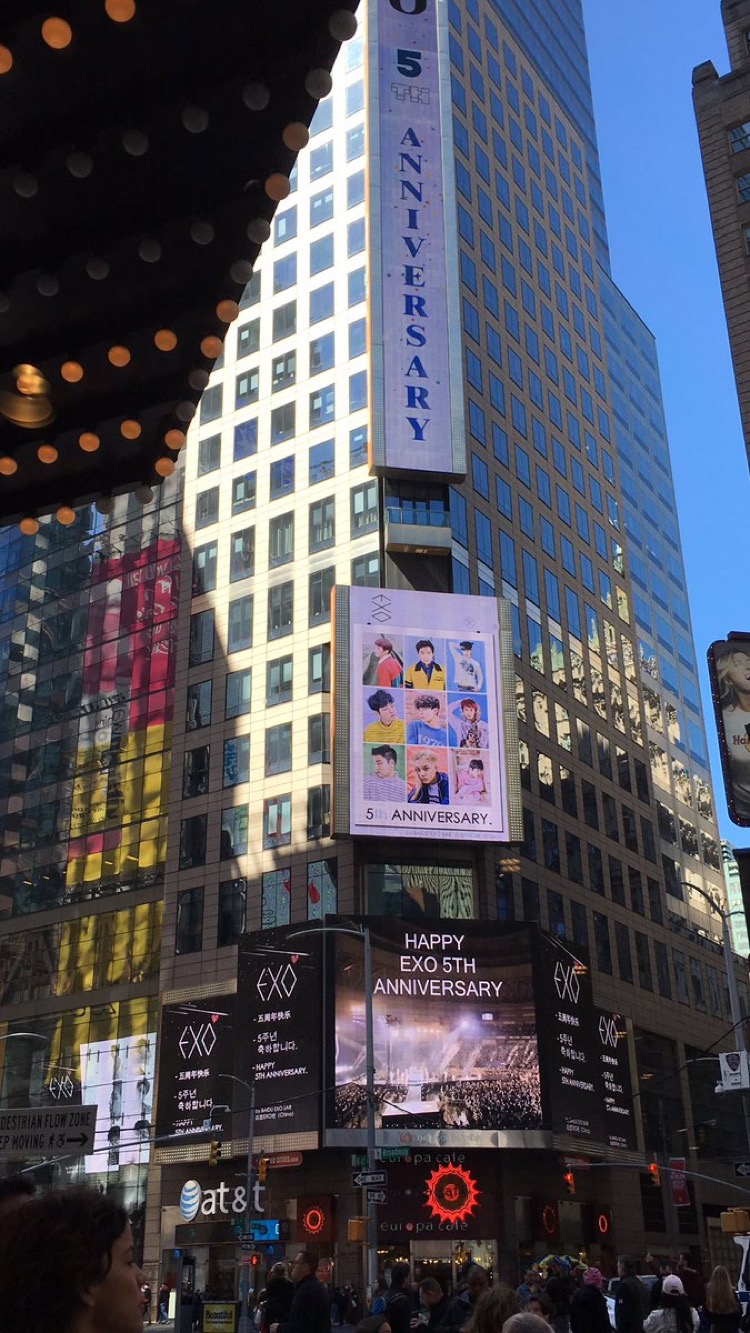 That's the taunt after EXO fans dropped millions on a splashy Times Square billboard.  Can ARMYs match that spending power, or all they all talk?
It was the ultimate statement by one of the most dedicated fanbases in the world.  In celebration of EXO's fifth birthday, a massive group of EXO-L reserved multiple Times Square advertisements.  In total, 11 different ads, including videos, were blasted to hundreds of thousands of onlookers.
And that wasn't the first time.  Earlier, Times Square billboards were reserved for individual EXO members Chanyeol, Lay, and Sehun.  And that's on top of other ads like wrapped busses and full-blown advertising campaigns.
In total, it seems like the EXO-L Sino-Korean fanbase is dropping millions — a year — just to support their favorite group.  That dedication may explain why EXO has been a higher-ranked Kpop group than BTS, despite massive BTS touring and releases.
But wait: when is BTS' birthday, anyway?
Unfortunately, the world really has no idea.  And rival fanbases probably blame ARMYs for refusing to commit the money to throw a serious birthday celebration.  So how can they be considered serious Kpop (much less BTS) fans?
That said, ARMYs are definitely pouring lots of money into shows, merchandise, and even album purchases.  Just recently, BTS finished a successful tour that included dates in Japan, Australia, and the Americas.  And show after show, ARMYs were donning BTS gear and pricey 'ARMY Bomb' light sticks.
But perhaps ARMYs have a spending limit.  "They are always begging mommy and daddy for money," one rival VIP explained.  That situation may change as ARMYs mature, however, though that assumes that BTS will last long-term.
+ Rap Monster's Failed Solo Attempt Proves He's Nothing Without BTS
Meanwhile, there's the constant threat of a Rap Monster solo career looming.  So far, Rap Monster's attempts to go solo have failed, though all it takes is one solo hit to threaten the future of this group.
Written while listening to EXO's '两个视线, 一个视线 (What If..)'