"Good morning, motherfuckers" was our greeting every day at around 11am on the ship-wide PA system by a soothing woman's voice.
For the 8th year in a row, Kid Rock's Chillin' the Most cruise brought together the (self-proclaimed) rednecks of America in the most spectacular fashion – 4 days and 5 nights on a cruise ship in the Gulf of Mexico with lots of music, lots of booze, lots of swingers (really) and a total of zero fucks given.
The first thing I noticed walking down the swaying hallway to my room shortly after boarding the Norwegian Jade, was the familiar scent of California's best medicine. If this was the Jam Cruise, I wouldn't have batted a bloodshot eyelash, but going into this thing, I thought Kid Rock's cruise would be all angry, old white people who hate weed, hippies and black people, pound Coors Light and salute a statue of their newly crowned dicta…er, president.
Well, nearly everyone on the ship was in fact white (we found out during the Kid Rock Q&A that "we have 3 black girls this year on the ship"), but there was no hate amongst the 2,300 "Chillers." It was a week of all love. Well, a week of complete debauchery is more accurate. A diverse crowd, this was not. But that's why everyone was there. To connect with like-minded Chillers (yes, I'm going there. Get used to it) who want to escape the monotony of life back home and have the most epic party of their year.
The musicians who are veterans of rock cruises admitted to me that this was the craziest, most out-of-control cruise they had ever been on.
I mean, there were belly flop and "Lucky Bitch" contests for godsake. And a dance party rager in the casino till 5am. Every night.
But there was more weed on this ship than a Phish show.
Speaking of Phish, on Dress Up Like Your Favorite Album Cover night, one dude wore Jon Fishman's infamous dress and Chillers were high fiving him all night (was not expecting that). Last night, I hopped into a circle in the cigar room where 3 joints, 2 blunts, a wax pen and a Pax 2.0 were simultaneously being passed. On the deck stage, random women offered hits from their pens. Everyone came to get down. Hard.
The most offensive (to none on board) shirts in America were proudly sported all week long. There was the "Trashy Whore" club. One shirt read "I'm here for the drinking and the fucking. And I'm almost done drinking." A shirt that from afar read "I Love My Wife" but on closer examination it actually read "I Love when My Wife brings me a beer." Yes, there were confederate flag togas and a confederate flag tied to the deck stage guard rail with "REDNECK" emblazoned.
And the back of one of Kid Rock's official Ts read "Don't Give a Flyin' Hillbilly Fuck." That shirt sold out.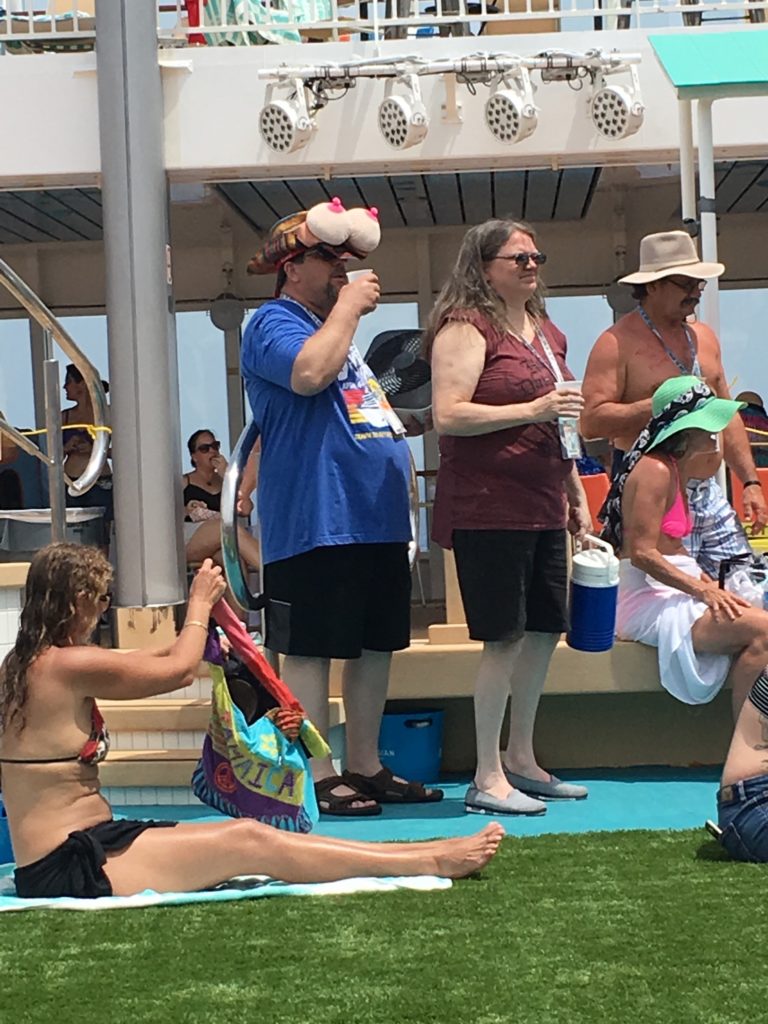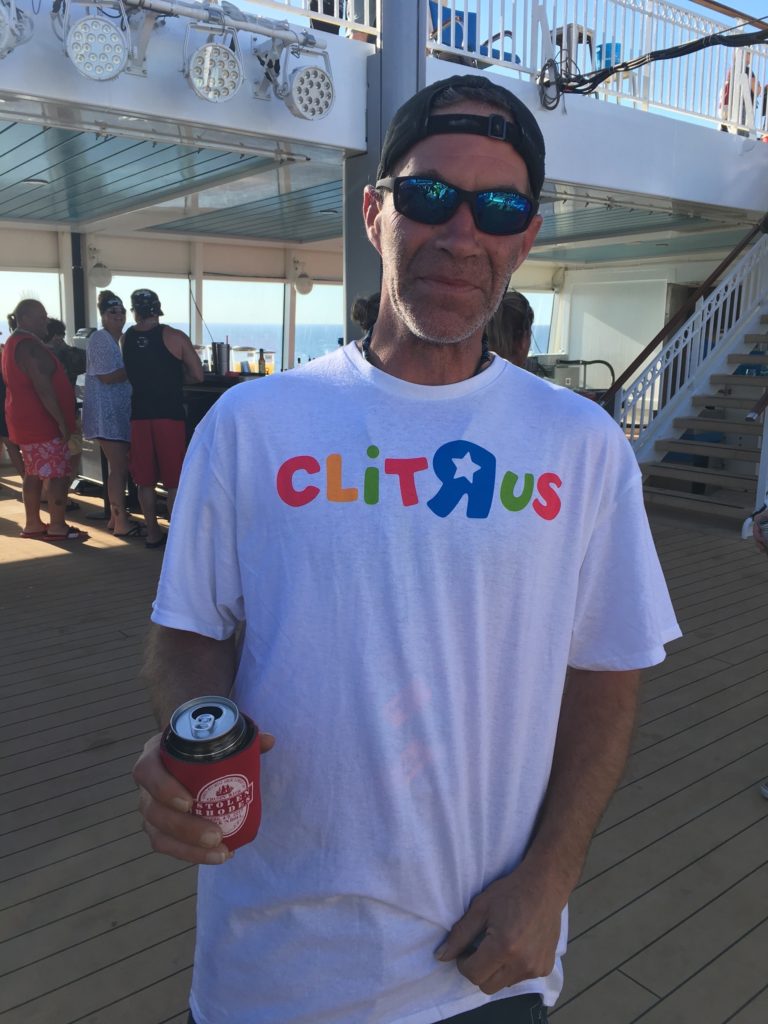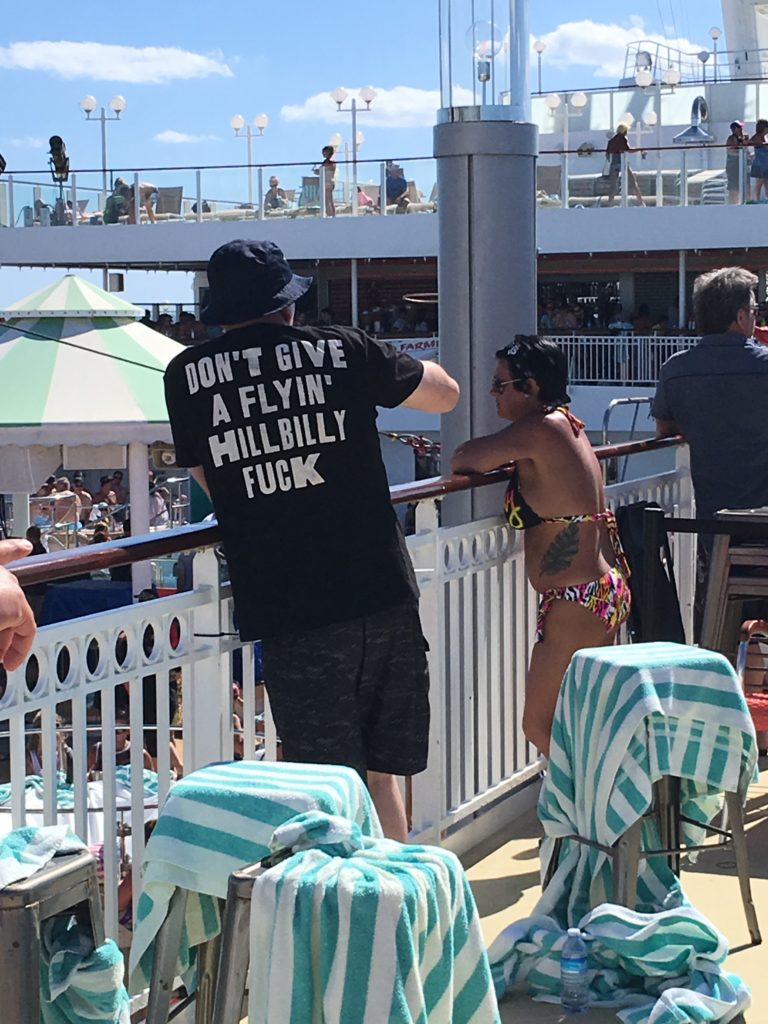 Women were regularly dancing topless with just Kid Rock pasties covering their nipples. A man wore a hat with gigantic boobs on the rim.
When the news helicopter flew by before we departed Tampa, everyone stood on the deck flipping it off. The middle finger this week was more a gesture of camaraderie and endearment than hate or anger. "Motherfucker" was shot every which way with a high five and a cheers.
Despite the few Make America Great Again hats and Trump shirts I spotted, there was very little politics discussed.
The only time I ever heard it come remotely close to a political discussion was when a middle aged man at the black jack table volunteered how he thought everyone needs a gun, Sandy Hook was staged by the "news media and the government to take away our guns" and that 9-11 was an inside job. For the record, he wasn't "a fan of the current administration" either.
As I live in the liberal bubble of Los Angeles, I don't interact with this crowd very often – to say the least.
But Kid Rock understand's his audience. And his audience fucking loves him.
Kid Rock doesn't seem to give a fuck about anything (he hilariously, albeit lovingly, mocked his fans asking questions during the official Q&A – searching his pockets after a fan's question he said "hold on… I'm looking for a fuck").
Kid Rock seemed to be drunk the entire cruise. When a woman asked to get a photo with him with her boyfriend standing right there, he responded "Are you going to sleep with me?" He may have been joking. But probably not. He doesn't give a fuck. And you kind of have to love him for that. And to be honest, most boyfriends seemed to openly give their ladies passes for Kid Rock this week.
But also during the Q&A, a young veteran who did 3 tours in Iraq and 3 tours in Afghanistan told Kid Rock how much his music meant to all the soldiers and how it "kept us connected to home."
As a tear dripped behind my oversized circular sunglasses and fell into my Budweiser, Kid Rock shot back "Go fuck yourself. You're the reason we are here. God bless you. I don't want accolades."
"Who taught you about the birds and the bees?" -Fan during the Q&A
"Your mom" -Kid Rock
But my initial fears at the start of the expedition, while I kept count of all the Make America Great Again hats I spotted before we even departed, wondering what was going to happen when all these angry white people get drunk, quickly washed away as I realized that most of the hats actually read "Make America Stoned Again" (Merch from the John Stone Band) and everyone was just there to have a good time.
At first glance, the lineup of bands on the ship made no sense. Of course Kid Rock performed a couple times (and sat in a bunch), but then you had Robert Randolph and the Family Band who is quite well known in the jam and blues worlds, but I'd say completely unknown in the redneck universe. One of the grandfather's of hip hop, Doug E. Fresh, was on the ship as well as other hip hop legends EPMD. The No BS! Brass Band, British rockers The Struts, and Minneapolis funkers Alex Rossi Band with the best living vocal (effects) percussionist, Heatbox, as well as Southern Rockers Bishop Gunn brought quite the diverse musical lineup.
My ticket on the ship was provided by a buddy who manages one of the bands. I was on the ship in no official capacity other than Head Chiller. Had to.
I had an Artist pass which enabled me to roam freely throughout the ship – including to Kid Rock's penthouse suite for the epic late night jams. One night, while Kevin Gastonguay of Alex Rossi's band was leading a sing-a-long on the white grand piano in the center of the room, Kid Rock stumbled over, sat next to Kevin and started barking "SLOW DOWN! SLOW. DOWN. SLOWER. SLOOWWWEEERR!" While pounding out a crawling tempo on the mahogany – a solid 70 beats per minute slower than the actual tempo of "I'll Take You There" But, you know, when you're drunk everything feels too fast.
And, as we established already, Kid Rock gives no fucks.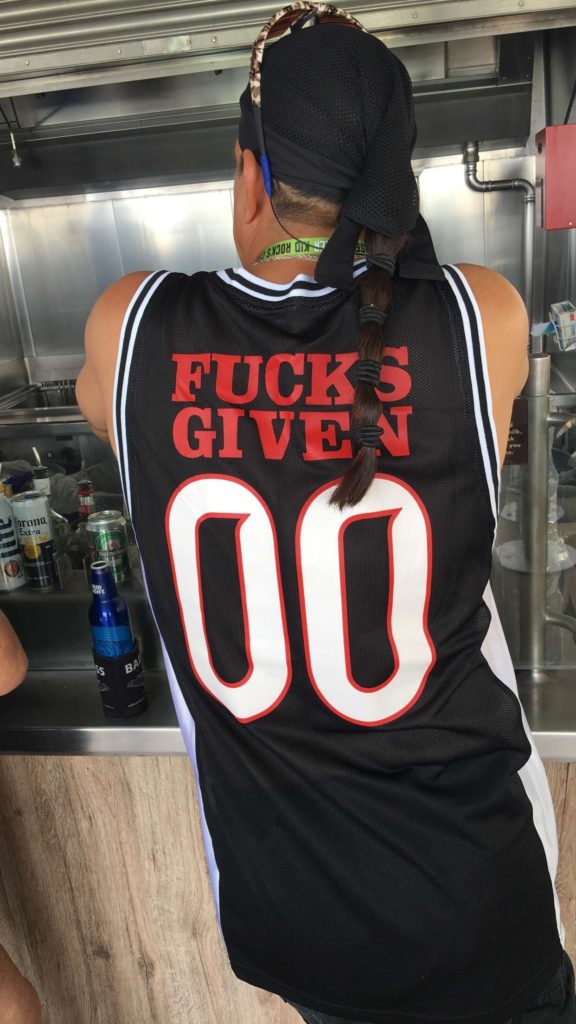 That's the thing that makes all of these Chillers such hard core Kid Rock fans (and what every musician can learn from).
Kid Rock doesn't try to please anyone, but himself. He is brash, obnoxious, chauvinistic and aloof. He's nostalgic, sentimental, confident and witty. And he's a monster performer. I'll be completely honest, I had not heard 2 Kid Rock songs before this cruise and I was quite entertained by his shows.
He makes (seemingly) ignorant comments about race ("Goddam I wish I was black!" "Ever thought you'd see a black dude wearing a bow tie playing the pedal steel?!"). He is unabashedly redneck and as far from PC as you can get ("That's gayyyyyy" he shot out a couple times during the Q&A). And he knows exactly how to connect with his fans – because they love him for exactly this.
"I'm an American Bad Ass
Watch me kick
You can roll with Rock
Or you can Suck My Dick
I'm a porno flick, I'm like amazing grace
I'm gonna fuck some hoe's after I rock this place"

– from "American Badass"
It makes me think of what Derek Sivers wrote in his book Anything You Want,"You need to confidently exclude people and proudly say what you're not. By doing so, you'll win the hearts of the people you want." That's what Kid Rock has done.
And that's what you need to do to build super fans.
Yes, this is the America that put Trump into office that Hollywood / Silicon Valley / NYC progressives and the "well-educated" do not understand. I finally understood that these proud rednecks who voted for Trump didn't vote for him in spite of his "pussy grabbing" rhetoric, they voted for him because of it. This whole crew is aggressively anti-PC. And they hate being judged and shunned by the PC culture of Hollywood and the mainstream media. I didn't understand this group, really, until this week.
I'm not going to pretend I completely do now (or condone any of the statements I heard), but I could share a drink, a J, a buffet meal, a dance and a high five with any one of them and feel better about life.
At the core, we are all just people looking to make the best of our time on earth.
As much as "progressives" would like to put every one of these people into a perfectly symmetrical, "ignorant," "racist," "bigot" box, it is only detrimental to the process. And to humanity. I had fears about what 2,300 angry, white, drunk Trump supporters were going to do to the few black musicians on the boat. I mean, I did just see Get Out for the second time. And that video of the old white dude clocking that black protestor at a Trump rally exclaiming "next time we'll have to kill him" was playing on repeat in my mind while boarding.
But these fears were completely unfounded. Everyone partied with everyone else. One of the beautiful things about a cruise ship is that we're all confined to this boat for 3 full days and 5 nights (we had a day off in Key West. Unfortunately our Bahamas day was cancelled due to high waves). You run into everyone everywhere. Musicians included. Everyone partied together. Everyone sang together. Everyone danced together. Everyone drank, ate, smoked and had a great fucking time together.
Most bands played 3 sets throughout the 4 days which enabled everyone to catch at least one set.
A standout was definitely The Struts – which is fronted by a glammed out Freddie Mercury / Mick Jagger hybrid with dance moves inspired by MJ. It was quite hilarious looking around at the packed house of small-town, redneck men not knowing exactly what to do with themselves while The Struts' front man, in heavy makeup and glitter, rocked their fucking worlds. You couldn't help but be overtaken by the power of The Struts magnetism. They left a pint of sweat on the stage every set. True pros.
Of course Robert Randolph and the Family Band brought it hard every set. I've been seeing them since they opened for Dave Matthews Band and John Mayer back in the early 2000s. As one of the greatest living guitar players, Robert is also a monster front person – regularly jumping on his chair, playing his pedal steels every which way, kicking the sky while some of the baddest musicians hold down an unshakable groove.
And the Alex Rossi Band brought the unmistakable Minneapolis funk to the high seas. On their last set, they brought up Kid Rock's backup singer, Shannon Curfman (a blues star in her own right) who showed the packed room that she can rip as hard as anyone on the ship. Her vocals were the strongest of the entire weekend.
But some of the best moments were the spontaneous jam sessions and sing-alongs in the Deck 6 Artist Lounge.
Props to Sixthman, which organizes all the best musical cruises (100+ running), for placing a grand piano, a couple acoustic guitars, picks and an acoustic bass in the artist lounge (with enough Budweiser to give everyone enough juice to connect with fellow musicians who they just met in the way they best know how). Even though I wasn't on the bill, I was able to lead the pack of sleep-deprived musicians in a rousing "Lean on Me" sing-a-long – joined by the flawless harmonies of Sweat Tea Trio.
Then, on the final day, when everyone had become sea pals, pretty much everyone came together for the afternoon "Robert Randolph and the Family Jam" on the Deck stage. The musicians of the ship played everything from "Crossroads" and "Voodoo Child" to "The Weight," "Hell on Heels" and an instrumental "Don't Stop Till You Get Enough" with a freestyle by EPMD. They ended with a rip roaring "Johnny B. Good" in honor of the recently passed Chuck Berry – where Kid Rock came out and sang some improvised verses.
Backstage, after the jam, a friend and I walked up to Kid Rock and said "Hey Bob, could we get a photo?" And he responded, "I don't give a fuck."