The music industry is nowhere near its 1999 heyday.  But at least it isn't collapsing anymore, according to data released today.
When it comes to comebacks, this isn't exactly a New England Patriots finish.  At least not yet.  But according to data shared this morning with global industry trade group IFPI, at least things are moving in the right direction.
The IFPI — which stands for the International Federation of Phonographic Industries — is a trade group that represents the global recording industry.  Just this morning, the organization finished compiling its 2016 numbers.  As expected, digital formats (including streaming) continued to show growth.  Lucrative physical formats, principally CDs, showed continued declines.
Most importantly, streaming — now the full-blown savior of the business — is powering a second-straight year of gains.  But overall sales volumes are still at 2009 levels, itself a sharp year of decline.
Is streaming really saving the music industry?
That's a complicated question, though the hype says 'yes!'  But not everyone's drinking the Kool-Aid.  Scott Borchetta, CEO of Taylor Swift's label Big Machine Records, splashed some cold water on the 'streaming comeback' at Canadian Music Week, arguing that creative accounting and hype isn't quite adding up.  "The ones that are super-performing, Drake and Ed Sheeran and others, they're doing really well," Borchetta explained.  "The rest of the world will catch up."
+ Taylor Swift's Label Says Streaming Isn't Bigger Than CDs & Vinyl
Borchetta challenged claims that major labels are making more money from streaming than physical formats.  And the IFPI's figures offer support for that criticism.
Specifically, the IFPI says 50% of all global recording revenues are from digital formats.  That includes streaming, but also downloads.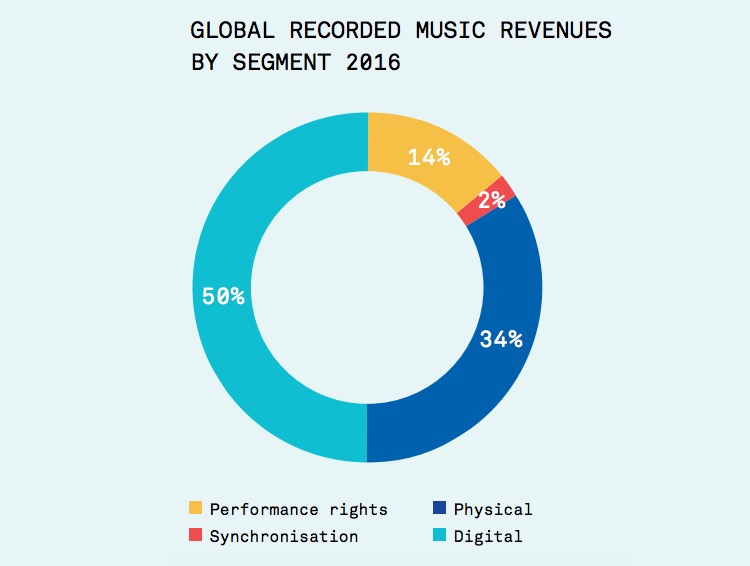 Another question Borchetta raised is worth pondering.  Sure, streaming is powering a comeback for the major labels, but it isn't quite trickling down to everyone else.  "So then [the major labels] say, 'hey, 'we're up in the number of 'X'," Borchetta continued.  "But it hasn't worked its way down to the median yet."
+ I'm Warning You, Universal Music Group. Don't Make This Stupid Mistake…
That stated, streaming is certainly exploding.  And downloading certainly isn't.  Here's a quick breakdown that highlights that disparity.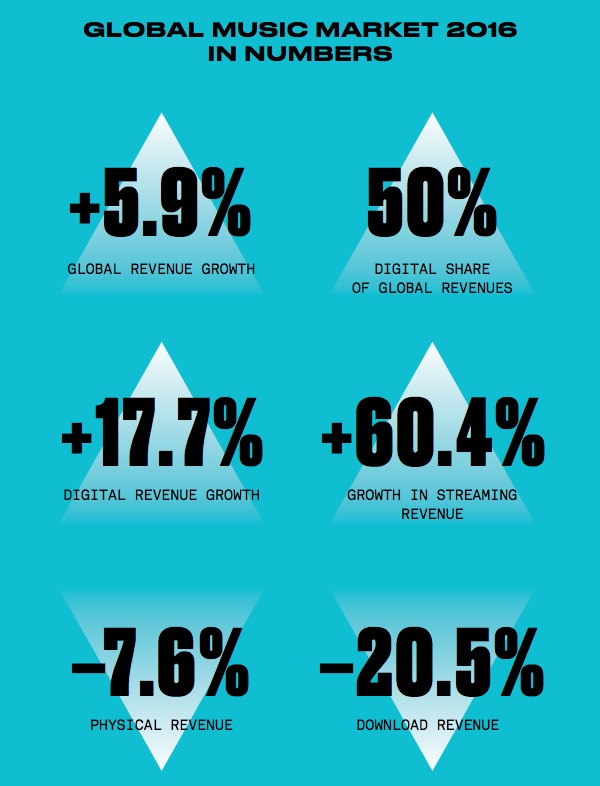 Just to isolate streaming out a bit, here's a graph showing gains from 2012 (again, worldwide):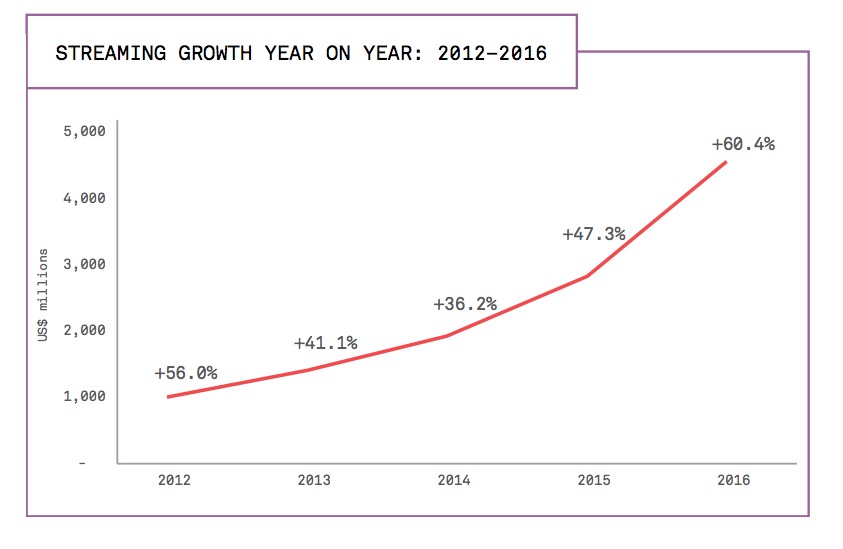 Looks peachy, except that the industry is starting to get really, really concerned about free streaming users.  That starts with YouTube, which pays a relative pittance for playing music videos and refuses to modify its rates.  But the problem also extends to Spotify, which has recently been forced by Universal Music Group and indie labels to start restricting content to paid tiers.
Basically, paying subscribers are powering a major comeback.  Free users aren't (unless they become paid users).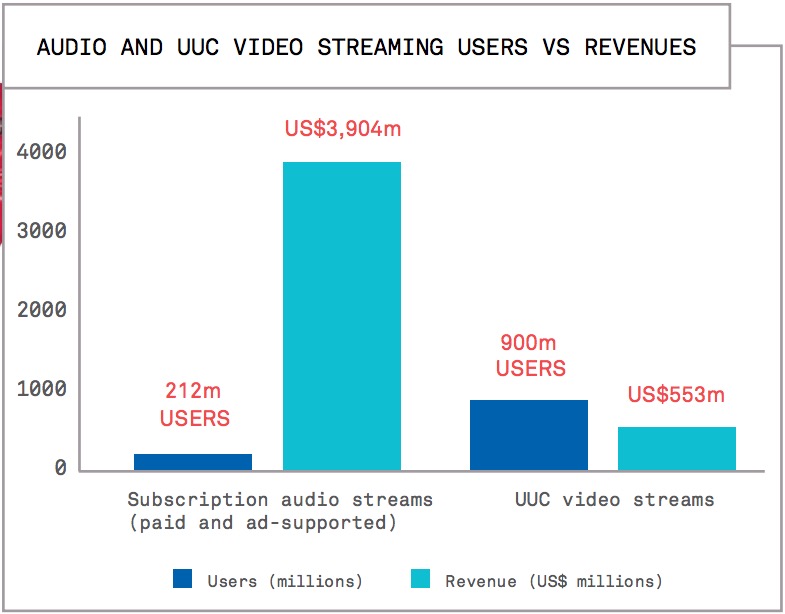 On that note, the IFPI blamed 'safe harbor' loopholes for the massive disparities.  "User upload video streaming services, benefitting from the misapplication of 'safe harbors,' comprise the world's largest on-demand music audience, conservatively estimated at more than 900 million users," the group states.
"The revenue returning to rights holders through these services in 2016 amounted to US$553 million.By contrast, a much smaller user base of 212 million users of audio subscription services (both paid and ad-supported),that have negotiated licenses on fair terms, contributed over US$3.9 billion."
All of which leads us to this per-user analysis, based on IFPI estimates.  We'll just leave it right here.

You can check out the full IFPI 2017 report here.