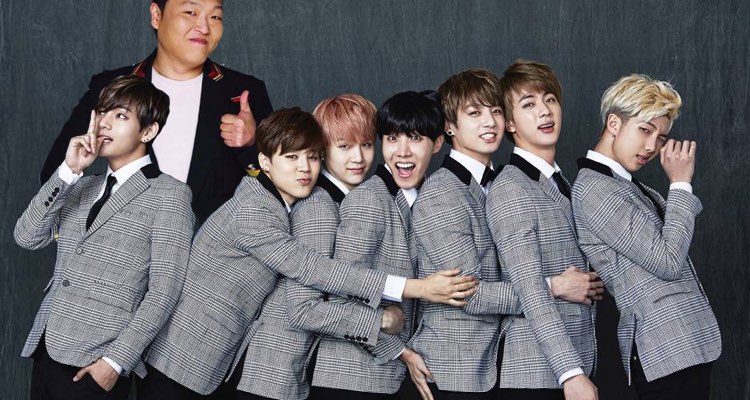 PSY put South Korea on the map.  Now, the 'King of Kpop' is paving the way for the next generation of emerging performers, starting with BTS.
When it comes to Kpop, there may never be a superstar as big as PSY.  The 'Elvis of Korea' has garnered more YouTube views than most labels, with billions of views and countless records to his name.
But while PSY is unlikely to be dethroned anytime soon, groups like BTS are keeping Korea's cultural legacy alive.  Indeed, the group is now part of a newer vanguard of artists making inroads across Japan, the Americas, and even parts of Europe.  And they have PSY to thank for paving the way towards superstardom.
On Wednesday, PSY congratulated his young disciples, while signaling a special level of unity and mentorship.  "I'm especially more proud of BTS," the 'Gangnam Style' superstar told members of the media.  "They are incredibly amazing."
Of course, without PSY, BTS would probably still exist.  But the father of Kpop is oftentimes overlooked for his pioneering influence.  "The way I entered the international market was pretty unique and they are a unique case, too," PSY relayed.  "In a way, I feel like the people who did not intend to do so bring unexpected results.  They are gaining great reaction overseas."
+ BTS Battles More Plagiarism Charges as Rap Monster Confession Surfaces
But how long will BTS' success last?
While conceding that BTS' fame could disappear tomorrow, the 'Gangnam Style' superstar urged the group to take success in stride.  "All I want to tell them is that no matter how long or short they go, they've already achieved an amazing score as an Asian artist so I want to tell them to not feel pressured."
The kind words signal a refreshing level of camaraderie among Kpop stars.  That is undoubtedly helping to grow the genre, though fandom wars between BTS ARMYs and supporters of bigger groups like EXO and TWICE can get ugly.
And what about Rap Monster?  The Bangtan Boys frontman has repeatedly dabbled into solo ventures, with limited success (for now).  Whether the presence of PSY is further encouraging Rap Monster to break from the group is unclear, though for now, BTS remains solidly a team.