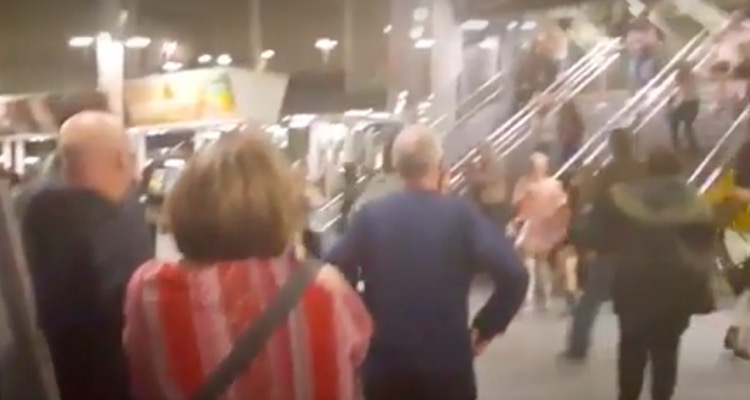 Ariana Grande is alive and uninjured following a devastating Manchester terrorist attack.  But her state is reportedly fragile, with upcoming dates uncertain.  The death count in Manchester has now reached
19

22, with more than 60 injured.

Updated: Ariana Grande has now cancelled the remainder of her UK and European tour.  We'll have more updates ahead.

Pop superstar Ariana Grande is now safely alive and uninjured following a grisly terrorist attack in Manchester, UK.  But she's reportedly deeply shaken, with next steps on her tour uncertain.

The attack, which appears to be a suicide bombing, rocked the venue Monday night immediately after the concert concluded.

"Ariana is okay," a representative from Grande's record label, Republic Records, told the LA Times.

Grande may have been a target of the attacks, given her high profile.  Other performers have not been accounted for as of this writing.

The explosion, which is being treated as a terrorist attack, hit Manchester Arena shortly after the performance concluded.  Manchester police estimated the explosion occurred at 10:33 pm, Manchester time.  Fans immediately rushed the exits of the Manchester Arena after the explosion, though 20 have already been declared dead.

Most of the attendees were teenagers or pre-teenagers, though many were accompanied by their parents.
Deathcount: 19.
As of this writing, the death count at the venue has reached 19, with 60 reported injured.  Those numbers appear to be climbing, with police still clawing through wreckage and helping survivors.
Prime Minister Theresa May has called the explosion "an appalling terrorist attack," and other leaders are chiming in.  At this point it appears that the explosion was an act of Islamic extremist terrorism.  The remains of a male perpetrator have been identified, though more information on the suspect remains unavailable.
The US Department of Homeland Security says there's no intel to suggest similar threats in the US.  President Donald Trump, who is wrapping a tour of the Middle East and Israel, has not issued a statement on the matter.
The Manchester Police have updated their original statement on the blast as follows.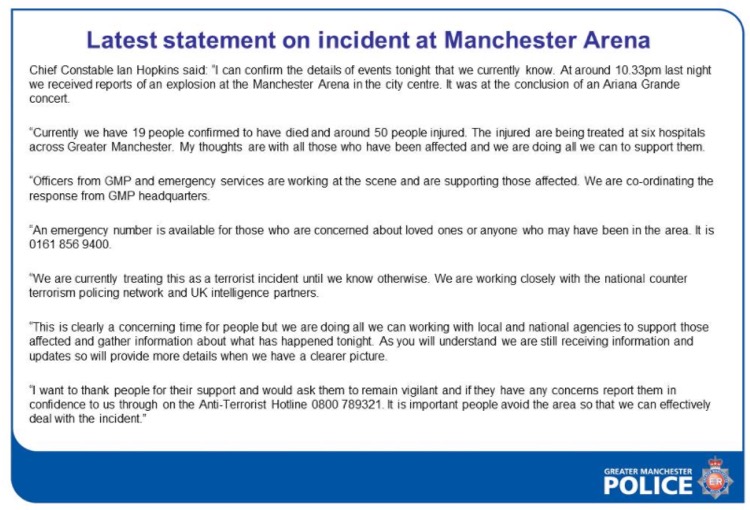 Anyone concerned about loved ones should call the following emergency number: 0161 856 9400.  This is not for general updates.
Echoes of Paris.
The attack follows a devastating act of terrorism in Paris.  In November of 2015, Islamic extremists invaded the Bataclan, gunning down attendees at an Eagles of Death Metal show.  That was part of a broader, city-wide assault, though so far, the Manchester attack does not appear part of a broader massacre.
Ariana Grande Shaken, Fragile, 'Broken'
Concertgoers described a massive, deafening blast immediately after the event concluded.  It's unclear if Ariana Grande herself was a target.  Artists Victoria Monét and Bia were opening acts, and appear to be safe.
Meanwhile, police have widened the perimeter around the Arena, though no further explosions have occurred.
At this stage, it's unclear if the Grande tour will roll on.
The singer is slated to play Thursday at the O2 Arena in London, though it's unclear if that date will be cancelled.  According to reports, Ariana Grande has been seriously traumatized by the blast, with a mental state that is undoubtedly shaken.
"Broken," Grande tweeted after the attack. "From the bottom of my heart, I am so so sorry. I don't have words."
In the case of Eagles of Death Metal, the blasts at the Bataclan proved devastating to the members on stage.  In a subsequent interview with Vice, lead singer Jesse Hughes betrayed a fragile mental state.  Ultimately, he accused the Bataclan venue itself of orchestrating an inside job.
Hughes has performed again, but clearly struggled.  He was denied re-entry to the Bataclan's re-opening, and banned by other festivals and venues following controversial statements against Islamic extremists.  Strangely, his comments were oftentimes factual, and extremely grisly accounts of what actually happened on that fateful night.