Extratorrent 'replacement' Extratorrent.cd drew more than 2.1 million visitors in just 10 days.  It's likely to surpass 10 million in June alone.  Any questions?
They claimed to be a 'resurrected' version of Extratorrent.cc.  The work of 'renegade' developers unhappy with the shutdown.   All of which turned out to be a masterfully-spun fairytale.  But despite debunked claims and reports of nasty malware, clone site Extratorrent.cd is getting pretty decent traffic.
According to data from SimilarWeb, Extratorrent 'clone' Extratorrent.cd amassed a healthy 2.1 million visitors in its first 10 days.
At that pace, the site could easily stretch past 10 million visitors in June.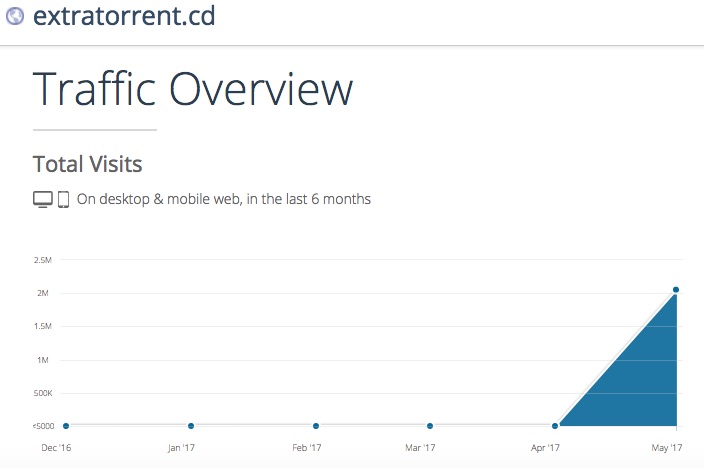 The copycat first surfaced around May 21st, shortly after the abrupt shutdown of mainline Extratorrent.cc.  Currently, the original site remains down, with a farewell to longtime visitors.  And, a warning against a near-certain class of clones.
Throngs of users started scrambling for replacements.  Immediately after the shutdown of Extratorrent.cc, the Pirate Bay experienced a massive surge of traffic (and crashed multiple times). Meanwhile, hungry clones and imitators tried to cash in.
Looks like Extratorrent.cd is managing to make a quick buck.  Actually, a big percentage of the traffic is coming from India.  According to SimilarWeb, the clone version is already ranked among the top 2,000 sites in the country.  That's no surprise, given that the core site was wildly popular in India prior to its shutdown.
Another strange detail is that Forbes magazine is responsible for nearly 35% of Extratorrent.cd's May traffic!
Guess a viral news piece can make all the difference for upstart piracy clones.  Actually, Forbes' piece remains a top-ranked Google result for users searching for a replacement.
Then again, this is just a tiny fraction of what the mainline site was attracting.  Prior to its unexpected shutdown, the .cc core was drawing more than 100 million visitors a month, also according to SimilarWeb.  That is a massive amount of torrent traffic, and a crowd that has now dissipating to dozens of other download options.
Meanwhile, broader torrent traffic may be declining overall.  And this could hasten that demise.  Enter ad-supported streaming, which is an easier alternative for many music fans.  Players like YouTube, Spotify and SoundCloud are offering better solutions, and driving billions of views.
Sounds like good news for the music industry, though YouTube is also spawning another type of piracy.  Currently, 'youtube-to-mp3' downloading remains on the rise, with countries like the US among the biggest consumers.  That is putting some pressure on Google, which has demoted certain piracy hubs and even pulled advertising in certain cases.