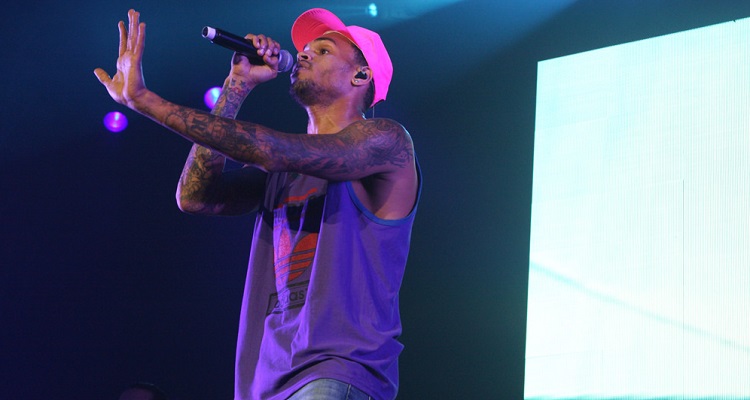 Chris Brown enjoys the quieter things in life, like graffiti art, even if it angers his wealthy neighbors.
After an embattled year for the rapper, several weeks ago, the RIAA certified Chris Brown's single 'Party' platinum.  Yet, the rapper couldn't celebrate the achievement.  Shortly thereafter, an unnamed hacker uploaded forty-six unauthorized tracks from the rapper.
Brown didn't let that hack get him down, however.  Shots uploaded to Chris Brown's Instagram detailed his amazing graffiti skills outside his home in Los Angeles.
In the past, the rapper has used his painting skills to help charity foundations.  In 2013, he worked with graffiti artist Slick to raise money for The Elton John AIDS Foundation.  The money would also go to Best Buddies International.  In now-deleted Instagram posts, Chris Brown painted a portrait of French Montana's longtime friend and collaborator Chinx.
With pink, purple, and blue tones, Chris Brown has decorated his Tarzana home with graffiti art.  The photos posted on Instagram show paintings of the Predator fusioned with popular Dragon Ball character Freeza.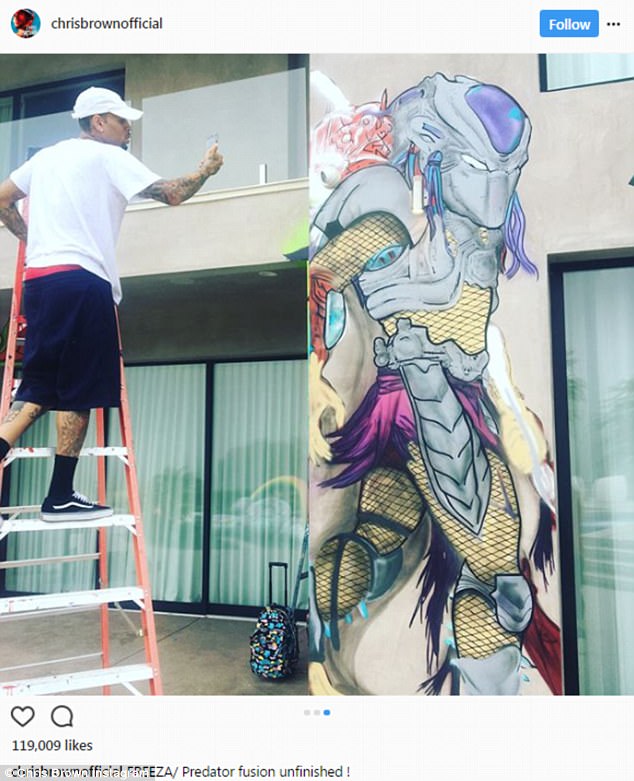 The paintings have caused his San Fernando Valley neighbors to once again complain about the rapper, however.  The graffiti art detracts from the neighborhood's otherwise-affluent look.
In the past, neighbors have lodged their complaints about the rapper with the Los Angeles Police Department.  Speaking with TMZ, a source inside the LAPD said,
"Chris is a chronic problem who takes up a tremendous amount of our resources."
Neighbors have complained about loud noises, drugs, assaults, a noisy ATV vehicle, and constant fighting.  One of Brown's neighbors, singer Kay Cola, went on social media to blast the rapper.  She claimed to often hear Chris Brown in loud and abusive exchanges with his then-girlfriend Karrueche Tran.  In one post, she said that she's heard him beat her.
Criticizing those who defended Brown, Kay Cola tweeted,
"Some of y'all make me sick to my stomach talking about.  Karrueche's lying.  I've heard him beating her myself… even called the police."

"I used to cry over that situation hearing her screaming at the top of her lungs because I am also a victim of domestic violence."

"I never spoke up, cause I didn't feel it was my place but hearing y'all say she's lying I can't just sit by and watch this."
Ending her Twitter rant against Chris Brown fans, she stated,
"I don't regret sticking up for Karrueche or telling the truth.  Whatever comes with it.  I stand for what's right at all time."
---
Top image by Eva Rinaldi (CC by 2.0)