Actually, make that two fully-blown Times Square ads, brought to you by Chinese BTS ARMYs.  How loyal are YOUR fans?
The music industry likes to talk about building fan connections.  BTS is practically writing the book on it.
Just this morning, tens of thousands of Times Square visitors were blasted with BTS advertisements.  And these aren't just 'billboards' in the classic sense.  Rather, these are video-animated displays covering multiple panels with high-visibility.
They're hard to miss.  And they don't come cheap.  The ultra-expensive campaigns were bankrolled by Chinese ARMY fandom to celebrate the group's fourth anniversary.  Depending on the total duration of the campaign, that total cost could easily cross into the millions.
A video of the campaign was quickly uploaded to YouTube, and view more than 150,000 times.
Here's a quick look at the emblazoning in midtown Manhattan.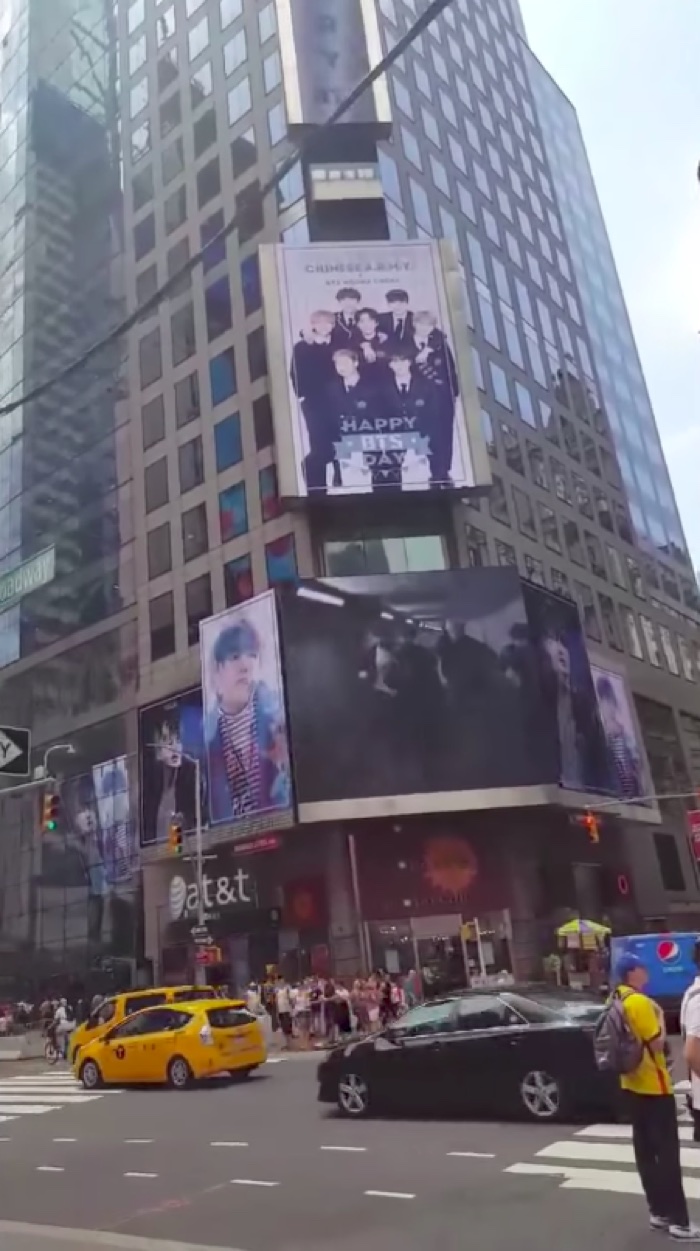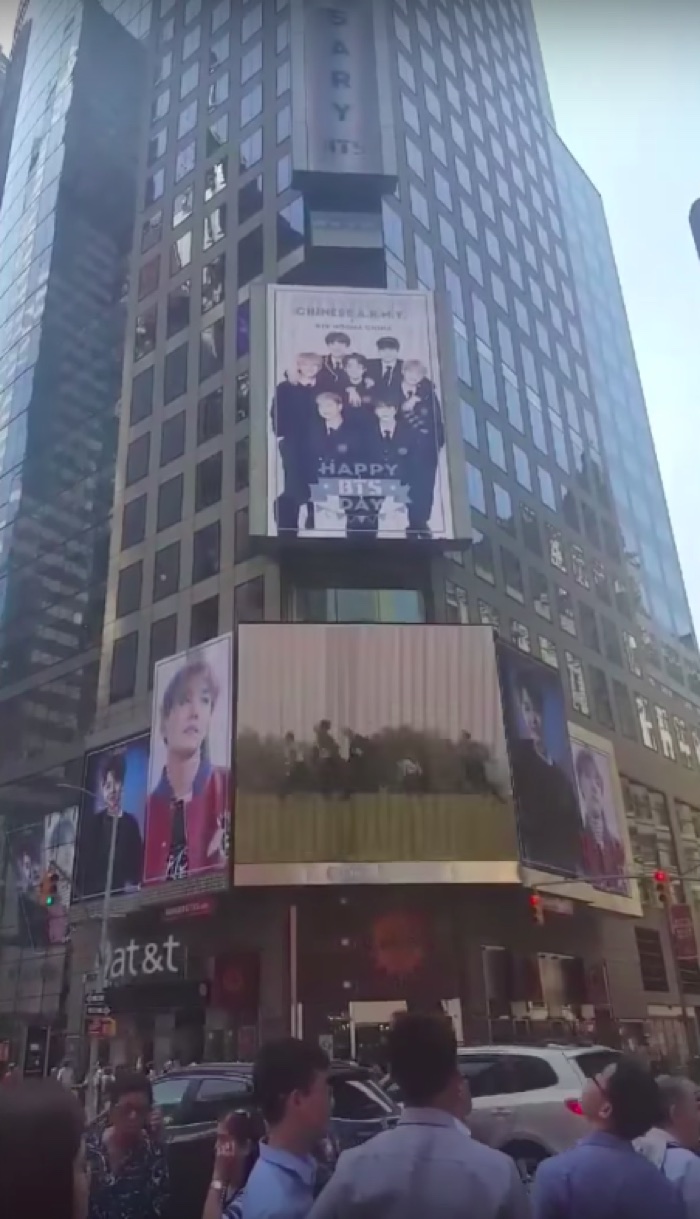 That was also a birthday present from Chinese fans, and triggered back in April.  But that only upped the ante on BTS ARMYs, who were challenged to raise the money to outdo EXO.
ARMYs may have accomplished their mission.  But EXO's birthday present was also pretty impressive.  Take a look: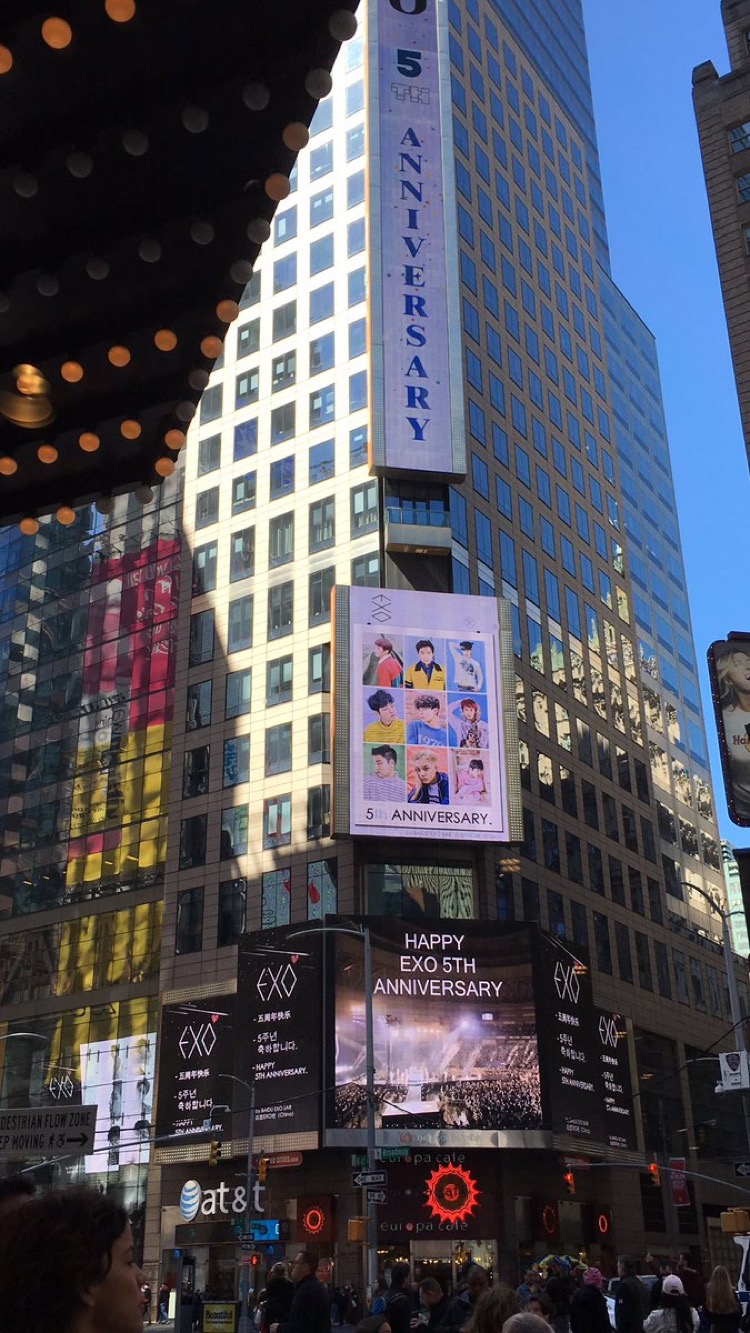 The respective ad splashes aren't happening by accident.  Both BTS and EXO are suddenly growing in the US, with Kpop starting to reignite stateside.  Just this year, both groups completed successful American legs to their worldwide tours.  Perhaps most encouraging is that both groups attracted a diverse crowd, including many non-Koreans.
The campaigns also symbolize a growing global embrace of Kpop, one that transcends petty politics.  Indeed, both of these ad campaigns are coming from Chinese fans, despite heavy pressure by the Chinese government to block Kpop.  Or, maybe that's exactly the reason this is happening.
So who's next?  The dual blasts from ARMY fandom and EXO-Ls are putting pressure on other fandom.  All of which is great for Times Square billboard companies!