Gene Simmons wants to control the trademark on the famous 'devil horns' hand gesture.  But did he really invent it?
Gene Simmons is a major figure in 70s rock n' roll.  But did he actually invent the famous 'devil horns' hand gesture that has become synonymous with heavy metal?
Yes, according to Simmons, who has now filed for trademark protection of the gesture.  That is, with the US Patent & Trademark Office in Washington, DC.  According to the Hollywood Reporter, Gene Simmons officially submitted his application for the trademark on Friday.
Simmons claims that he first used the gesture on November 14th, 1974.  While performing with KISS, Simmons displayed the gesture on stage, thereby inventing it.  Since that point, the gesture has become an internationally-recognized symbol of heavy metal.
For those unfamiliar, the 'devil horns' gesture is simple.  Index finger and pinky extended, other fingers down.  Palm side faces forward, and you're part of the metal society.
One symbol, all thanks to one guy: Gene Simmons.
Bullshit?  That depends on the technical qualifications of this specific filing.
As you'd expect, others are sharply contesting Simmons' claim.  The exact origins are disputed, though many credit the popularization of the devil horns to Ronnie James Dio.  "Gene Simmons wrote in his 2002 autobiography that it was his accidental invention, the inadvertent gesture of a great man, repeated at concerts and picked up by fans," music journalist Steve Appleford relayed.
"Not likely. Former Black Sabbath shouter Ronnie James Dio also takes the credit, first raising the horns before joining the band in 1978."
Others say it's truly impossible to trace the origin of a hand gesture.  We might as well ask who 'invented' other hand symbols, like for peace, hang loose, or the f—k you middle finger.
Which introduces another question: is this 'trademark trolling'?
Now, to complicate things further, there are two variations at play.  The one posted above features a closed thumb, which cover the ring and middle fingers.  Gene Simmons is trademarking a version in which the thumb is extended outward.  Like this one, from the actual trademark filing: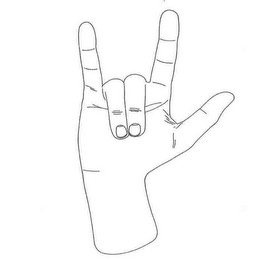 That just happens to mean 'I love you' in sign language.  Which means it was invented long before 1974.  In defense, Simmons argues that his trademark would apply to entertainment-specific uses, not broader uses.  But even using that narrowed definition gets tricky, with multiple instances of the hand signal popping up prior to KISS.  That includes the Beatles, whose John Lennon sported the gesture on the cover of Eleanor Rigby.
There's even the close-thumbed version on another Beatles album, Yellow Submarine.  All of which sounds 'entertainment specific'.