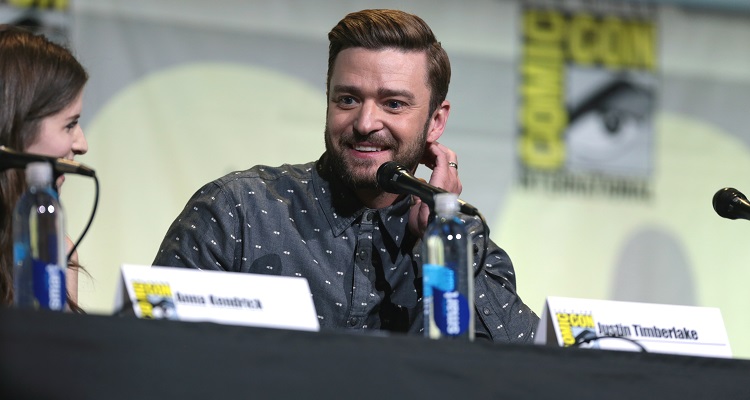 Justin Timberlake could be on the hook for millions in damages if found guilty.  This week, a federal judge refused to toss the plagiarism case.
Last February, disco artist Perry Kibble's heir, Janis McQuinton, filed a copyright infringement lawsuit against Justin Timberlake and Will.i.am.   She claimed that both artists sampled her brother's song, 'A New Day (Is Here At Last)'.  According to McQuinton, Timberlake's 'Damn Girl' copies the hook, rhythm, harmony, and melody from the song.
Here's a quick comparison of the two tracks.  First, Timberlake's 'Damn Girl':
And here's 'A New Day,' release in 1969:
A rip-off? Or just two songs that sound alike?
Lawyers for both Justin Timberlake and Will.i.am tried to dismiss the suit last summer.  According to attorney Robert Jacobs, no case law supports McQuinton's demand for over a decade of damages.  'Damn Girl' originally came out in 2006.  Justin Timberlake and Will.i.am had produced the single under production handle Jawbreakers.  Jacobs wrote,
"Plaintiff's lawsuit seeks to turn Supreme Court precedent and four decades of unbroken Second Circuit law on their head.  Just 21 months before Plaintiff commenced this action, the Supreme Court unequivocally stated that copyright plaintiffs are limited to 'retrospective relief only three years back from the time of suit'."
McQuinton fired back, claiming that she didn't know about the infringement until 2015.
Sony Music and BMG Rights Management joined the lawsuit, asking the court to place a three-year limit on McQuinton's claims.  On Tuesday, US District Judge Vernon Broderick denied the motion with leave to refile.
"At its core, defendants' argument amounts to a request that this court separate the Second Circuit's pronouncement that the discovery rule applies from the language supporting a three-year look back, and find, as a result, that the three-year look back prohibits plaintiff from recovering any damages occurring more than three years prior to the filing of the complaint regardless of when the infringement claim accrues."
The song in question was originally recorded in 1969 by J.C. Davis.  Perry Kibble filed his copyright for the musical composition that same year.  After Kibble passed away in 1999, ownership of the copyright transferred over to his sister, Janis McQuinton.  In December 2015, McQuinton assigned ownership to PK Music Performance, her corporation.
Both McQuinton and Jacobs had cited the Petrella case in their favor.  In 2014, the Supreme Court ruled that writer Frank Petrella's heir could sue MGM for copyright infringement over Raging Bull.  Paula Petrella, Frank Petrella's daughter, sued MGM and 20th Century Fox for at least $1 million in damages.  They allegedly infringed on Raging Bull for continuing its distribution.  While the Supreme Court ruled in Petrella's favor, the high court never established a three-year time limit.
Dismissing Jacobs' claims that the Supreme Court limited retrospective filings to three years, Broderick wrote,
"Neither the Second Circuit nor the Supreme Court have explicitly addressed this issue.  Indeed, while noting that the limitations period allows plaintiffs to gain three years retrospective relief from the date the complaint is filed, the Petrella Court simultaneously stated that it had not decided whether the injury rule or discovery rule applies, and did not address how application of either rule would interact with the three years retrospective relief limitation."
In the motion to dismiss, Jacobs accused McQuinton of "ignor[ing] the fact that… before [Justin Timberlake's] release, Defendants sought and obtained mechanical and sample use licenses for Day's use from J.C. Davis."  According to Jacobs, they received J.C. Davis' permission to use the remix of the 1969 recording.
The federal judge also ruled it "premature" to define how much damages Justin Timberlake and Will.i.am may owe to McQuinton.
Following the ruling, Timberlake's attorney declined to comment.
Image by Gage Skidmore (CC by 2.0)