It's 'trash,' 'some bullshit,' and a serious waste of time.  After seeing the Tupac Shakur biopic All Eyez on Me at the theater, 50 Cent is trying to save you 12 dollars and 50 cents.
50 Cent is giving the Tupac movie three thumbs down!  Here's what the rap impresario blasted on Instagram after stepping out of a Cineplex Odeon.
"Man I watched the 2 PAC film, that was some bullshit. Catch that shit on a fire stick trust me. LOL SMH TRASH.  I just want you to keep me in mind when you watch that shit. Straight out of Compton was good. That was a bad movie man, 2PAC is suppose to be a classic they they fucked it up. John Singleton said it was wack, I had to see it for my self. Go check it out you gonna be mad as a mother fucker. I want my money back now!!! Some of y'all think I'm hating. SMH nah go see it. When you walk out of the motherfucker like this you gonna learn to listen to me."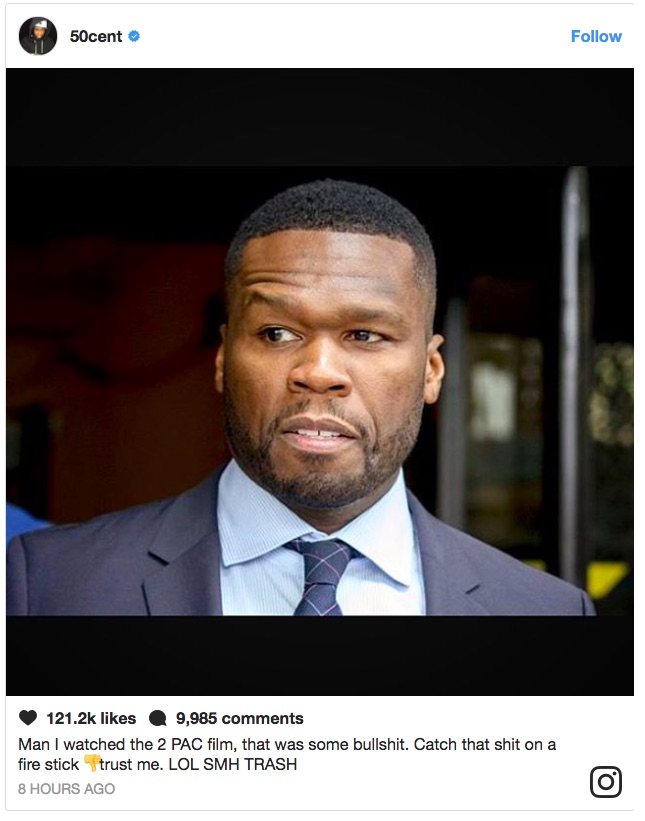 The heavy diss follows approving comments by both Diddy and Suge Knight.  But 50's harsh assessment of the Tupac Shakur retrospective could put a damper on earnings, especially on opening weekend.
+ The Car Tupac Shakur Was Murdered In Mysteriously Resurfaces
Once upon a time, movie tickets were $3.50.  But at $12.50 and higher, would-be viewers may consider other weekend options.  Or, Netflix, Amazon, or even torrenting.
Then there's the very high bar set by Straight Outta Compton, perhaps the new benchmark for any rap-related movie.  That film may have spurred development of All Eyez on Me, especially given the similarities in time and place.  Indeed, Tupac's ascent closely followed that of N.W.A, with both affixing LA firmly in hip-hop's history books.