There are rare moments when you can actually feel history in the making. Wednesday night at the legendary Troubadour in West Hollywood was one of these moments.
We are in the era of sensitive rock stars. On full display Wednesday evening were friends on stage honoring the history of the venue, embracing the warmth of their crowd and cherishing each moment of an evening they would never forget.
Theo Katzman and Joey Dosik were sophomore year roommates at the University of Michigan.  They spent years on the road together as part of the hook-laden jam act My Dear Disco. Theo is most well-known for being a member of the nu-funk band Vulfpeck who are quickly rising to be one of the biggest DIY bands in the country.
You can't help but revel in the bursting joy Theo exudes any time he's playing music on stage with people he loves.
It's refreshing to see masters of the art so humble. For someone who just recently traded solos with Trey Anastasio at Red Rocks, has performed at some of the largest festivals in the world, on late night TV shows and has endless memes focused around him (created by members of the infamous Vulfpack Facebook Group), Theo is kind, sensitive, down to earth and genuine. Theo is a captivating force on stage. Confident and funny. Authentic and passionate. He doesn't front. He respects his crowd and his crowd respects him.
Whereas Vulfpeck shows, lead by the off-kilter, yet brilliant Jack Stratton, are loose, random, sporadic and oftentimes confusing, Theo Katzman led one of the tightest rhythm sections the Troubadour stage has ever seen.
On the bass was Vulfpeck's Joe Dart who is quickly cementing himself as this generation's funkiest bassist. Locking into the groove with him was drummer Rob Humphreys who has an unmistakable pocket and swagger. When Theo was on the kit, Joe adjusted his groove to match Theo's more subtle style without losing a hint of luster.
When Theo introduced Joe Dart, the loudest cheer of the evening occurred. And it didn't stop. It was so excessive and deafening that Theo and band burst out laughing. And to make the rest of the band know how much the audience appreciated them, the cheers were nearly as loud and excessive for every member's introduction: Rob Humphreys on drums, Laura Mace and Mike G on vocals and Joey Dosik on keys. (A-list guitarist Jon Sosin sat in on "Plain Jain Heroin" and Joey's guitarist James Cornelison held down a Nile Rodgers groove all night long.)
Theo Katzman is one of these rare talents who is equally proficient at guitar, drums, bass and vocals. His effervescent tenor voice can reach peaks most professional male singers could only dream of. Throughout the evening, Joey "I write songs about basketball" Dosik would even egg Theo on asking for the high octave to which Theo quickly obliged and the crowd each time went nuts.
But the real reason why the evening sold out well in advance was because of Theo Katzman's songs.
What sets mere players apart from Artists are the songs. There are thousands of great instrumentalists. Great singers. Great players. They are eventually forgotten. But great songs are irreplaceable and unforgettable.
Songs that reveal the depths of an Artist's soul are what deeply attract an audience to the Artist.
And it seemed everyone in the room knew every lyric. Theo Katzman's Heartbreak Hits album, released in January (at the Bootleg Theater in LA with the same bill) is a poetic masterpiece. As the title suggests, most of the topics center around Theo's never ending pursuit for imperfect love. An optimistic, exuberant 30 year old Los Angeles music nerd living in a "one-bedroom" apartment, struggling to cope with the realities of modern romance. A sweet diatribe of a hopeless romantic who wants nothing more than to live happily ever after. Set in present day, complete with "yoga pants" references, hopeful Millennials seeking refuge from a breakup can find familiar respite in Heartbreak Hits.
+Theo Katzman and Madison Douglas Love Bombed the Bootleg Theater
A standout moment of the evening was fan favorite "Plain Jane Heroin" which reached spiritual heights with a dynamic explosion that got the crowd singing, screaming, crying and grabbing their loved ones. It was a magical moment. The show was dynamic with players trading off instruments, rearranging numbers a cappella. During Joey Dosik's set he told epic stories as intros to his songs – half spoken, half sung – honoring the long-standing signer/songwriter tradition. And backing him up was Theo Katzman. How often do you see the headliner back up one of the openers for their entire set? Theo Katzman was on drums or guitar for Joey's entire set, singing harmonies and tag teaming hilarious stories.
The stage was completely void of any ego. And the room was electric.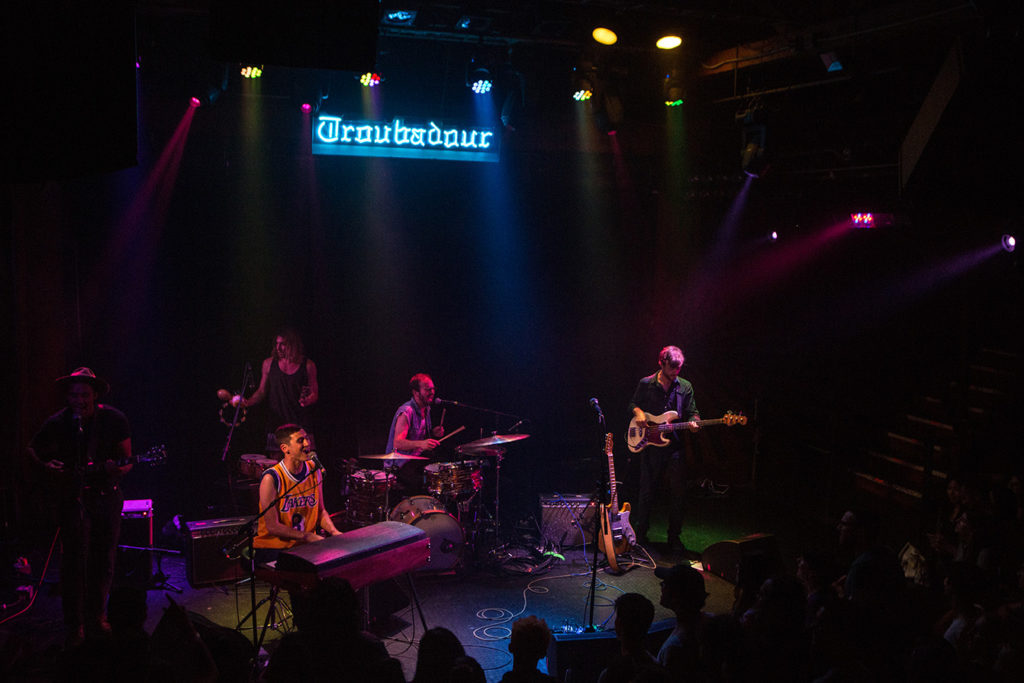 The next generation of sensitive, pop singer/songwriters who are masters on their instruments have emerged.
With a massive void since the early 2000s, where John Mayer, Jason Mraz and Sara Bareilles dominated the landscape, Theo Katzman and Joey Dosik have tapped into the same demographic of twenty-somethings coming of age. There is a maturity and vulnerability within these sensitive troubadours' songs not present with Ed Sheeran, Taylor Swift or any other modern day pop singer/songwriter topping the charts.
This vulnerability was not lost on Joey, Theo or the band on Wednesday. These young men's sensitivity was baked into every note they played. No one on stage needed to prove anything. No one felt the insecurity of needing to show off. This night was about community. Togetherness. Creating a space where everyone could drop their guard and fall into one another.
It was a spiritual experience lifting the entire space to the heavens if only for our brief time together.
From the moment Madison Douglas sang her first note kicking the show off to when Theo, Joey and the band ended their encore with a crowd sing along of "Don't Let Me Down" the stage was completely void of ego. No holier-than-thou frontmen. No guitarists partaking in dick-slinging, shredding competitions, no drummers over playing, no unnecessary solos, fills or vocal runs.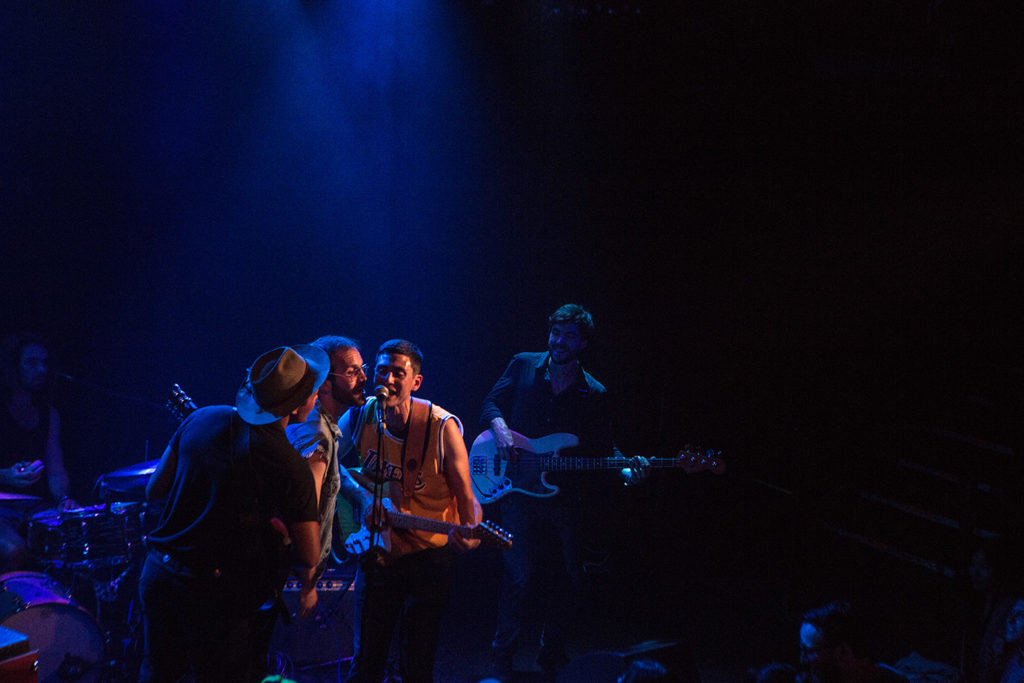 Everything was in its right place.
20 year old Madison Douglas, who I (and Theo) first heard pierce the hearts of a 30 person audience of musicians at the 2nd stage at the Hotel Cafe during a Monday Monday songwriter showcase last Fall, displayed Wednesday why she is the most captivating singer/songwriter to come out of Los Angeles since Phoebe Bridgers. She is completely transformed when she performs and wails with ease. From the moment she sang her first song, a cappella, she was connected. Channeling powerful forces not of the physical world. A fierce individual, with patented vocal whoops, grappling with her identity and sexuality. Powerful and open. Penetrating every heart in the room. Taking control of every soul, guiding them towards enlightenment by simply singing her original songs. Being able to captivate a room so effortlessly (as the 1st opener) is what separates a star from a mere performer.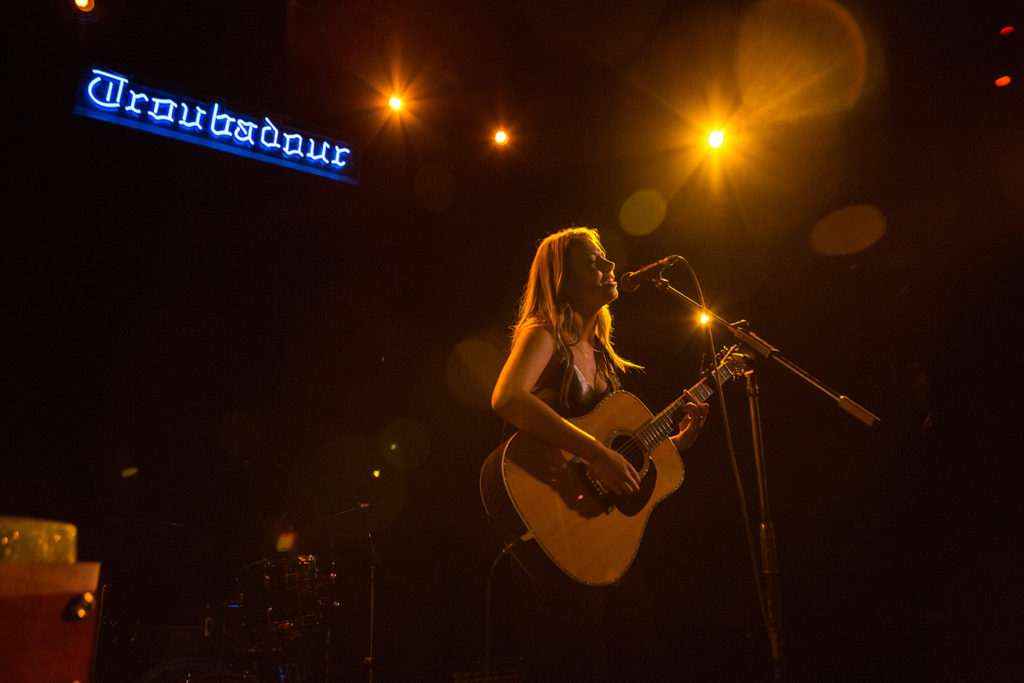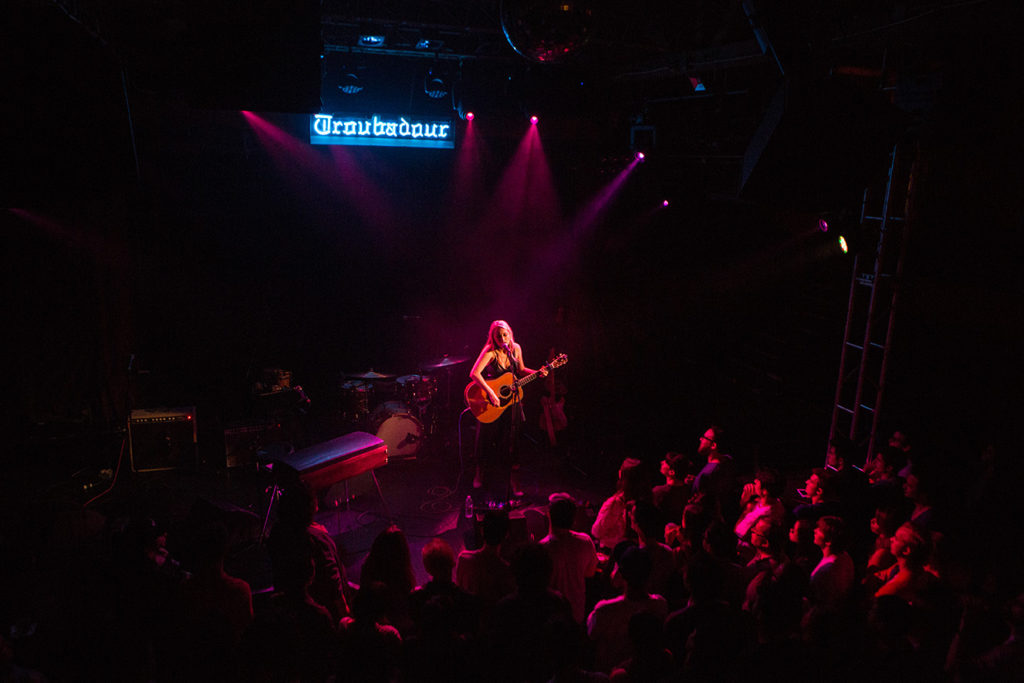 Madison Douglas is a star the world has yet to discover.
This sold out show was full from door time. Everyone arrived early for Madison and stayed late for Theo. It was a true evening of shared love and joy.
Whereas Theo's record release show at the Bootleg this past January was muddied with awkward banter, the flow of this show was smooth and effortless. Theo's banter was on point. It just goes to show what 4 months of playing sold out shows to thousands of screaming fans a night (in Vulfpeck) can do to your stage confidence.
And he pulled a brilliant business move right at the end of his set.
He ripped off his shirt and sleeveless jean jacket and popped on his own Heartbreak Hits Theo Katzman tank top and gave a hilariously engaging (and inspiring) pitch to buy it at the merch booth. And, it worked. After the show the merch line was so long that it spun through the front bar, out the door and literally down the block. For a guy without a manager or a record label, he just schooled bands with heavy representation. Both Joey and Theo had vinyl and shirts which flew off the table.
This is how it's done. DIY FTW.
I caught up with Theo to hear first hand what he had to say about the experience:
"The Troubador is the only club that I've actually dreamed of playing at, and it was indeed a dream come true. And it meant so much to be able to play with such an inspiring crew of some of my favorite musicians and people in the world." – Theo Katzman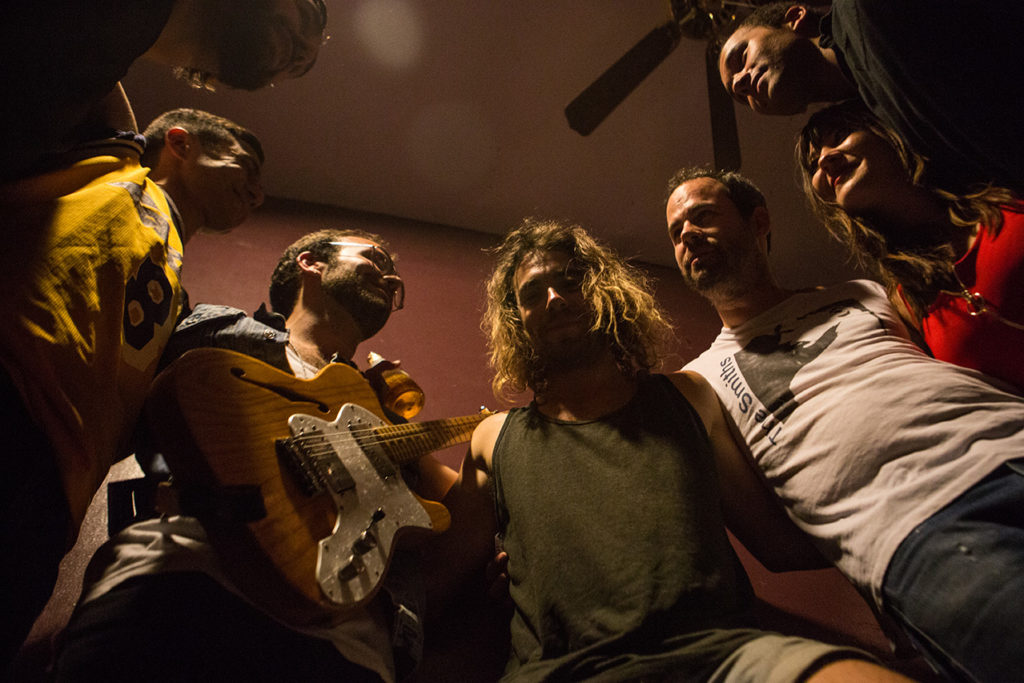 As Joey Dosik sang at the very start of his set listing off all the legends who had made history at the Troubadour (The Eagles, Donny Hathaway, Carol King, James Taylor), 550 music lovers are here to publicly and historically attest that yet another legendary concert went down at the Troubadour June 14th, 2017.