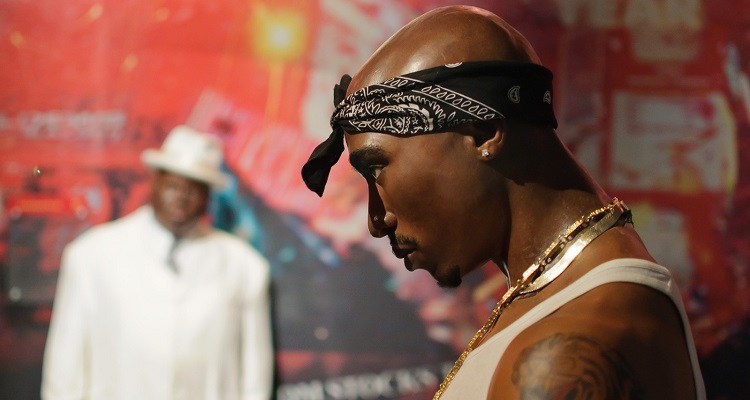 Tupac Shakur was always ahead of his time.  But did he actually carry an iPhone 7 in All Eyez On Me?
To celebrate what would've been Tupac Shakur's 46th birthday, Lionsgate-Codeblack released All Eyez On Me.  The film purports to tell "true and untold story of prolific rapper, actor, poet, and activist Tupac Shakur."
The movie proved to be a hit, landing behind only Cars 3 and Wonder Woman.  It earned $27.1 million in its first weekend.
Yet, despite its solid box office results, critics and moviegoers have slammed the biographical film.  It received a 24% "rotten" rating in Rotten Tomatoes.  The biographical film has a low, 69% audience score.
Rotten Tomatoes' critical consensus reads,
"Despite Demetrius Shipp Jr.'s fine lead performance, All Eyez on Me is mostly a surface-skimming, by-the-numbers biopic of a larger-than-life icon."
The New York Times' Glenn Kenny called the film uninspiring.  Criticizing director Benny Boom's poor handling of the movie, Kenny wrote,
"[All Eyez On Me is] a clumsy and often bland account of his life and work…  [it] gives little genuine insight into his thought, talent or personality."
Jada Pinkett Smith, a notable longtime friend of Tupac, also slammed the film's altered portrayal and historical inaccuracies.  In a series of tweets, she wrote,
"Forgive me… my relationship to Pac is too precious to me for the scenes in All Eyez On Me to stand as truth.  Pac never read me that poem.  I didn't know that poem existed until it was printed in his book.  Pac never said goodbye to me before leaving for LA.  He had to leave abruptly and it wasn't to pursue his career.  I've never been to any of Pac's shows by his request.  We never had an argument backstage.  The reimagining of my relationship to Pac has been deeply hurtful."
Among the film's historical inaccuracies includes Tupac Shakur using what appears to be… an iPhone 7?
The rumored gaffe prompted users on social media to use the phrase, "I left when I saw Pac…"  Noteworthy memes included Tupac Shakur previewing music on Instagram Live, and Pac unfollowing Biggie on Instagram.  Another user said that he left the movie when Tupac visited Obama at the White House.
50 Cent has been furiously pointing to the inaccuracy.  After slamming the biopic, he reportedly wrote the following:
"When you look at this 2 Pac movie, and I know you want to say I'm hating.  But there's a scene in it where Faith and Pac are taking a picture and THEY HAVE A FUCKING IPHONE IN IT.  What the fuck is this man."
So far, the film's producers and directors have yet to comment on the matter.  Either way, All Eyez On Me had a budget of $45 million and will likely turn a profit for Lionsgate.
Image by InSapphoWeTrust (CC by 2.0)