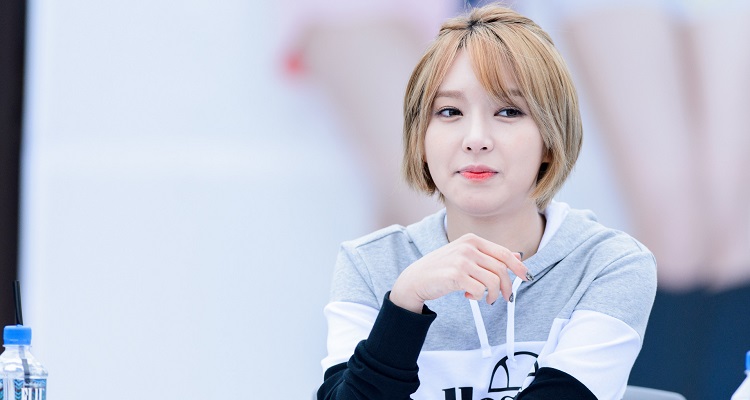 After facing problems with depression and insomnia, AOA's ChoA has called it quits.
It's not easy being a music superstar, especially in the Kpop arena.  Several months ago, Big Bang's leader, GDragon posted a picture on Instagram that was seemingly a cry for help.  Then, following his conviction for smoking marijuana with a fellow police trainee, Big Bang's rapper, TOP, overdosed on strong tranquilizer medicine.  Now, following denials of her departure, ChoA has confirmed that she has called it quits with AOA.
On her Instagram page, AOA's ChoA posted a letter to explain why she has left the group.  First reported by allkpop, ChoA told fans that she has dealt with depression and insomnia for the past two years.  Despite her "bright image" on the outside, she often wanted "to cry during our promotions."  To not worry fans, as her struggle with depression deepened, she had to "appear happy."  However, the more she forced herself to appear happy, the sicker she felt and became.
ChoA admitted that despite taking medication and lessening her workload, it didn't help.  She hopes that by taking the "difficult decision" to leave the group, she will heal and grow.
Following her admission, AOA's management company, FNC, denied the news of her departure. Despite the singer's heartbreaking and soul-baring confessional, it seems they may not allow her to leave the group.
Speaking with My Daily News, FNC said,
"In terms of leaving the team, we are in the process of talking about it.  It has not been decided.  We will be deciding on the future steps after more discussion."
Citing insomnia and depression as the main reasons for the departure, the letter posted in Instagram states,

"Hello, this is ChoA.

"I was very thankful and sorry that so many people took interest in my sudden hiatus. It's a bit late, but I'd like to tell you the reasons I had to rest and the decision I've come to after a lot of thought.

"AOA wasn't a team that received a lot of love as soon as it debuted, so I was always grateful for the love and think of it preciously.  Although I was the oldest in the group, I'm still young.  There were many times I wanted to cry during our promotions.  I know you all liked me because of my bright image, however. I was crying inside, but I had to appear happy.  This happened over and over again, and the more I forced myself, the sicker I felt.
"To treat my insomnia and depression, I started taking medication and lessening my work load 2 years ago. However, I ended up stopping my activities as the problem wasn't due to exhaustion. I tried to get back to work as I thought of everyone waiting for me, but I felt that if there was more negative attention due to my hiatus, this would hurt my group members even more.
"After speaking to our label, I've decided to leave the team called AOA today, and I'm going to cheer on my fellow members.

"During the past 8 years that I've prepared and worked as a celebrity, I learned many things.  I think this difficult moment will make me grow.  I'm 28 this year, and in the future, I'll be reflecting on confused self.  For the remainder of my 20s, I'd like to experience things that are appropriate for my age.

"Currently, I'm not thinking of promoting except for what's already scheduled for me individually.  One day when I don't feel afraid and feel I can show a better side of myself, I wish to return if there are still people cheering me on.  I'm a person who's lacking a lot of things, but I would like to sincerely thank those who keep supporting me and worrying about me.  To the members I've been with for so long, to those who helped me overcome what I lack so I can receive love, and to those who loved me and AOA, I sincerely thank you from the bottom of my heart."
ChoA has yet to respond to FNC's statement denying her departure from AOA.
Image by HeyDay (CC by 4.0)