Did All Eyez on Me steal its script?  According to a lawsuit just filed, the Tupac Shakur film plagiarized key details from a series of articles written in Vibe Magazine.
The following is a breaking story. Please check back for ongoing details.  Last updated: Monday, June 26th, 11 am PT.
Tupac Shakur biopic All Eyez on Me suddenly has another problem: a massive plagiarism lawsuit.  According to court documents filed Friday, the film plagiarized major sections from articles written in Vibe Magazine.
Specifically, former Vibe journalist Kevin Powell alleges that the producers of All Eyez on Me stole specific passages and information from a series of articles he wrote in the 1990s.  That includes facts and characters exclusively reported by Powell at the time.
But: how can you plagiarize a factual history?
After all, All Eyez on Me is the story of Tupac Shakur's life and struggles in the 1980s and 90s.  It actually happened.  Except, not all of the details in the movie are technically 'factual'.  There are a number of fictional aspects and embellishments, including incidents that plainly didn't occur (just ask Jada Pinkett Smith).
Powell's articles also contained key embellishments.  "So while some of the content in these articles was factual, some portions of the article were changed or embellished," the lawsuit claims.
+ WAIT: Did Tupac Shakur Just Use an iPhone In 'All Eyez on Me'?
And that's where the problem occurs.   According to Powell, the movies fictional aspects and embellishments exactly match his fictional aspects and embellishments.
Enter 'Nigel,' who technically doesn't exist (or never existed).  'Nigel' is actually "based on a real person named Jacques 'Haitian Jack' Agnant," the lawsuit continues.  But the name 'Nigel' and the Powell's knowledge of 'Haitian Jack' were exclusive to the articles.   "Both the details of Nigel and Tupac's relationship that have not been published by anyone else."
Powell says the 'embellished' character of 'Nigel' was simply 'copy-pasted' from his articles in the film.  Suddenly, 'Nigel' was dancing on a Hollywood screen.
+ 50 Cent Says Tupac Shakur Movie 'All Eyez on Me' Is "Bulls**t"
Kevin Powell says he wrestled with the idea of litigating.  But after seeing the movie twice, he simply couldn't let it go.  "As the owner of the copyright to these articles, All Eyez on Me infringed on my rights by using content and narrative that was exclusive to my writings," Powell stated.
Accordingly, here's a statement the author posted on Facebook: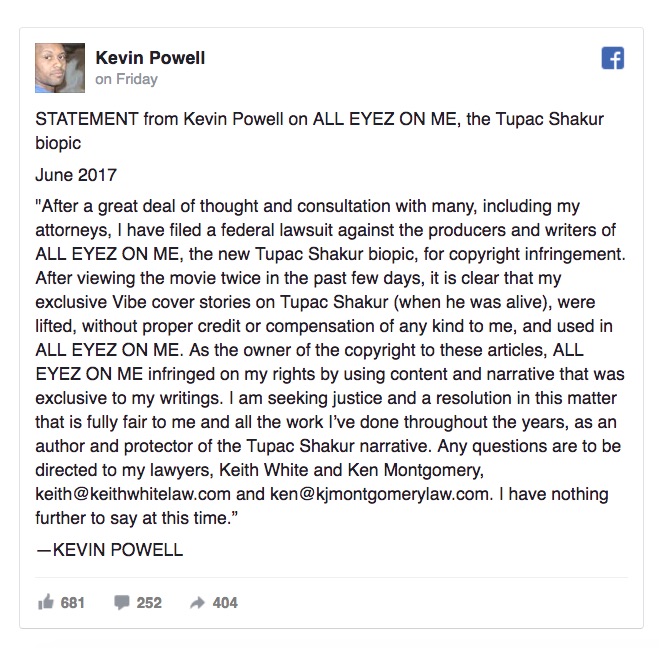 More as this situation develops.