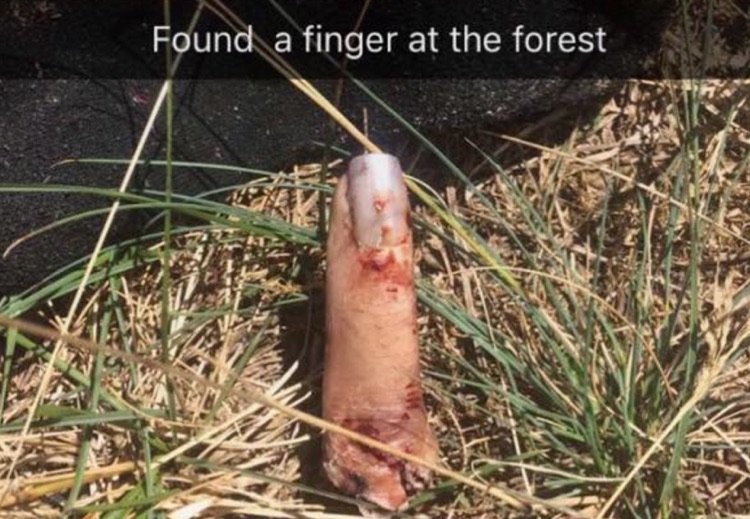 Who lost their finger?  According to a statement by Michigan State police, the severed finger spotted at Electric Forest was totally fake.  But a pretty convincing hoax.
Who left their finger behind at Electric Forest last weekend?  The answer, according to local police, is nobody.  Instead, the 'missing finger' at Electric Forest was very realistic looking, but not at all real.
Nice one.
The gruesome-looking digit was discovered on Sunday.  That's when attendees were trickling out, and catching a glimpse of debris strewn about the grounds.  Accordingly, the image (above) was quickly uploaded to the Electric Forest Facebook page, sparking viral panic.
People were frantically trying to figure out the owner.  Or, simply gawking at the ghoulish leftover.  And many were taking this pretty seriously, given how serious the finger itself looks.
So who perpetrated the prank?
This is pretty funny, though authorities generally frown on anything that sparks a wild goose chases.  But it looks like the person taking the picture didn't drop the finger, with someone else starting the prank.  Either that or they were completely dead-panning this one.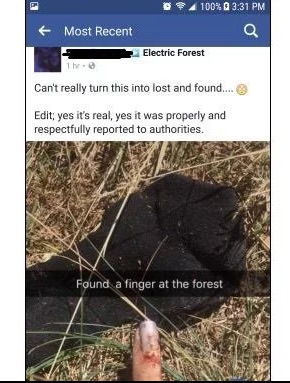 Either way, police were taking this one pretty seriously.
The finger quickly became critical evidence, and the entire area roped off.  As you might expect, the evidence-gathering process was 'cut off' pretty quickly thereafter.  Hard to say if the cops were laughing or cursing at this one (or a little of both).
Michigan State Police ultimately determined that this was a "very real looking fake finger," according to a quick statement to the media.
As is typical at festivals, a raft of phones, keys, clothing, hats, and even tents were left in lost & found.  Just not a body part.