The last vinyl records pressing for the Jaws Soundtrack happened in 1975.  But apparently that wasn't the real thing.
Sure, half the fun is finding the LP version from 42 years ago (hint: it was issued by label MCA).  But for those that prefer a little nostalgia shortcut, there's a brand-new vinyl pressing.
But according to stuff we're just finding out, the 1975 version wasn't even the real version.  Looks like we've all been getting snookered for 42 years.
According to info from reissue specialist Mondo, the first version was a recreation of the actual score used in the film.  Most likely, it made more sense to do a straight re-recording, and put it on wax given technology of the day.  "While the Grammy-winning 1975 MCA album was a re-recording, Mondo's 2XLP set presents the entire Academy Award-winning score as composed and recorded for the actual film in its first-ever vinyl release," the company explains.
+ Vinyl Records Pressing Plant Opens In an Abandoned Prison…
Accordingly, for the 2017 version, fans can enjoy a double-LP version with the full score included.  And the remastered version has been entirely re-edited and remixed by album co-producer Mike Matessino.  John Williams, now a spry 85 years of age, approved the latest version.
The Academy Award and Grammy winning score is now the stuff of legend.  Its sinister, haunting orchestral motifs played a key role in Jaws' success, with lingering danger half the thrill.
+ Jamaica's Oldest Vinyl Records Plant Is Back In Action
Here's a look at the pressing.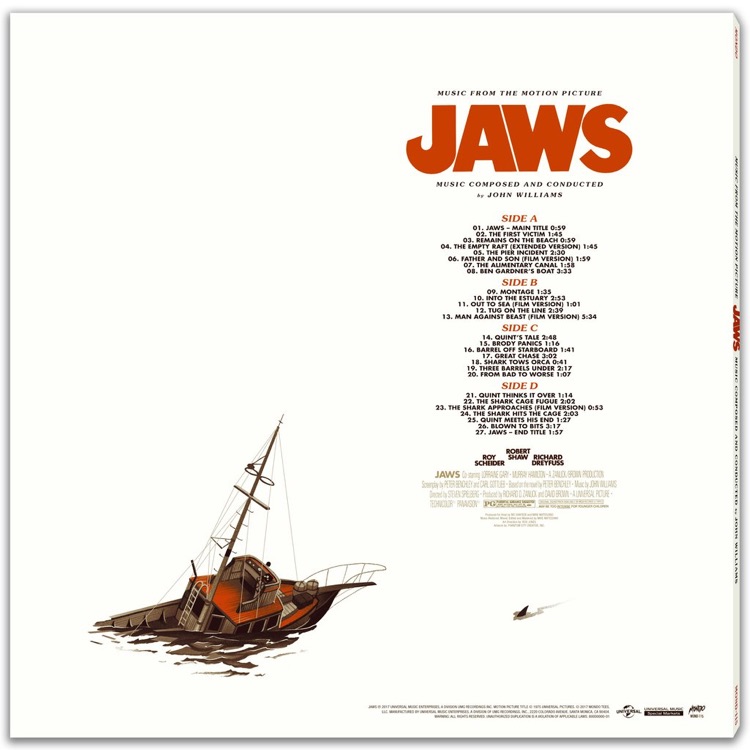 The '2XLP' can be pre-ordered on Mondo, and coincides with two poster reissues (and a third on the way).  Those that pre-order the $35 vinyl can expect delivery by October.
Or, you can watch this YouTube video of a guy playing his 1975 version on a turntable.  Because of course that exists.