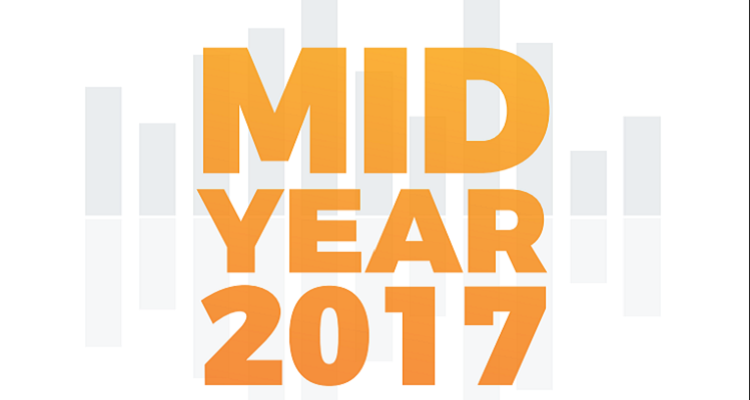 And now, your complete music industry sales summary for the first six months of 2017.  Enjoy.
At the half-point of 2017, BuzzAngle has released a new report detailing music sales across the industry.  As expected, audio streams continue to drive major sales. Subscriptions streams have also continued their meteoric ascent.  And as previously reported by major labels, physical sales have decreased substantially.
However, did you know that CD and vinyl sales are on the rise?
The Highlights: Music streaming continues to surge.
In BuzzAngle's Mid-Year 2017, overall music consumption grew 9.9% over last year.  The analytics firm reported 293 million project units in 2017 over 2016's 266.6 million album project units.  Song consumption units went up 29.5% this year over 2016, 1.5 billion song project units to 1.2 billion.
So a lot more music seems to be getting devoured.
Audio streams have also reached a new high this year, landing at 179.8 billion, up 58.5% over last year.  People have also jumped behind paid subscriptions on services like Spotify and Apple Music.  Paid subscription streams grew 69.3% and accounted for 78.6% of total audio streams in 2017.  This number went up 73.6% over last year.
Spotify now has 50 million paid subscriptions.  Apple Music has "well over" 27 million paid subscribers since its launch two years ago.
One thing to note is that all of this data is supplied by Spotify and Apple, so you kind of have to trust them.  But clearly, streaming is becoming the dominant method of music consumption.  And these volumes are getting serious, with Americans streaming an average of 10.8 billion hours of music a week.
And the biggest week?  That would be the week of April 21, when Americans clocked 11.8 billion hours.  Popular releases during that week included Barry Manilow's This Is My Town, and Blackbear's digital druglord.
The Lows: what goes up must come down
As previously reported by major labels, physical album and digital download sales are experiencing a steady decline.  Album sales saw a 13.9% drop during the first half compared to 2016.  BuzzAngle projected 74 million in album sales over last year's 86 million.
Digital album sales via services like iTunes saw a steeper decline.  This year, consumers have purchased 34.5 million albums over last year's 45.6 million.
Physical album sales also went down this year 2.1% to 39.6 million versus 40.4 million in 2016.  Yet, looking at overall album sales numbers, consumers still prefer to purchase at physical stores.  Physical album sales accounted for 53.4% of all album sales in 2017, up to 46.9% over 2016's.
As with their album counterparts, individual digital tracks experienced a strong decline.  Showing that people have started shifting to streaming en masse, BuzzAngle reported that digital song sales fell 23.8% year-over-year.  However, the American consumer still enjoys downloading songs.  So far this year, digital song sales have reached 313.3 million, albeit down from 410.9 million in 2016.
The Big Surprise: vinyl won't die and CDs may not fade away anytime soon
Confirming multiple media reports, vinyl album sales have seen a huge increase, up 20.4% over last year.  Also proving the medium won't die, CD album sales went down a paltry 3.9%.
So what's going on?  For starters, Record Store Day had a huge hand in helping push up CD and vinyl sales.  On April 22, combined CD and vinyl sales went up 6% compared to last year's Record Store Day on April 16.  That same day, vinyl album sales went up 14% at independent music stores.
Actually, Record Store Day scored the single largest vinyl sales day for the entire year.  On April 22, 224,000 more albums were sold over last year.
On the cassette side, Guardians of the Galaxy: Volume 2 became the biggest selling cassette album with 3,934 sales.  That's 3 thousand, not million, but hey: it's a cassette.
People still love streaming albums.  But purchasing?  Not so much
Looking closer at the numbers, during the first six months of 2017, BuzzAngle saw a 9.9% growth in album consumption.  People have streamed albums 292,986,056 times, over 2016's 266,565,904.
Overall album sales reached 74,093,472, down a strong 13.9% over last year's 86,029,972.  Song sales saw a steeper, 23.9% decline at 313,305,154.
It's obvious at this stage of the game.  People have shifted away from purchasing individual song and albums and more towards on-demand streaming platforms.  BuzzAngle reported 179.8 billion on-demand audio streams on services like Spotify, Apple Music, and Amazon.  Users appear to have shifted away from YouTube, as BuzzAngle reported only 101.5 million on-demand video streams.  This represents just a 6.1% growth over last year, a far cry from on-demand audio streaming's broader 58.5% growth.
So, what genres do people love purchasing and streaming?
This year thus far, people have listened to Hip-Hop and Rap the most.  The genre commanded 20.6% of all album consumption.  This represents one of the strongest jumps in terms of genres, with a 46.9% bounce over 2016.
Pop came in second with 14.3% and R&B at third with 9.3%.  The Latin market has also struck a chord among music lovers, as it experienced 26.8% growth over 2016.  Country music also experienced a similar boom with a 33.5% increase over last year.
In terms of individual song consumption, Hip-Hop and Rap took top prize as the most listened to genre with a robust 48.6% growth over last year.  Pop and R&B came in second and third place, respectively.  Just as with album consumption, Latin music and country music has experienced similar growth with listeners this year.
Newer songs take a back seat to tried-and-true classics.
Here's a very interesting fact: most people prefer NOT to listen to newer songs. BuzzAngle categorized album and song consumption by periods.
New: Releases up to 8 weeks old
Recent: Releases greater than 8 weeks old and up to 78 weeks old. (Roughly up to a year and a half old).
Catalog: Releases greater than 78 weeks old and up to 156 weeks old. (Between a year and a half up to three years).
Deep Catalog: Releases greater than 156 weeks old. (Roughly over 3 years)
By release period, people preferred deep catalog albums over newer and recent songs.  Deep catalog albums had a 51% share.  New albums saw a 12.3% share, while recent albums saw a 24.8% share.  Catalog albums saw a slight .3% increase with an 11.9% share.
Physical album sales had a similar breakdown.  Deep catalog albums (like CDs and vinyl) saw a 3.5% increase to 55%.  New physical albums had a 15.9% share, down 1.7%, and recent albums had a 20.4%, down 2.7%.  Catalog albums between 1.5 to 3 years old saw a slight .9% bump.
Don't expect digital albums to break from this established pattern.  While sales went down this year, deep catalog digital albums saw the largest share at 46.8.  New slightly edged out recent catalogs, 23.1% to 21.1%, and catalog digital albums trailed behind at 9.1%.
When purchasing individual tracks, deep catalog had a dominant 49.5% share.  A huge surprise here is that people also preferred songs that are 'newish,' but not brand spakin' new.  Recent individual tracks had a 27.2% share.  New and catalog individual tracks saw a low 13.1% and 10.2% share, respectively.
With on-demand song streaming, people preferred tried-and-true classics over newer songs.  Deep catalog song streaming had a 46.7% share, slightly down 1.5% over last year.  Newer songs saw a slight 3.3% uptick with an 11.3% share.   Recent song streams beat out catalog songs, 28.1% to 13.9%.
On video platforms like YouTube, don't expect people to stream newer tracks.  Deep catalog video streams once again emerged as the preferred choice with a whopping 59.3% share.  Recent videos came in second with a 22.3% share.  Catalog songs took third with a 5.8%.
One key thing to note here is that people won't turn to YouTube to stream the latest hits.  Newer songs on video platforms saw a weak 5.8% share, slightly up 2.2% over last year.
'Divide' This: who did people listen to the most?
Ed Sheeran's Divide took home the top prize with a whopping 945.75 million number of audio streams.  It also had the strongest song sales at 3.79 million, and album sales at 710,773.
The soundtrack to La Land Land became the highest vinyl album sold with 29,195 album sales.
In the streaming world, Drake remained mostly unchallenged with a 1.789 billion total album streams, including audio and video streams.  He also became the top artist of the first half of 2017 with over 3.44 billion audio streams.
Ed Sheeran's 'Shape of You' was also the most streamed track with 340.8 million streams.  Sales-wise, 'Shape of You' had 2,258,696 song sales.  With overall album sales, Ed Sheeran was ranked number 1, edging out Metallica and Kendrick Lamar.
Going back to the streaming world, Migos' 'Bad and Boujee' had the highest total streams with 711 million.  People preferred to listen to the track on video platforms like YouTube over on-demand song streaming platforms like Spotify.  Migos' track saw a whopping 439 million video streams.  People streamed the track on platforms like Spotify and Apple Music just slightly over 271 million times.