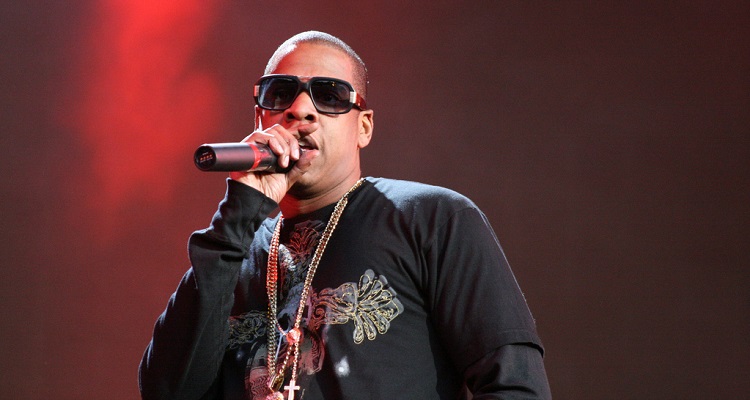 Jay Z's 4:44 goes Platinum.  But it doesn't appear on the Billboard charts.  What went wrong?
For the second week in a row, DJ Khaled's album, Grateful, has reached No. 1 on the Billboard 200.  According to Nielsen Music, Grateful earned 70,000 equivalent album units, down 53 percent from last week.  Traditional album sales composed 16,000 of the entire sum, also down 68 percent from last week.
Calvin Harris' Funk Wav Bounces Vol. 1 debuted at No. 2, a new record for the DJ.  Noticeably absent from Billboard's tally was Jay Z's 4:44, which recently went platinum.
So why did Jay Z's 4:44 fail to reach the list?  The answer: TIDAL didn't report the album's streaming numbers to Nielsen Music.
Platinum?  Yeah, right.
To promote the album, Sprint scooped up copies of Jay Z's TIDAL-only 4:44 and offered them up as free downloads.  By visiting 444.tidal.com, users who entered the promotional code 'SPRINT' could receive a copy.  Sprint owns a large part of TIDAL.
Four years ago, Jay Z released Magna Carta Holy Grail exclusively on Samsung.  The album didn't go platinum, as the RIAA refused to count Samsung-purchased downloads as part of its Gold & Platinum Program.
So, the RIAA basically decided to change those rules.  Less than a week after 4:44 came out, it went Platinum.
In other words, Sprint/TIDAL bought stuff from Sprint/TIDAL and earned a record for it.  Congratulations!
But there's a snag.  Unlike the RIAA, Billboard maintained that self-purchased downloads wouldn't count on their charts.  That proved true as Jay Z's TIDAL-only 4:44 failed to appear on the Billboard 200.  That may change next week as the album recently dropped on Apple Music and Amazon.  The rapper publicly snubbed Spotify, however, a move that may cost him dearly (now and in the future).
Why did TIDAL refuse to release its streaming numbers? Two possible reasons.  The first is probably to avoid sharing its low number of paid subscriptions and 4:44 takers.  But there's also the reality that Jay Z's star power isn't doing the trick for TIDAL's suffering business model.
The company last reported that it reached 3 million subscribers in May of 2016.  And they have yet to comment on a report detailing a high number of fraudulent subscriptions.
In a bitter public feud with his former "Big Brother," Kanye West admitted that he lost millions by launching The Life of Pablo exclusively on TIDAL.  He also only brought in 1.5 million new subscribers (or so TIDAL claims).
So, if Kanye West couldn't turn things around for the streamer, what hope does Jay Z have?  Better yet, what hope does the streaming platform have for its future?   If it continues to operate in the same way, none at all.
Image by Rich Thane (CC by 2.0)