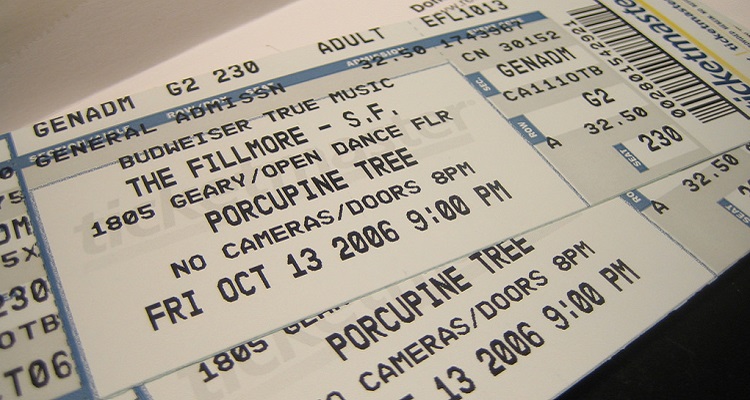 Want free Ticketmaster tickets for upcoming Live Nation events? Read on.
In 2003, Curt Schlesinger filed a class action lawsuit against Ticketmaster.  The lawsuit alleged that Ticketmaster had failed to fully disclose all aspects of its UPS and order processing fees.  The ticketing giant settled the case back in 2013, and opened a large number of free tickets to fans.
The ticketing giant first made a massive disbursement of free tickets last year.  Now, it's happening all over again.
Basically, if you purchased ANY Ticketmaster tickets from ticketmaster.com between the dates of October 21st, 1999 and February 27th, 2013 then you are part of the 'class' in this class action lawsuit.
As part of its settlement, Ticketmaster has issued 'Ticket Vouchers' to class members.  Class members will also receive a $5 UPS discount code, along with a $2.25 discount code for future ticket purchases.  The discount codes will remain valid until June 2020.
So, how can I redeem my free tickets?
To get started, you will need your ticketmaster.com username and login.   So try to remember it, or use ticketmaster.com's password recovery feature (you may have more than one logins).  Last ditch effort, try to call Ticketmaster's support.  But find those usernames and passwords, even if you haven't logged in for years!
Once you log in (provided you purchased during the specific timeframe), your past purchases will be listed.  Your discount codes, UPS discount codes, and ticket vouchers will be listed under the "Active Vouchers" section within your account.
It's all located here:
Then, find a concert in your area that you like (FAST)…
Once you've found the vouchers, simply visit the eligible event list here.  But warning: these shows are going fast!
Upon finding an eligible event, simply select the event and click on the Redeem button.  During the checkout process, look for a "Voucher Code" link.  Then, enter your Ticket Voucher code.
Finally, continue and complete the transaction.
Each voucher = 2 GA tickets.
The Live Nation settlement website reads,
"Each Ticket Voucher is redeemable for two (2) general admission tickets to select events at Live Nation owned or operated venues within the United States.  Please note, each Ticket Voucher is valid for a single, one-time use."
Other details.
Ticket Voucher redemption will be made available on a "first-come, first-served basis."  You can use a maximum of two Ticket Vouchers (a total of 4 tickets) at any eligible Live Nation event.  The vouchers are available for a single, one-time use.
Also, each class member may receive a maximum of 17 discount codes for Ticketmaster.com purchases made during the class period.  So if you were going to Ticketmaster shows every night in the early 2000s, they're going to cap your free tickets.
[UPDATE]
As of this writing, there are 344 shows across different US cities.  And growing!
Image by rick (CC by 2.0)