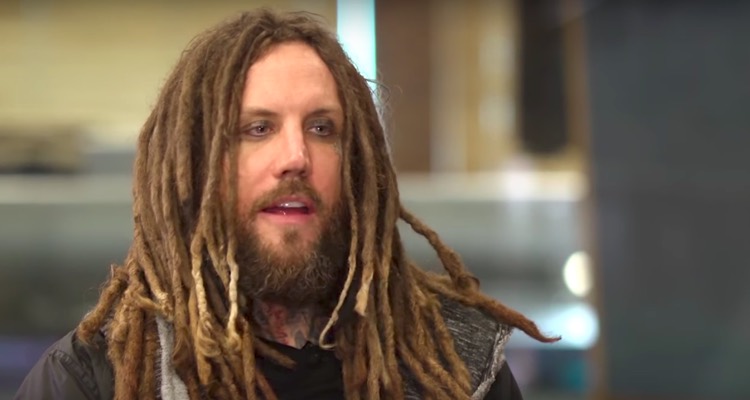 Linkin Park singer Chester Bennington left six kids, a family, and millions of fans behind.  Korn's Brian 'Head' Welch doesn't call that sad, he calls it cowardice.
+ July 20th: Linkin Park Lead Singer Chester Bennington Commits Suicide — on Chris Cornell's Birthday
It might be what a lot of people are thinking.  Now, Korn guitarist and Bennington peer Brian 'Head' Welch is saying it out loud.
Here's what Welch wrote on Facebook in the hours following Bennington's suicide death.
 "Honestly, Chester's an old friend who we've hung with many times, and I have friends who are extremely close to him.  But this is truly pissing me off! How can these guys send this message to their kids and fans?! I'm sick of this suicide shit! I've battled depression/mental illness, and I'm trying to be sympathetic.  But it's hard when you're pissed! Enough is enough!"

"Giving up on your kids, fans, and life is the cowardly way out!!!"
The reaction was met with a chorus of boos, though Welch defended his comments against the Linkin Park frontman.  "I didn't mean to sound insensitive about Chester," the guitarist continued.  "Just dealing with a range of emotions today."
+ Chris Cornell Suicide Photos + Autopsy Released (Graphic)
Despite the harsh words, Welch conceded that drugs and/or alcohol may have triggered the suicide.   That was also suggested in the recent suicide hanging by Chris Cornell, though experts note that drugs rarely lead to intentional suicides.
Regardless, the theory that medication leads to extreme actions like suicide remains pervasive.  "Love you, Chester. I'm pissed that you did this, but I know this could have been me back in the day after getting wasted one night."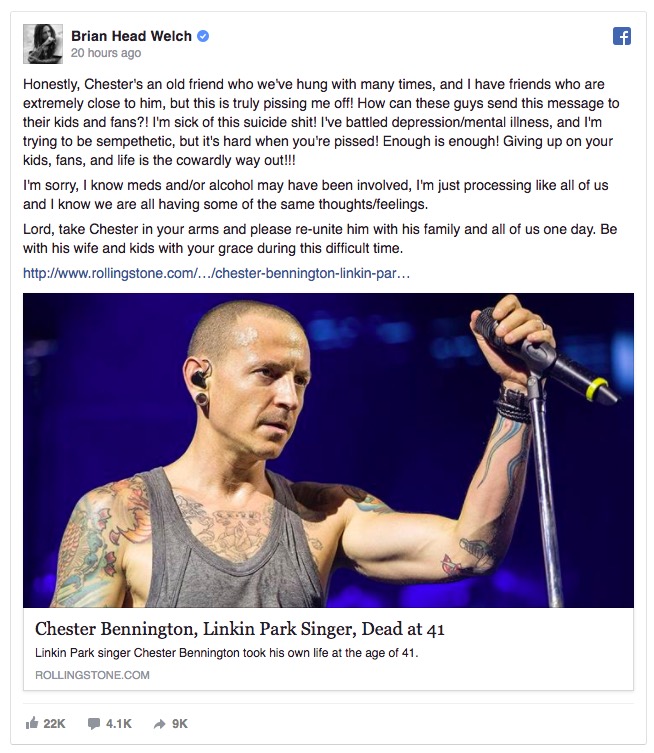 Welch experienced his own battles with drugs and alcohol in the past, especially during Korn's heyday.
Accordingly, the guitarist described a pit of depression at the height of the group's fame, all of which coincided with intensifying personal problems.
Ultimately, Welch gained custody of his daughter after his drug-addled wife proved incapable of raising their child.  "I promised I was going to get my life right for my daughter, and that lasted four months," Welch relayed.  "But I just couldn't stay sober."
Perhaps a similar struggle against depression, self-hatred, and drug abuse is shaping Welch's unsympathetic viewpoint.  "I didn't like to look in the mirror.  I didn't like the person staring back at me.  And that self-hatred root grew in me when I was in junior high, and it never left.  No matter if I made millions of dollars or bought my BMW."
"Nothing could fulfill that."