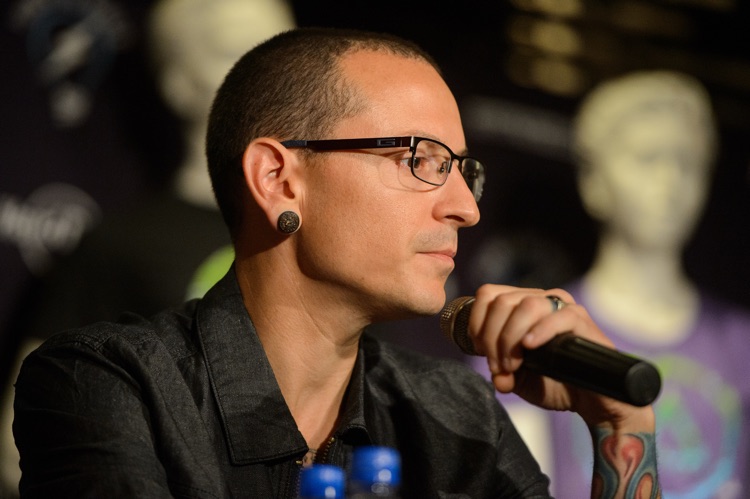 In the wake of Chester Bennington's tragic death, rumors are circulating this weekend that it was a murder.  Or, more specifically, a murder made to look like a suicide.  But is this all simply 'fake news'?
It seemed too shocking to be true.  Why would Linkin Park frontman Chester Bennington suddenly kill himself, with few warning signs?
Bennington did suffer from an abusive past, depression, and drug problems.  Still, fans and family expressed shock that he would simply kill himself.  Just like the sudden suicide of Chris Cornell, none of this really stacks up.  Both were older, mature superstars past their high-intensity primes.  Both had families, seemed better adjusted, and were doing what they loved.
+ Chris Cornell Suicide Photos + Autopsy Released (Graphic)
All of which invites the speculation: was someone out to kill Linkin Park frontman Chester Bennington?  And, for that matter, Chris Cornell?
Digital Music News spoke with the Los Angeles Coroner shortly after the death.  The office confirmed that Bennington committed suicide, specifically by hanging himself.  We don't have the official autopsy yet, but nothing from local police or forensic investigators pointed to anything involving suspected homicide.
That was contradicted this morning by a report by yournewswire.com, which pointed to a murder of the Linkin Park singer.  This now appears to be the root of this rumor.
The story cited a police source, who pointed to a fabricated suicide.  Essentially, the shocking suicide was the perfect cover for a killing.  "Detectives are looking into whether Chester Bennington was murdered, with the death scene later arranged to resemble a suicide," the report states.  "They have put a team of investigators in place and are refusing to rule out a criminal homicide charge."
The story continues by quoting an unnamed 'police source':
"Murders are sometimes made to look like suicides.  We think he was murdered; we just have to find out who was behind it."
The story further alleges that a pedophilia ring was out to murder both Cornell and Bennington.  Both singers had apparently been combatting child pornography and pedophilia, and therefore crossed in the path of a vicious group.  That explains the extremely similar circumstances in which both killed themselves: hanging, in a bathroom, by themselves.  Especially since both were close friends, and likely to be coordinating on a justice project.
Temptingly convincing, but probably complete fiction.
It now looks abundantly clear that this story is fake news.  For starters, yournewswire.com is now a notorious purveyor of fake news.  Earlier, CBS debunked the entire site after a damning investigation of Michele Obama proved completely fabricated.
Separately, watchdog Politifact has labeled the entire site as a fake news outlet.
So why would the story allege that Chester Bennington was murdered?  Simple: it's a shocking story that people desperately want to believe, if only to deny that the singer actually took his own life.  Outside of that, that salacious idea that someone killed the Linkin Park singer is almost too good to resist.
Match that up with two eerily similar suicides by older singers, and the conspiracy theories begin.  And fueling the fire?  Bennington killed himself on Chris Cornell's birthday.
+ Fake News Alert: Was Rapper Kodak Black Really Shot?
And it's not the first time that fake news has surrounded an artist murder.  Last year, a viral story alleged that Kodak Black had ben murdered.  The rapper quickly reappeared social media, and is definitely alive.