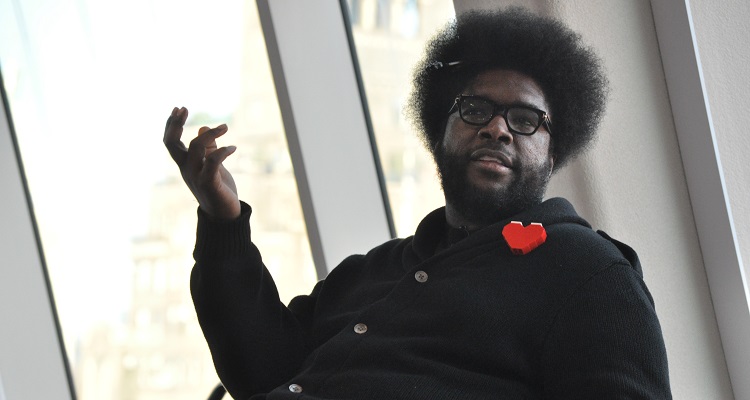 AMC has approved Questlove's documentary covering the impact of hip-hop in pop culture.
AMC has announced that it will produce a year-round documentary series.  Dubbed AMC Visionaries, it will partner with prolific artists to tell the untold stories of pop culture genres.  Among the first in the series is Questlove and Black Thought's Rap Yearbook.
AMC Visionaries: Rap Yearbook (working title) debates, deconstructs, and illuminates the most important moments and songs from the biggest years in hip-hop.  Each hour-long episode will center on the story of one key song.  It will feature a special guest MC and a select group of core contributors.
Legendary rap artists, acclaimed music experts, and other fresh voices will appear in the documentary as contributors.
The series will give viewers a deeper understanding of what hip-hop is all about.  It will dive into the musical genre and its history.  The documentary will explore the streets, the airwaves, and the lives of people who have created historic hip-hop songs.
Emmy award-winning filmmaker Alex Gibney and Jigsaw Production's Stacey Offman will work alongside Thompson and Trotter to oversee production on one of the series' first installments.
In a statement, Ahmir 'Questlove' Thompson and Tariq 'Black Thought' Trotter said,
"We are really excited to create this thought-provoking series with AMC and Jigsaw Productions… This will be a great journey."
In a separate segment, AMC Visionaries will also center on Eli Roth's History of Horror.  Eli Roth will serve as Executive Vice President of the six-part horror documentary series.  Future segments will include Robert Kirkman's Secret History of Comics and James Cameron's Story of Science Fiction.
AMC president Charlie Collier says it's all about going deep.
"AMC Visionaries' is all about going deep into areas of fan passion. We're all in and excited for these leaders to share their vision."
---
Image by Joe Mabel (CC by-SA 3.0)