You're destroying your hearing. Here's one way to stop it (and still hear the music).
It's not just one study.  It's now dozens of studies conducted over multiple decades.  And they're all saying the same thing: younger people are totally destroying their hearing.
Non-stop earbud listening is a major part of the problem.  But so are festivals and other live shows, most of which blast music at insanely high decibels.
+ A Dutch Town Gives Every 16 Year-Old a Pair of Earplugs
All of which means this is a ticking time bomb for teens and twenty-somethings.  The medical community says it's a 'when, not if' situation.
Last night, I went to a DJ set by Alison Wonderland with some Etymotic earplugs.  You should use these.
Etymotic sent us some 'ER20XS' earplugs in the mail.  They come with two different 'flanges' for different ear sizes, plus a foam piece if you need all-out noise blockage (for shooting guns or standing on an airport tarmac, for example).  There's also a handy carrying case and a nylon string to keep them attached, but frankly, those need some work.
We tested them in the front row at a loud, outdoor concert at the Santa Monica Pier (the 'Twilight Concert' series), plus an indoor DJ set.  In both scenarios, they offered really solid results.
These aren't the only good earplugs out there.  But Etymotics are a really solid choice.
+ ASCAP and BMI Just Made the Biggest Commitment Yet to a Shared Licensing Database
I'm into music.  So I've been to a lot of shows and used a lot of sophisticated hearing protection.  But Etymotics are one of the best pair of earplugs I've used, and definitely the best priced.
These aren't custom-fit, though that's definitely an option if you want to get really serious with noise protection.  Instead, Etymotic's ER20XS buds are about $20.  There are a few other models as well, all within an affordable price range.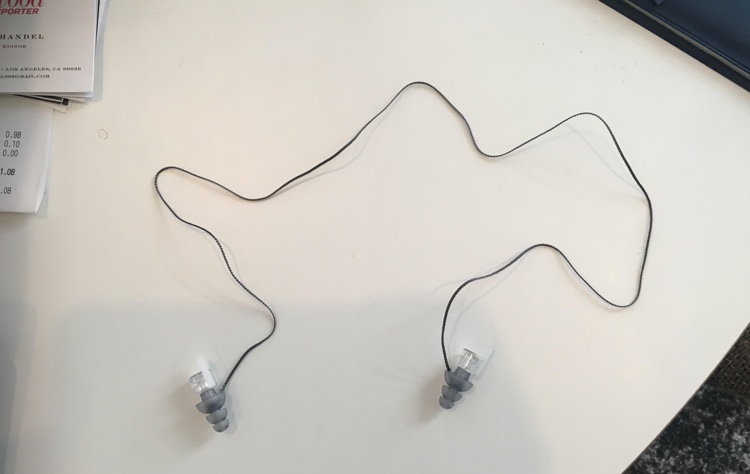 So how exactly did I test these?
The testing method was pretty simple.  I parked myself next to the biggest speaker at a small gig by Alison Wonderland.  She was playing at the Microsoft Lounge in Venice Beach on Tuesday.  Basically, Microsoft was showcasing the many musical benefits of its Surface, and tossed a great show into the presentation (plus some pretty damn good hors d'oeuvres and mojitos).
I typically stand right next to the speaker at brutal death metal shows.  In comparison, Alison Wonderland was far tamer, but… this was still a loud DJ set in an enclosed space.  And it was definitely loud enough to do some hearing damage.
The results?
Simple: Etymotic gets an 'A'.
I could hear everything perfectly: low, mid, and high.  But better yet, the listening experience improved the actual, blasting version getting pumped out.  At one stage, my brain was tricked into thinking I was listening to something at a moderate volume.  I had to take the Etymotics out to remind myself that this was actually a loud show.
Other benefits?  The hard plastic base makes it really easy to put these in and out.  Also, I could actually hear my girlfriend talking to me during the set.
Downsides?  I guess Etymotic could work on a better carrying case.  Ear Peace, for example, offers a pretty cool metal cylinder that works perfectly on a keychain.  So I never forget to bring them along.
But that's really my only complaint.
Nice work, guys.
---
P.S.: I'm not saying you shouldn't spring for something high-end.  If you're constantly at shows, or a sound tech or something, you might want to spend a few hundred (or a few thousand) on an amazing pair of earplugs (or ear monitors).  And don't get me started on noise-cancellation.  But for just heading out to shows, the Etymotics are pretty impressive.  
Written while listening to Araabmuzik, Nas, and Alison Wonderland.