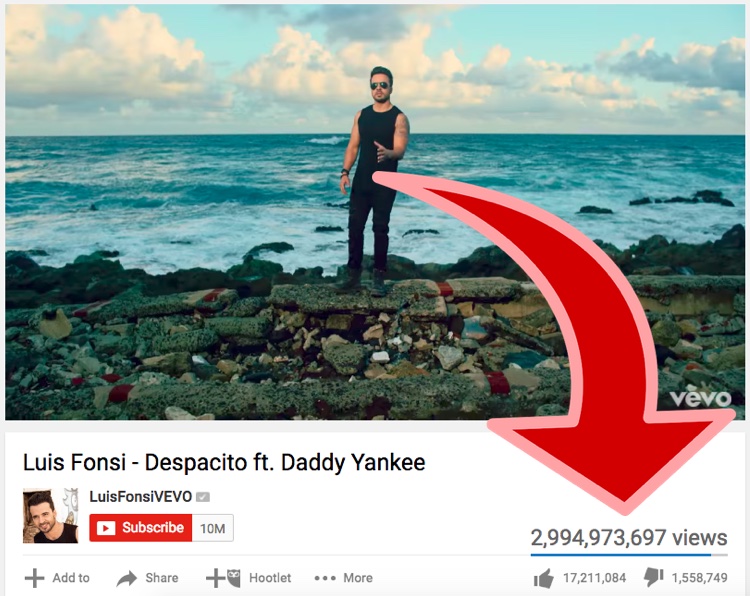 Luis Fonsi's 'Despacito' featuring Daddy Yankee is now the most-watched YouTube video ever with 2.994 billion views (and counting).  It's also the fastest-rising video in the history of the internet.
Update (Sun. Aug. 6th AM): 'Despacito' is now officially the first YouTube video ever to cross 3 billion views.
It was almost as improbable as PSY's 'Gangnam Style'.  But 'Gangnam Style' now ranks third behind 'Despacito' in terms of overall YouTube views.
Shortly after 11 am PT today (Friday, August 4th), 'Despacito' became the most-watched music video of all time with 2.9934 billion views.  YouTube alerted Digital Music News of the record at roughly 11:15 am PT.
That narrowly edges out 'See You Again' by Wiz Khalifa featuring Charlie Puth.  That video, which enjoyed the top slot for several months, is now second place with 2.993 billion views (and growing at a slower pace).
YouTube has also declared that 'Despacito' will be the first video to reach 3 billion views.
That's quite an accomplishment, considering that there are roughly 7.5 billion people on this planet.  And only half of those have reliable connections to the internet (much less access to YouTube).
By the way: 'Despacito' is also the most liked video in YouTube's history.  More than 17.2 million people gave it a thumbs up (though more than 1.5 million hated it).
But even more remarkable is that 'Despacito' is also the fastest video to ever reach 2 billion, 2.5 billion, or 3 billion views.   In fact, YouTube has confirmed that it only took 203 days to reach the 3 billion mark.  And that doesn't even count the Justin Bieber version.
Take a look at this chart, which shows just how remarkably fast 'Despacito' ascended.
Luis Fonsi is probably pinching himself right now.  Here's his official statement on this massive accomplishment.
"Breaking the record for most viewed video of all time on YouTube is truly incredible, not only for me but for Latin music and our culture. Everything that has happened in the last six months has exceeded all my expectations, and I'm just grateful that people have enjoyed it so much and continue to sing it, dance it and share it."
We've also received official comment from Daddy Yankee.
"The music industry has changed, the rules of music have changed and I fully recognize YouTube's role and the power of its platform. Breaking a record is overwhelming and I'm happy to keep inspiring others to do the same." 
The video has surpassed more than 1 million views in more than 100 countries.
Here's a quick animation that demonstrates just how global this video has become.  And fun fact #231: 'Despacito' is also the number one video in more than 17 countries worldwide.
Not too bad for a little video from the barrios of Puerto Rico!