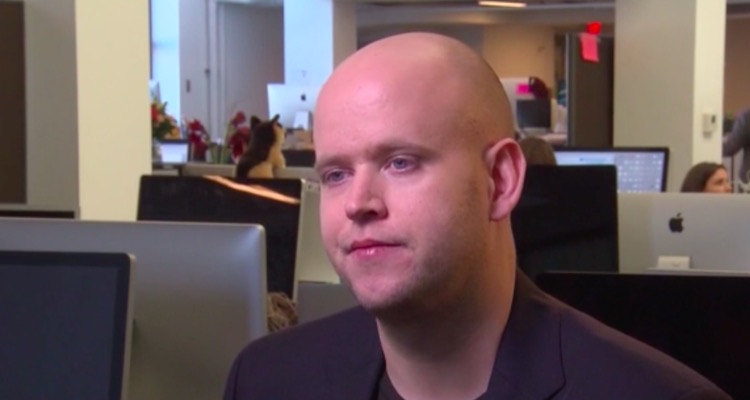 "I'm 100% sure…"
A December, 2013 interview with CNN Tech's Laurie Segall and Spotify CEO Daniel Ek.
CNN Tech correspondent Laurie Segall: Do you think that one day artists will be able to find a business model, and will really be able to make a living doing what they love and getting their music out there?
Spotify CEO Daniel Ek: I'm 100% sure, and what's going to happen is the more people that come online, the more people that are listening.  It just means that the base of people is just going to expand.  And as that happens, even more revenue will come back to the music industry.  So I'm positive that the entire music industry is going to be a lot bigger, and a lot more healthier than its ever been.
CNN: You've got to keep convincing these indie rockers that they're going to get paid for doing what they love.  I mean, are those the biggest barriers?
Ek: Certainly.  I mean, that's one barrier.  So one is just explaining to artists what this model is.  And we just recently changed our strategy.  And we thought long and hard about how we can explain this better to artists.  So we decided to create this artist website where we just put all the facts on the table.  So we just put it right out there.   And that was huge, and an overwhelming response.  It was very, very positive from the artist community saying this is exactly what they wanted.  And I think that goes a long way, and I think we have to keep educating the artist about that.
CNN: At what point can an artist survive on a Spotify income?
Ek: Well, I mean, the interesting thing here is that we're just in its infancy when it comes to streaming.  And we just last week had an artist announcement where we basically said if there would be 40 million subscribers paying for a service like Spotify.  It would be more than anything else in the entire music industry, including iTunes.
And we're not too far away from that number, which is the interesting thing.  So, I'm absolutely sure that artists will make a decent living, and actually the industry will be larger than it's ever been, in the next few years.
CNN: You grew up in Sweden.  Did that kind of influence you by growing up in a place that was a little more open to this stuff?
Ek: Well, yes, and I mean if you look at Sweden even today, Spotify is now 70% of all the royalties that are paid out.  In the entire music industry in fact, even physical.  So what that tells us — and, and Sweden a lot of the artist debate has even died down, because a majority of the money that musicians make today in Sweden are because of streaming.  So I think that streaming — I'm absolutely sure that streaming will be the dominant way that artists will get paid in the future.  And we keep using that as a testbed for new things that we do, before we roll it out to the rest of the world.
But I think the rest of the world is picking up; we're living in a fast-paced society and there are definitely locals trends here that we can take back to Sweden.  But just having that data is crucial to us.
---
+ July 31st, 2017: Spotify Just Hit 60 Million Paying Subscribers. But Is Apple Music Winning?
(the full interview, here)