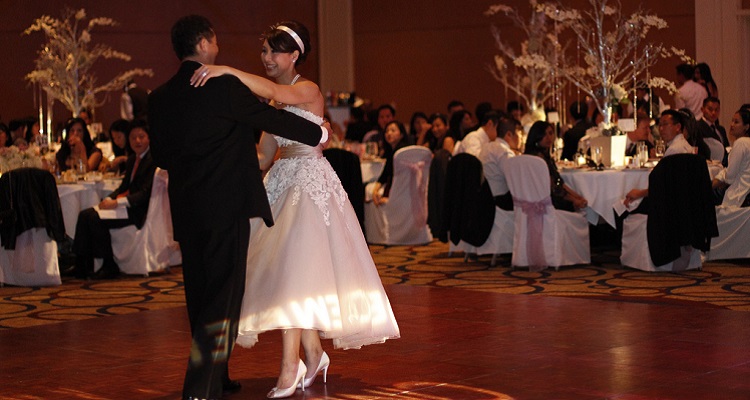 At weddings, some people absolutely despise hearing the Village People.  But that's just one of a long list of songs getting nixed.
Ah, it's that time of the year again.  Love fills the air.  Flowers bloom in fields.  Birds chirp happily as they fly in the cloudless skies.  And couples decide to join their lives together in holy matrimony.
With the wedding season well underway, FiveThirtyEights' Walt Hickey decided to put together an interesting list.  No, it's not about where couples prefer to go on their honeymoon.  Nor is this the list of the most requested wedding songs.  Instead, Hickey posted the list of the top songs most couples prohibit on the happiest day of their lives.
For this list, Hickey surveyed 182 wedding playlists submitted between May 31st and June 10th.  He collected the testimonies of over two dozen professional wedding DJs on nearly 200 weddings.
At a wedding, please don't play any disco or dance tracks.
Analyzing the most-banned songs playlist, you'll find that married couples oftentimes hate upbeat dance tracks.  They also tend to put the kibosh on dances and disco songs.  But what songs are getting nixed?
The 'Chicken Dance' took the top spot this year, with couples banning the song at 23.1% of weddings.  DJ Casper's 'Cha-Cha Slide' took second place with a 22.5% share.  Los Del Rio's Latin hit 'Macarena' landed at third.  The overly repetitive 'Cupid Shuffle' took the fourth spot.  Couples also banned the classic 70s disco song 'YMCA' from their weddings.
When getting married, please don't play post-breakup tracks and those about one night stands.
Another interesting thing to note is that most couples despise hearing post-breakup songs at their weddings.  Among the top 48 most-banned songs, you'll find Gloria Gaynor's 'I Will Survive' and Drake's 'Hotline Bling.'  You'll also find Celine Dion's 'My Heart Will Go On' at number 43 on the banned list and Taylor Swift's 'Shake It Off' at number 45.
Surprisingly enough, couples also told DJs to ban Pharrell Williams' 'Happy.'
Professional wedding DJs also reported that couples banned songs that discussed one-night stands.  Justin Timberlake's 'SexyBack' ranked at number 44, and AC/DC's 'You Shook Me All Night Long' took last place at number 48.
You can find the complete list below, organized by rank, song title, most common artist, and percentage of weddings.
Chicken Dance – [No Artist Listed] – 23.1%
Cha-Cha Slide – DJ Casper – 22.5%
Macarena – Los Del Rio – 17.6%
Cupid Shuffle – Cupid – 16.5%
YMCA – Village People – 15.4%
Electric Boogie (Electric Slide) – Marcia Griffiths – 12.6%
Hokey Pokey – [No Artist Listed] – 10.4%
Wobble – V.I.C. – 7.1%
Happy – Pharrell Williams – 5.5%
Shout – Isley Brothers – 5.5%
Love Shack – The B-52's – 49.5%
We Are Family – Sister Sledge – 4.4%
Blurred Lines – Robin Thicke – 3.8%
Celebration – Kool & The Gang – 3.8%
Cotton Eye Joe – Rednex – 3.8%
Dancing Queen – ABBA – 3.8%
Don't Stop Believin' – Journey – 3.8%
Single Ladies – Beyonce – 3.8%
Sweet Caroline – Neil Diamond – 3.8%
Turn Down for What – DJ Snake and Lil Jon – 3.8%
Watch Me (Whip/Nae Nae) – Silento – 3.8%
Hot In Here – Nelly – 2.7%
Mony Mony – Billy Idol – 2.7%
All About That Bass – Meghan Trainor – 2.2%
Baby Got Back – Sir Mix-A-Lot – 2.2%
Booti Call – Blackstreet – 2.2%
Gangnam Style – Psy – 2.2%
Save a Horse (Ride a Cowboy) – Big & Rich – 2.2%
Stayin' Alive – Bee Gees – 2.2%
Sweet Home Alabama – Lynyrd Skynyrd – 2.2%
Uptown Funk – Mark Ronson and Bruno Mars – 2.2%
Wagon Wheel – Nathan Carter – 2.2%
What Do You Mean? – Justin Bieber – 2.2%
All of Me – John Legend – 1.6%
Bohemian Rhapsody – Queen – 1.6%
Brown Eyed Girl – Van Morrison – 1.6%
Call Me Maybe – Carly Rae Jepsen – 1.6%
Footloose – Kenny Loggins – 1.6%
Get Low – Lil Jon – 1.6%
Hey Ya! – Outkast – 1.6%
Hotline Bling – Drake – 1.6%
I Will Survive – Gloria Gaynor – 1.6%
My Heart Will Go On – Celine Dion – 1.6%
SexyBack – Justin Timberlake – 1.6%
Shake It Off – Taylor Swift – 1.6%
Sugar – Maroon 5 – 1.6%
Total Eclipse of the Heart – Bonnie Tyler – 1.6%
You Shook Me All Night Long – AC/DC – 1.6%
---
Image by Impact Sounds (CC by 2.0)