Back in 2014, the Southern Poverty Law Center published a list of white supremacist hate bands.  A majority of those groups remain on Spotify today.
These bands were first identified in a relatively benign period in America. That is, just a few years ago, when the Southern Poverty Law Center (SPLC) discovered that white power music and skinhead bands were finding a brand-new outlet online.  The SPLC directed its campaign at removing music from iTunes.
Since that point, streaming has rapidly replaced downloading.  And it looks like most of these bands were not removed by Spotify and still exist on the platform today.
Update: In response to this article, Spotify has started removing many of these bands.  Here's Spotify's official statement on the issue.
Here's a list of the groups identified by the SPLC that were available on Spotify (US) this morning:
Ad Hominem
Baker's Dozen
Battlecry
Blood Red Eagle
Broadsword
Chauves Pourris
Condemned 84
Dark Fury
Freikorps
Geimhre
Grand Belial's Key
Granulosum
Kamaedzitca
Ken McLellan
Kill, Baby… Kill!
Kolovrat
Legion of St. George
Legittima Offesa
Prussian Blue
Ravens Wing
Seges Findere
Selbstmord
Skinfull
Skull Head
Standarte
The Spear of Longinus
Tattooed Mother Fuckers
Thunderbolt*
White Knuckle Driver
*update: looks like there are several 'Thunderbolts' out there, including a Norwegian death metal band and a disco group.  This refers to a group with Aryan supremacy ideologies based out of Poland.
Additionally, we found a few other hate groups lingering on the site.  They weren't hard to identify using Spotify's recommendation algorithms.
Hate Forest
Nokturnal Mortum
No Remorse
Berserker
Centurion
Bölzer
Kolovrat
Endless Pride
Most of these groups are fringe, with relatively small followings and listen counts.  Once upon a time, that sounded just like the neo-nazi, white nationalist movement itself in the US and other countries.  But in the wake of violent clashes in Charlottesville and an increasingly vocal white supremacy voice, the presence of white supremacy music on Spotify takes on a different light.
In fact, some of the groups we checked had small — but growing — fanbases.
Perhaps adding a spark to the resurgence in white supremacist-themed music and skinhead bands is Spotify's own, well-tuned recommendation engine.
In fact, it was pretty easy to find hate-oriented groups simply by referencing similar artists on Spotify itself.  Indeed, sophisticated affinity and recommendation engines on larger platforms like YouTube have been blamed for fanning the flames on extremist ideologies and conspiracy theories.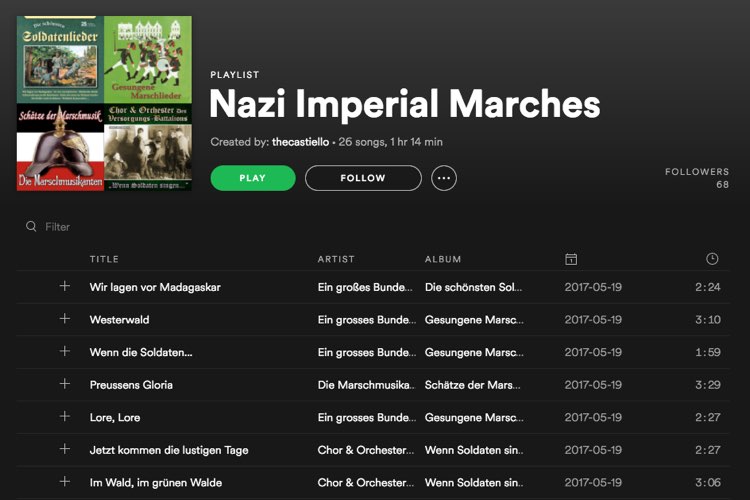 Then there's the issue of free speech and censorship.
Indeed, groups like the ACLU would likely defend a large percentage of these white supremacist and skinhead bands, even if they personally despised them.
Older recordings are also part of a historical record that is difficult to edit away. For example, one Spotify playlist features a collection of Nazi marching band songs. That's also technically a 'hate band,' though many would defend its presence on Spotify as an important historical collection, which differs from a typical white supremacist skinhead band.
DMN didn't conduct an extensive investigation of various Spotify alternatives, though we did receive some proactive messages from various streaming music platforms indicating the removal of certain hate bands.