SoundCloud's traffic is tanking — fast — according to just-released data.  But don't tell that to the guys that just bailed them out.
SoundCloud has more than just money problems.  According to data shared with Digital Music News this morning, it has very serious traffic problems as well.
Since January of 2016, SoundCloud's overall traffic has dipped by roughly 25 percent, according to tracking data shared by SimilarWeb.  After pushing to nearly 400 million monthly uniques in early 2016, the site has recently dipped below 300 million.
The plunge has happened after roughly 16 months.  That's a loss of about 100 million unique users a month.
Here's a quick look at the data compiled by SimilarWeb.  The chart also include Spotify and Pandora, specifically for their sites.
This only tracks web-based access, which is far less important for Spotify and Pandora.  In fact, it's the least important component for Spotify, whose access is largely app-based (either PC/Mac or mobile).
So what about app-based traffic?  Unfortunately for SoundCloud, Spotify is now crushing its competitors in this realm.  And this is all the nasty, cannibalistic kind of growth that analysts talk about.
Here's a look at Android decks, with both installs and engagement tracked.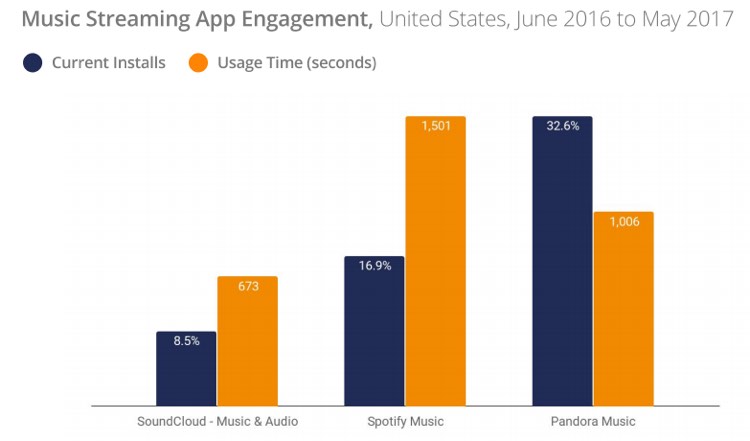 Just recently, Spotify passed on a SoundCloud acquisition, at least according to industry rumors.  That rejection may have been driven by the metrics above, with Spotify doing fine on its own.  After all, why buy a lunch that you're already eating?
Incidentally, Pandora is struggling with its own turmoil, including the recent ouster of CEO Tim Westergren.  But Pandora is still eclipsing SoundCloud on the app front, despite stagnant user growth and engagement.
Meanwhile, the mess around SoundCloud is reaching do-or-die status.
Just recently, the company managed to secure a $170 million rescue bailout, but not without significant compromises from existing investors.  That included a serious leadership shakeup, with company founder Alexander Ljung stripped of his CEO stripes.  And that was just one of several serious changes.
Now, it's up to incoming CEO Kerry Trainor to steer the ship away from the rocks — and try to reclaim an audience that's quickly waving bye-bye.