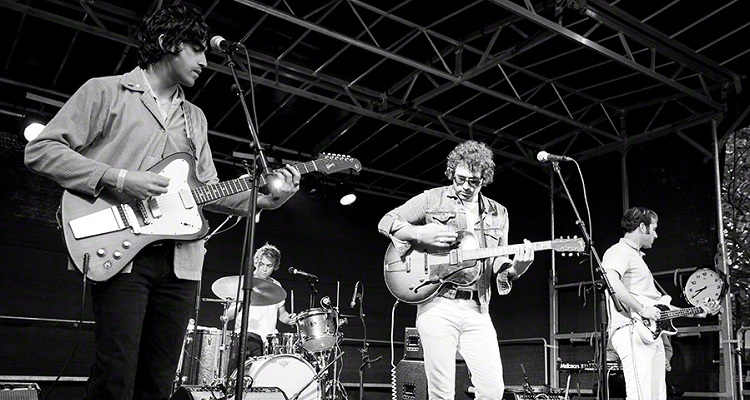 Dutch police had initially called off an Allah-Las concert in Rotterdam.  Police later confirmed a terror plot.
Los Angeles-based group Allah-Las has received plenty of threats over their "holy-sounding" name.  The group's seemingly harmless moniker has set off a firestorm among Muslims around the world.  Now, those threats are becoming very real.
Following a deadly terrorist attack in Barcelona last week, Spanish authorities warned the Netherlands of a possible plot in the country.  Now, after canceling the group's performance in Rotterdam, police have confirmed that terrorists planned a massacre at the venue.
Earlier this morning, a Spanish-registered white van carrying gas canisters suspiciously circled around the Maasilo concert venue in Rotterdam.  Following an anonymous tip, police arrested the 22-year-old repairman driving the van.  They had found the driver drunk and planned to interrogate him later today.
This looked extremely suspicious, though a link wasn't initially made.  The Guardian had initially reported that police didn't consider the driver a suspect.  Spanish authorities had also discarded a connection between the van and the attack that killed 15 people in Barcelona and Cambrils.
Earlier today, however, Dutch police confirmed that they had prevented a large-scale terror attack.
They didn't provide additional details.  However, they did confirm that the arrest was linked to "plans for an attack at the Maasilo events venue."  Spanish counter-terrorism police had initially issued "an alert indicating the possibility of an attack [on Wednesday] in a concert that was going to take place in Rotterdam."
A search of the repairman's van found nothing suspicious beyond the gas canisters.
In a statement, officials said that a search of the man's home "uncovered no link with the terror threat … at the Maassilo."
"The man, a repair man, had an explanation for the gas canisters that will be investigated today."
The exact threats remain unknown.  Dutch television showed officers escorting band members from the venue into a white van with police escort.
The band's label, Mexican Summer, said in a statement,
"The band is unharmed and are very grateful to the Rotterdam police and other responsible agencies for detecting the potential threat before anyone was hurt."
So why the incendiary name?  On one hand, killing people because of a band name is preposterous.  But tell that to an extremist.
In an interview last year, band members admitted that the group's name had drawn the ire of Muslims.  Speaking with The Guardian, Miles Michaud, the band's lead singer, said,
"We get emails from Muslims, here in the US and around the world, saying they're offended.  But that absolutely wasn't our intention.  We email back and explain why we chose the name and mainly they understand."
The group admitted that they had sought a "holy-sounding" name and settled with Allah.  The choice may have prompted terrorists to plot a massacre out of revenge.
---
Image by Tore Sætre (CC by-SA 4.0)