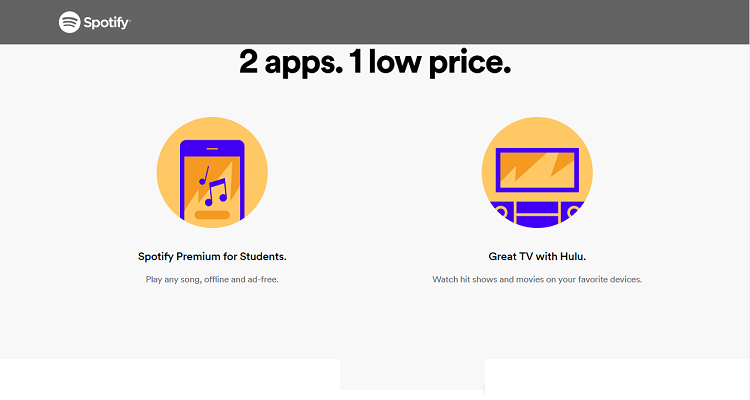 Spotify's partnership with Hulu will allow both companies to better compete against Netflix and Apple Music.
Last week, Amazon offered their Music Unlimited service for $1 a month to students who had Prime.  Yesterday, T-Mobile offered a free Netflix subscription to users who have a T-Mobile One or One Plus family plan.
Not to be left out, Spotify and Hulu have announced a groundbreaking partnership.  For just $4.99 a month, university students can sign up for both streaming services in the United States.
Three years ago, the Swedish company launched Spotify Premium for Students.  For just $4.99 a month, university students could listen to the platform's entire music catalog ad-free.  They could also download playlists for offline listening.  Now, the $4.99 student subscription will include Spotify Premium (normally $9.99) and a premium subscription to Hulu (normally $7.99).
In a FAQ on their website for students, the Swedish company explained,
"You get both Spotify Premium for Students and Hulu's Limited Commercials plan for just $4.99 per month.  If you're already on Premium for Students, you can now activate Hulu."
One subscription can easily join another.  Those with an existing student plan can simply activate their Hulu subscription online.  Students with a Hulu Limited Commercials plan can merge their existing accounts with Spotify Premium for Students.
How do I sign-up?
If you don't have an existing premium plan for students, the Swedish company explained how you can sign-up for the bundle.
"If you're a student enrolled at a US Title IV accredited college or university, and above the age of 18, then…you'll need to subscribe directly to Spotify and not through a third party (e.g., a cell phone provider).  Existing Hulu Limited Commercials plan subscribers without Premium Add-ons are eligible if billed by Hulu (not a third party)."
The company will check if you're a student using a third-party service called SheerID.
So, if I'm not a student, am I out of luck?
For now, only university students can sign-up for the Spotify/Hulu bundle.  However, both companies have offered a glimmer of hope for those of us who left our respective college campuses long ago.  According to The Verge, both companies described the student deal as a "first step in bundling their services together."
The partnership makes sense.  Spotify recently let go of Tom Calderone, its Head of Video and Podcasting Operations. Music industry observers noted that the dismissal signaled that the company would move away from producing original video content on the platform.
In July, Netflix topped 100 million subscribers worldwide.  Last April, research firm eMarketer noted that Hulu had 32 million subscribers, taking third place behind Netflix and Amazon in the US.
With Hulu, Spotify could fend off Apple Music's push into providing original video content on its music platform.  Ahead of their IPO, it would further cement the company's position in the streaming market.  With Spotify, Hulu could gain a stronger foothold in the American video streaming market.  If offered to the general public, the bundle would serve as a powerful incentive to lure users away from both Netflix and Amazon.
You can check out the bundle here.
---