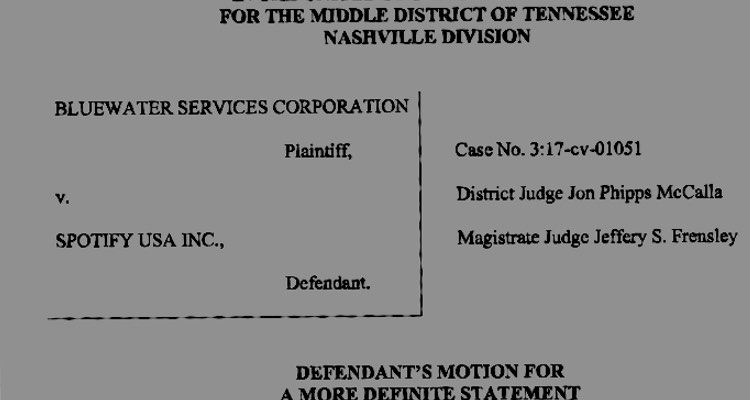 Spotify may have an ally in its newfound war against music publishers.
Spotify's decision to battle back against mechanical license liabilities isn't going unnoticed.  In fact, it may be drawing substantial support from streaming rivals.
In confidential conversations Thursday morning, a representative at one of Spotify's top rivals informed Digital Music News of their upcoming support.
Noting that the 'mechanical' reproductive license is 'an overreach' for streaming music services, the company feels that Spotify is 'largely correct' in its decision to fight the requirement.  "We want to pay our fair share and get everyone paid fairly — and really beyond that in many cases," the source noted.
"But the mechanical for reproduction right — it strikes us as unfair."
For those just joining this stand-off: Spotify has recently reversed its opinion on paying 'mechanical' reproduction rights to music publishers.  That represents a stark reversal, especially considering that the streaming giant has finalized two class action settlement agreements on the matter.
+ Surprise! Spotify Says They Don't Owe Anything for 'Mechanicals'
The value of those agreements topped $75 million, though they hardly 'settled' anything.  Instead, publishers and songwriters are now 'going rogue' and choosing to abstain from the settlement classes, sensing far juicier payouts for direct legal actions.  That includes an initial round of suits valued at more than $365 million, considered the first of a raft of similar actions.
All of which has prompted Spotify to question the foundation for a reproduction right in a format that hardly 'reproduces' anything.
That pushback appears to be resonating with the broader streaming music community.
Our source said that his company will remain on the sidelines for now.  But if matters escalate, expect support in the form of an amicus brief or pushback in separate litigation.  Other moves may include a "realignment" on the legal side, or a more formal press release statement.
So who the hell is this?
That's a disclosure "for the appropriate time," particularly if this current case advances.
Also noting that "the feeling is that this is going too far," the source said they welcome "some sanity" ahead.  "'We're really struggling to make this work for everyone," the executive shared. "But in reality we're not stand-alone profitable and we're not ATMs I think is the message."
"So look — it's really about what we feel is fair here."
But with potentially billions at stake, this may have the markings of a music industry World War III.  And just yesterday, NMPA chief David Israelite promised a fight to finish against Spotify.  "This is now a fight with all songwriters – not just a conflict with these particular plaintiffs," Israelite told Digital Music News.
"NMPA will be engaging in the manner and the terms of our choosing, but the one certain thing is we will win this fight."
+ The World's Largest Music Publishers Just Declared War on Spotify — In No Uncertain Terms
Meanwhile, Spotify is showing no signs of softening its stance.  After digging through the filings in the current mechanical case against Bluewater Services Corporation, DMN found yet another document pushing back against the licensing requirement.  Now, it's up to a federal judge to determine the next steps.
More updates ahead.