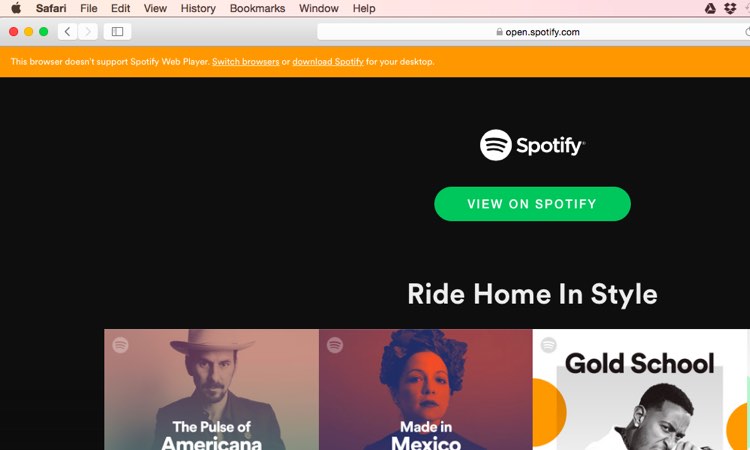 Spotify's web player stops working on Safari a day before the iPhone 8 launch event.  Coincidence?
Last week, MusicWatch published a report showing that 1 in 5 iOS users stream their favorite music through Apple Music.  With over one billion iOS devices sold worldwide, that number is no laughing matter.
Two weeks ago, Fluent Co. published a study showing that Gen Z listeners (18-24) and millennials (25-34) actually prefer Apple Music over Spotify.  At 5%, Spotify tied with Apple Music only among Gen X listeners (35-54) and Baby Boomers (55+).
Maybe it's time for Apple to go for the kill.
Tomorrow, the Cupertino-based company will hold a special launch event for their tenth-anniversary iPhone.  To convince you to spend $1,000 on an iPhone 8, the company may bundle their flagship phone with Apple Music.  Analysts at Barclays estimate that the bundle may generate up to $9.8 billion in additional revenue for the company.
Enter an abrupt malfunction involving Spotify's web-based player on Apple's Safari.
Actually, the mix-up first appeared a few days ago.  Last Thursday, user riegelstamm tried to use Spotify's Web Player on Safari.  He found an error message.
On Spotify's community page, he wrote,
"I have Safari 10 on Mac OS 10.12.6, but when I try to open play.spotify.com now, I get the message, "This browser doesn't support Spotify Web Player.  Switch browsers or download Spotify for your desktop."
Riegelstamm also posted a screenshot of the error.
Customer support then confirmed that the Web Player will no longer work on newer Safari browsers.  It still works on Firefox, Chrome, and others.  The company didn't specify as to why it only stopped functioning on that web browser.  Instead, it blamed Safari's "recent updates."
A customer support agent wrote,
"After taking a look backstage, we can confirm that after recent updates Safari is no longer a supported browser for Web Player.  We're always testing things by adding or removing features to make Spotify better overall.  We're sorry that this means you're not able to use the Web Player like you could before.  We can't say if or when any specific features will be back.  But as soon as we've got anything to announce, we'll let everyone know via the Spotify Community.  Sorry again for any inconvenience caused, and please let us know if there is anything else we can do for you.

Best wishes,

Rollie

Spotify Customer Support"
The Swedish company didn't say if or when they would once again provide support for the browser.  Instead, it invited users to download the compatible Mac OS app.  It also asked users to switch to a supported browser.
Riegelstamm noted that on Safari, Apple recently pulled support for Google's Widevine media optimizer plugin.  Spotify uses the plugin for music streaming on the web, including DRM protection.  The Cupertino-based company, however, opposes Widevine due to "potential security issues."
In a later edit, riegelstamm noted that Apple may have simply fanned the flames in its war against both Spotify and Google.
"Apparently it has something to do with the Google Widevine content decryption module, which Apple doesn't support because it's not very secure.  I tried enabling the Widevine plugin and got the attached message.

"Looks like Apple is having a pissing contest with Google, Spotify, and anyone else who uses Widevine.  In the meantime, we users are caught in the crossfire."
---
Image by I.Nandez (CC by 2.0)