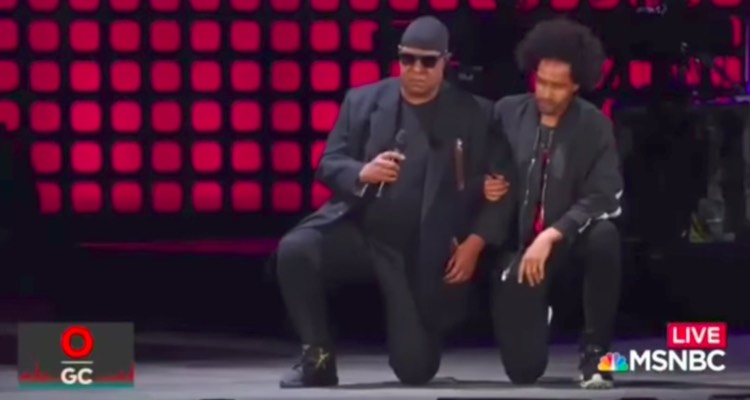 "Tonight, I'm taking a knee for America," Stevie Wonder told a cheering audience at Global Citizen Festival.  That was the start of a vitriolic and racist backlash against the legendary musician.
This weekend, Stevie Wonder became the first musician to join scores of professional athletes taking a knee during the National Anthem.  That quickly stirred a litany of racist reactions, including one from a former Illinois Congressman.
The legendary artist wasn't protesting a National Anthem, but symbolically supporting a growing movement in the NFL (and beyond).  "Tonight, I'm taking a knee for America," Wonder told the crowd at Global Citizen Festival in Central Park this weekend.  "But not just one knee.  I'm taking both knees."
Wonder double-kneed with the assistance of his son, Kwame Morris.
"Both knees and prayers for our planet, our future, our leaders of the world, and our globe.  I wanted to say that prayer before I serve you my musical meal."
Wonder continued by tackling critical and political issues, including the the environment, nuclear proliferation and North Korea.  "All of us are valuable and important and must take care of each other and this planet," Wonder noted. "If we don't, we could lose the ultimate video game of life.
"We should not lose sight that weapons are real and that rhetoric is dangerous.  Whether it be from a superpower in North America or a superpower in North Korea.
"Our global brothers and sisters, I didn't come here to preach to you.  But I'm telling you: Our spirits must be in the right place. Whenever you need to interrupt hate, stand down bigotry, condemn sexism and find love for all of our global brothers and sisters everyday."
That left thousands of supportive fans cheering.  But those not in attendance — but definitely watching — immediately started chiming in.
The reactions were often brutally racist.
"Act like a ni—r. Be treated like a ni—r," said Nathan Harmon, a self-described 'alt-right, neo-nazi, Trump supporter'.
"Leave the country that's been so bad to you then. Stupid rich ni—r . What's that old expression about the blind leading the blind?" blasted Theeternalblacksun.
"If life is so bad here Stevie then trade places with one of the millions of Africans who would beg on their knees and kiss the flag to be a U.S. citizen!!" wrote 'bedbugr,' another anonymous critic.
Former Congressman Joe Walsh called Wonder 'another ungrateful black multi-millionaire'.
The loaded comment came on Twitter, where Walsh typically speaks to a conservative crowd.
Walsh was a Representative from Illinois between 2011 and 2013, and a strong Tea Party advocate.  Since losing re-election, Walsh has transitioned to becoming a conservative talk show host.  And if you haven't heard the show, perhaps his latest comment offers a taste of his politics.
Targeting Wonder as simply an 'ungrateful multi-millionaire' would have carried a dramatically different meaning.
But by targeting Wonder as a 'black multi-millionaire,' Walsh introduced a whole new meaning.  Especially since he references unnamed, other black multi-millionaires (who are also 'ungrateful').
The result is the type of outward racism that has surfaced over the past year.
And, perhaps proof of why protests like these are necessary.   "All these racist comments prove why taking a knee is necessary," commenter Tom Clark remarked.
Meanwhile, NFL players, coaches and owners are actively defending players who choose to take a knee during the National Anthem.  That includes New England Patriots owner Robert Kraft, who openly criticized Donald Trump for demanding that the league fire kneeling players.  Kraft has been a highly-visible Trump supporter.
Separately, the entire Pittsburgh Steelers team skipped the Anthem, with one player emerging to stand.
And ahead of Sunday's games, Trump was blasted by a litany of superstar NBA players, starting with Lebron James.   The results weren't pretty, with James calling Trump a 'bum,' and Trump 'rescinding' a White House invitation to the Golden State Warriors.  Though, Curry and the Warriors had already rejected the possibility.