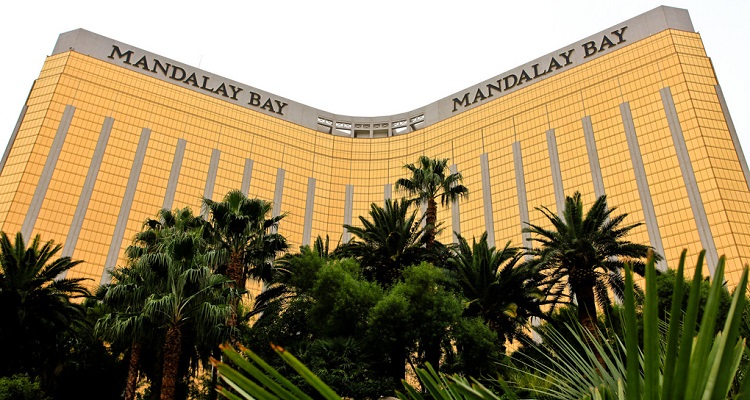 ISIS claims they trained Stephen Paddock.  They didn't have to.  And there's almost nothing that could have stopped this deranged American.
A hail of gunfire.  Concertgoers hiding behind trucks to avoid being hit.  Their clothes soaked with the blood of others who weren't so lucky.
Off-duty cops killed.  Absolute chaos that lasted for seven to ten minutes.
Near the end of the Route 91 Festival Sunday evening, 64-year-old Stephen Paddock opened fire from the 32nd floor of the Mandalay Bay Hotel.  He killed over 58 concertgoers and injured over 515.
Right before a Las Vegas Police Department SWAT team entered his room, Paddock had taken his own life.
News of the Las Vegas shooting left Stephen Paddock's family dumbfounded.  Speaking to the Las Vegas Review-Journal, his younger brother, Eric Paddock, repeatedly described Stephen as a normal guy.
"We're lost.  We don't get it.  This is like someone else did this."
The shooting also left authorities wondering what could've set off Stephen Paddock.
But even more scary: what could Route 91, the city of Las Vegas, or anyone else done to prevent this?  Or, any festival, for that matter?
Stephen Paddock was a retired accountant who enjoyed playing $100-a-hand poker.  He didn't have a criminal record.  In fact, the Mesquite, Nevada resident had only received a citation several years ago.
In other words, Stephen Paddock was a quiet nonentity.  Police had no reason to suspect him, and thus, had no way to prevent the deadly Las Vegas shooting.
His brother added,
"Something happened, he snapped or something."
No motives.  No criminal history.
Police have yet to establish a motive. But according to debunked claims by ISIS, Stephen Paddock was a faithful soldier.
The terrorist group's news agency, Amaq, issued a statement early Monday morning.
"The Las Vegas attack was carried out by a soldier of the Islamic State and he carried it out in response to calls to target states of the coalition."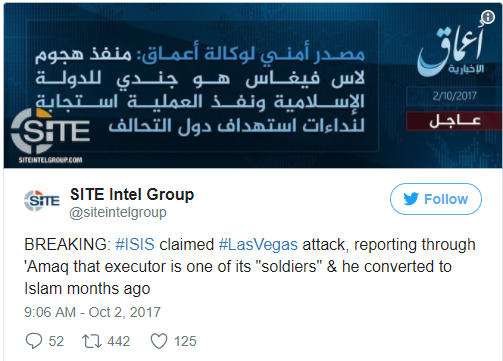 The claims are fake news.  But ISIS couldn't have executed it better themselves.
Several months ago, ISIS released a video that prominently featured the Las Vegas Strip.  In addition, an al Qaeda affiliate had labeled the Las Vegas Strip a potential target three years ago.
Stephen Paddock fired on the unsuspecting crowd from his hotel room.  Police later found "an excess of ten rifles" and a ton of ammunition, meaning that he had spent time planning the massacre.
He also fired upon concertgoers over 300 yards away.  To fire from an elevated position requires a certain amount of skill.  Paddock would've had to accommodate for wind, among other factors.
In addition, ISIS loves targeting concerts.  The group had planned and executed the deadly Manchester bombing at an Ariana Grande concert earlier this year.  Twenty-three people died, including the attacker, who took his own life.  Police had also found Stephen Paddock dead from a self-inflicted gunshot wound.
ISIS explained that Stephen Paddock had recently converted to Islam and had joined their cause.
"The Las Vegas attacker converted to Islam a few months ago."
That's bogus.  But does it really matter in the end?
ISIS has made false and exaggerated claims in the past.  The terror group didn't provide any evidence to support their claim.
Speaking at a news conference, an FBI agent dismissed the group's statement.
"We have determined at this point no connection to an international terrorist organization."
The terror group may have issued the claim to support their faltering numbers and morale.  The group is currently fighting against Russia and US-backed soldiers in Syria and Iraq.
In addition, authorities believe that Stephen Paddock acted alone.  They have yet to find a connection between Paddock and terror groups like ISIS.
In a statement, Las Vegas Metropolitan Police Sheriff Joseph Lombardo said,
"We have to establish what his motivation was first.  There's motivating factors associated with terrorism other than a distraught person just intending to cause mass casualties.  Before we label with that, it'll be a matter of process."
---
Image by Hakan Dahlstrom (CC by 2.0)