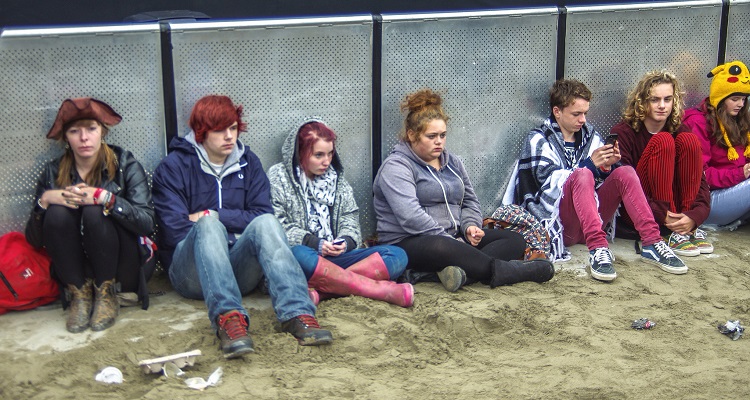 If you're heading to music festivals and shows by yourself, then you're not alone.
Your friends are just too busy to hang out.  Your best friends —and even your partner — don't share your musical taste.  So when a popular gig rolls around, who do you go with?
According to new research, you'll most likely go by yourself.
And, here's the thing:  not only will you have fun doing it, you'll also enjoy the concert experience much better when you're alone.
More people would gladly attend major concerts and music festivals alone.
UK music discovery and ticketing app DICE recently conducted a study.
In a poll, DICE found that 65% of 18-to-24 year olds have gone to a gig solo.  A whopping 98% would gladly do so again.  In addition, 84% of people who went to a concert or festival alone said that the music sounds much better.
But, what prompted people to attend a concert alone?  The answers may surprise you.
38% of respondents said that they went alone because none of their friends had time to go with them.
37% said that their group of friends had different music tastes.
31% went to a gig alone because they wanted to be spontaneous.
19% said that they had a better chance of meeting people when they went alone.
What music do people prefer when heading to a gig by themselves?
DICE found that more people prefer attending indie music concerts when heading to a gig alone.  Pop (2%) and Grime (1%) ranked as the least popular gigs.
When heading to a gig alone, more people preferred watching indie artists like Wolf Alice and The Blossoms.
DICE also ranked the top five artists that drew solo attendees:
The Amazons
The Big Moon
Jordan Rakei
In a statement about the findings, Russ Tannen, Head of Music at DICE, said,
"It's interesting to see spontaneity as the main reason people head to gigs alone.  Going to a gig doesn't have to be about booking a huge show six months out; UK cities boast thriving music scenes with acts playing every night of the week at venues from Manchester's Soup Kitchen to Ramsgate's Music Hall.

"There is almost always something worth checking out — even if your mates can't."
---
Image by Gerry Wood (CC by 2.0)