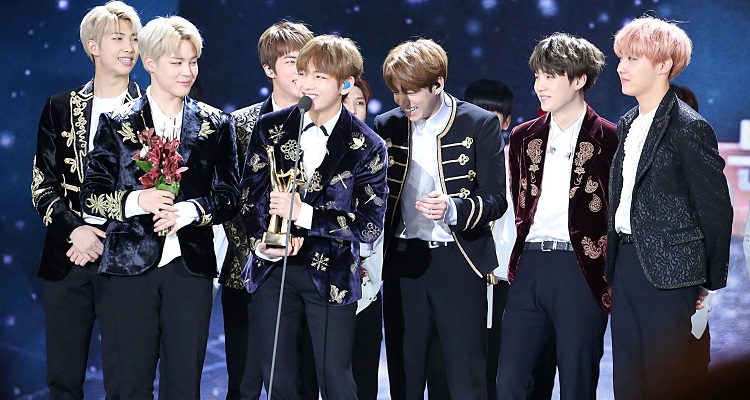 Despite bubbling Grammy buzz, BTS are extremely unlikely to win in 2018.  And there's a decent chance the group will be excluded forever.
BTS' stateside success has been astonishing.  Not since PSY has Kpop made so many inroads.  But don't expect the Grammys to care — in 2018, or beyond.
In fact, there's a reasonable chance the group will never be handed the coveted award.
The reason?  According to a Grammy insider speaking with Digital Music News, this has everything to do with the way Recording Academy members treat younger pop groups.
That is, brutally.
Just ask Justin Bieber, who routinely got shut out of the Grammys for most of his career.  It wasn't until 2014 that the singer actually won an award.  And that was considered a favor from NARAS, the group that oversees the Grammy Awards.
"They think it's bubble gum."
Even more brutal?  One Direction, one of the most successful boy bands in history.  Yet somehow, despite millions of fans and endless chart-topping accolades, the group was never awarded a Grammy.
+ 59 Artists Who Have Never Won a Grammy Award
"The [Recording Academy doesn't] like teen pop, especially boy bands," one industry source relayed.  "It's not even music to them, they think it's bubble gum."
Dig a little deeper into history, and the prospects don't look very good for BTS.  In fact, boy bands are rarely given awards.  The Backstreet Boys have been nominated 7 times, but never given a Grammy.  *NSync, arguably the most successful boy band of all time, has never received an award despite receiving 8 nominations.
Collectively, both groups have sold tens of millions of albums. With zero collective Grammys.
It's not an accident.  But Grammy snubs aside, expect BTS to keep winning accolades from less coveted showcases like the American Music Awards and Billboard Music Awards.  The reason is that those are based on actual fan popularity and chart positioning, not the opinions of an esteemed group of music experts.  "They'll clean those up as long as they can stay together," the source noted.
+ Rap Monster's Failed Solo Attempt Proves He's Nothing Without BTS
"That's the just way the Grammy Committee operates," another insider at the organization told DMN.  "After all, who knows if BTS is even around in a few years?  The Grammys only want to hand awards to artists people remember decades from now, like Adele."
Update: The Grammy Awards has just released their list of nominees.  BTS failed to receive a single nomination. You can read more here.
---