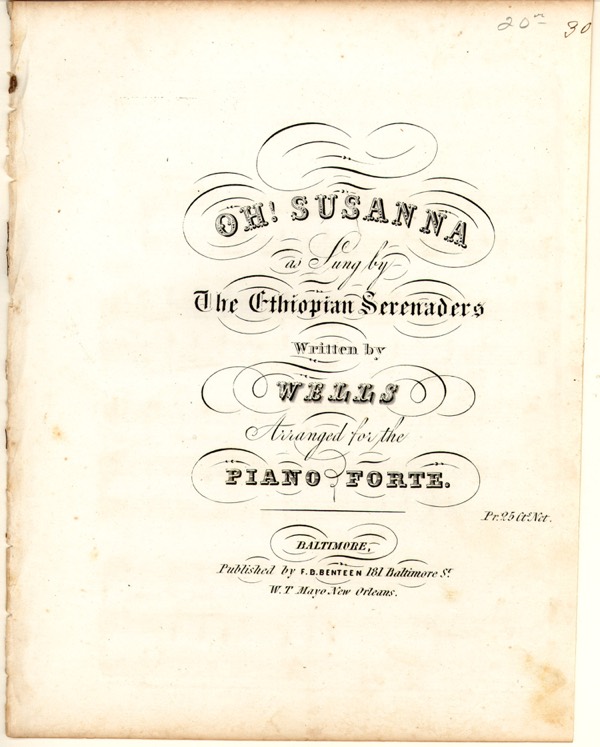 Like many people, I first learned 'Oh Susanna' when I was a kid.  Little did I know that the lyrics have been completely changed since 1848.
Last week, a major controversy erupted over a statue commemorating American composer Stephen Foster.  He's the songwriter of classic American songs like 'Oh Susanna' and 'Camptown Races' (more on the lyrics to 'Oh Susanna' in a moment).
The statue itself sits in a Pittsburgh park.  And it depicts Foster sitting nobly while a black slave plays guitar at his feet.  Which makes sense, given that Foster was a preeminent author of 'black minstrel' or 'blackface' theater tunes.  Blackface was a massively successful form of musical theater in the 1800s, and typically portrayed enslaved black people as buffoonish and dumb.
+ There's Actually a Statue In Pittsburgh of a Happy Black Slave Playing Banjo at the Feet of a Distinguished White Composer
Little wonder people want to tear the statue down.  But Foster apologists pointed to a composer trying to change perceptions of black Americans, and merely trying to eek out a penny in a racist world.  They even point to pieces that are sympathetic to slaves, while pointing to Foster's pro-Union efforts during the Civil War.
Maybe.  But it's interesting to look at the lyrics that Foster actually wrote for his biggest hit: 'Oh Susanna'.   It turns out that the lyrics to this song have been heavily modified over the years, largely to erase its racist past..
There are the first lyrics published upon release of the song in 1848.  The original version is currently stored in the Library of Congress in Washington, DC.
__________________________________________
Verse 1
I come from Alabama with my Banjo on my knee—
I'm goin' to Louisiana my true love for to see.
It rained all night the day I left, the weather it was dry;
The sun so hot I froze to death—Susanna, don't you cry.
Chorus
Oh! Susanna, do not cry for me;
I come from Alabama, with my Banjo on my knee.
Verse 2 
I jumped aboard the telegraph and traveled down the river,
Electric fluid magnified, and killed five hundred Ni—er.
The bullgine bust, the horse ran off, I really thought I'd die;
I shut my eyes to hold my breath — Susanna, don't you cry.
Chorus
Verse 3:
I had a dream the other night, when everything was still;
I thought I saw Susanna dear, a comin' down the hill.
The buckwheat cake was in her mouth, a tear was in her eye,
I says, "I've coming from the South"-Susanna, don't you cry.
Chorus
__________________________________________
These original lyrics were actually recorded in the early 1900s.  But there's little evidence that they survived much longer, thanks to multiple revisions.
Pittsburgh is still debating the fate of its Foster statue.